Fluorescent Light and Houseplants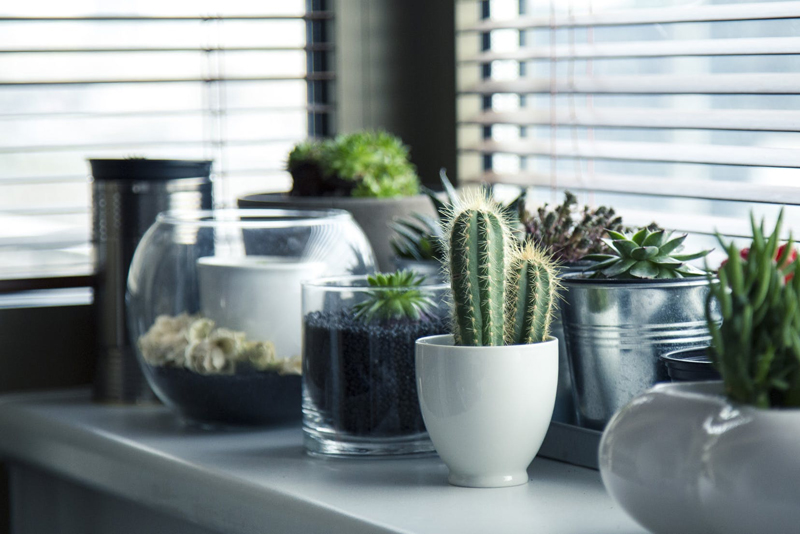 If you are interested in supplementing the natural light that your plants receive or would just like to have a separate grow area in a place that gets no light at all, fluorescent lighting is the least expensive way to go. Not only is it the least expensive but it works quite well.
There is no need to go out and purchase special "grow lights" – regular cool whites work just fine. Full spectrum bulbs and daylight bulbs are great, but you won't see a whole lot of difference in growth between those and cool whites. If the money doesn't matter take your pick. You will see positive results with whichever type you use.
For your reference, warm white fluorescents put out light at a color temperature of about 2700K, which is the same as an incandescent light bulb. Cool white fluorescents have a color temperature of about 4100K and the daylight types range from around 5000K to 6500K. Color temperatures tell you a bit about the quality of light being emitted. Warm whites emit red to yellow, cool whites emit green to blue, and the daylights are in the blues. Plants use mostly blue and red light. For this reason, some people like to incorporate a warm white fluorescent bulb into a set-up of cool whites to provide some of the red light that plants need.
When using fluorescent lighting, it may seem like the light is extremely bright. Plants need to be much closer to the bulbs than you might expect. I typically place light-loving plants about four inches from the bulbs. Plants that need less light are moved to about twelve inches away. This was all done via trial and error and I move plants around all the time to see what works best.
Fluorescent light bulbs lose intensity over their lifetime, which is important to know if you are growing plants without any natural light. Different bulbs have different life expectancies, but plan on switching them out with fresh bulbs every six months. I've let them go as long as a year without any trouble – it depends on the bulb. Check the labeling on the package to see how many hours the bulb is expected to last and figure that the light output will be decreased by 25% at the half-way point. Compact fluorescent bulbs generally fade faster than the tube style bulbs.
Don't forget that fluorescent light bulbs contain mercury, so must be properly disposed of. If you are not sure where you can safely dispose of these locally, visit
. Simply enter what you would like to dispose of and your zip code.
This site needs an editor - click to learn more!

You Should Also Read:
Types of Bulbs for Lighting Houseplants
Understanding Light Requirements of Houseplants
Houseplants Newsletter




Related Articles
Editor's Picks Articles
Top Ten Articles
Previous Features
Site Map





Content copyright © 2022 by Lisa Beth Voldeck. All rights reserved.
This content was written by Lisa Beth Voldeck. If you wish to use this content in any manner, you need written permission. Contact BellaOnline Administration for details.