Winter Solstice in Ireland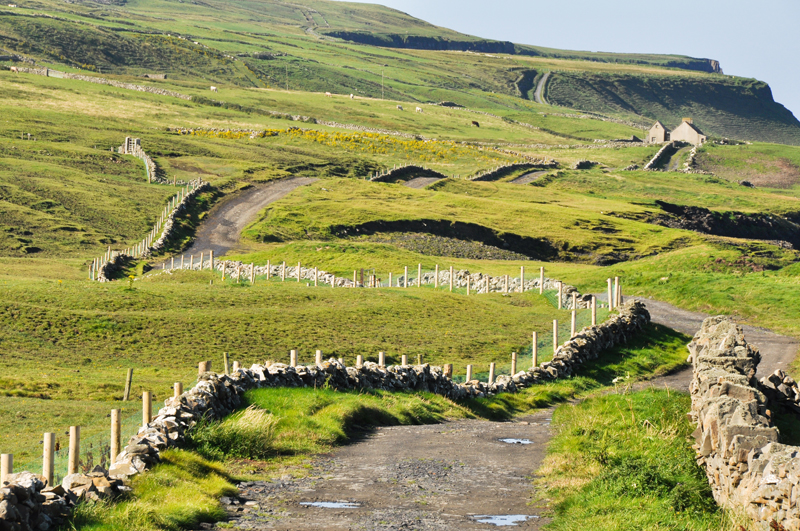 Winter solstice happens each year when the sun is directly overhead the Tropic of Capricorn. Because of the 365 day calendar year this means that it can happen anytime between 20th and 23rd of December, although you can generally rely on it happening somewhere in the world on 21st December. In the Northern Hemisphere this is the shortest day of the year. In Ireland, winter solstice means that it is just getting light around 9am and that twilight is happening around 3:30. Given our damp climate, a low sky and rainy day can make winter solstice feel very dark indeed.

So you get the picture. The light is turned down very low in Ireland at winter solstice. But conversely, our ancestors knew that after this day passed the sun would grow stronger. Our ancient ancestors considered winter solstice the day of the sun's rebirth. The great Neolithic monument, Newgrange, has a stone chamber where on dry solstice days the sunrise pierces the pitch dark. Imagine the wonder and hope of an intense point of light penetrating the darkness. It must have been a profound spiritual experience for those lucky ones who witnessed this.

These days so many want to experience the wonder of a Newgrange winter solstice sunrise that they need to run a lottery system to ensure fairness and equity in entry. Although there are generally a few days where the stone chamber is illuminated by the winter solstice sunrise, cloud cover means that there is no guarantee that the magical moment of illumination will happen on your ticket day. Sometimes the sun can be shy at winter solstice in Ireland.

While Newgrange is the most famous megalith with an alignment for winter solstice sunrise, it is not the only one in Ireland. Newgrange is a passage tomb, but other examples of megaliths, such as court tombs or even modified glacial erratics, were built to line up with alignments with the sunrise at winter solstice or other astronomical alignments over the four seasons. Carrowkeel, Co. Sligo, dates from 3000BC. Like Newgrange, one of its cairns has a 'light box' that is illuminated when winter solstice dawns clear and crisp.
There are also stone circles that offer a good vantage for viewing winter solstice sunrise. Drombeg in Co. Cork, Irelands' most southerly county, is perhaps the best known as it is sometimes likened to a 'mini Stonehenge'. But up in Ireland's northern most region, Donegal, the sunrise kisses some of Beltany Tops Stone Circle.

There are many local megaliths scattered over Ireland, with and without discernible winter solstice alignments, that are a magnet for local Irish people. When winter solstice falls on a weekend people wrap up well and take walks and picnics to visit the megalithic stones.

We cannot know the rituals or beliefs of our earliest ancestors but we do share that excitement that the darkest days are passing. In six weeks in Ireland we will see an undoubted sign of the earth's growing cycle beginning to regenerate.

I am reminded that for the moment there is a reverent stillness settling upon the land. Winter solstice reminds us that this is 'time out of time'. The period between Christmas and New Year is often betwixt and between. As a society, we are not working all that hard, unless we are in essential or emergency services or retail. Children and students are on winter break. We spend more time with family and close friends. We keep warm by feasting and huddling together at social events. It is dark outside but inside we are keeping that light ablaze in our hearts and hearths.

So I shall light a candle on winter solstice. Things are on the up; the sun is back!

May you experience the stillness and peace of winter solstice. May you be warmed by the ever renewing light.









You Should Also Read:
Ireland's Megaliths
Understanding the Celtic Calendar


Related Articles
Editor's Picks Articles
Top Ten Articles
Previous Features
Site Map





Content copyright © 2022 by Bee Smith. All rights reserved.
This content was written by Bee Smith. If you wish to use this content in any manner, you need written permission. Contact Bee Smith for details.