Final Fantasy, Star Wars, Biggs and Wedge
The Final Fantasy series has been going on for decades - and from the beginning it has contained many references to the Star Wars series and the quiet heroes Biggs and Wedge. Let's look at the evidence!
Biggs and Wedge
The most obvious tie-in between Final Fantasy and Star Wars is of course Biggs and Wedge. In Star Wars, Biggs was Luke's good buddy from Tattoine. When Luke runs into Biggs right before the Death Star battle, Luke is thrilled.
Luke and Biggs greet each other
Soon enough, most of the rebels have been blown out of the sky. Luke prepares for his run at the Death Star, and his two wingmen are Biggs and Wedge. Wedge Antilles gets shot and pulls out. Biggs stays with Luke and is killed.
Wedge has to Bail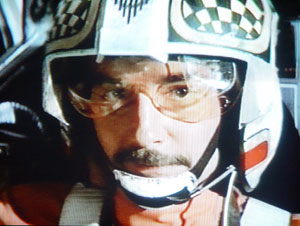 Biggs Stays and is Shot Down
In Final Fantasy, the two randomly show up in different spots during each game as sort of a homage. In fact in Final Fantasy 7, Biggs shows up right at the beginning as a member of the Rebel Alliance. He has a line mourning those who lost their lives to bring in the information - just like Mon Mothma has in the Star Wars series!
Here's the Biggs and Wedge team from Final Fantasy 6:
Rebels vs the Evil Empire
Just about every game involves you, the player, joining a Rebel Alliance against an Evil Empire. Take Final Fantasy 2 - the one released only in Japan until
Final Fantasy Origins
brought it to the PS. You start out as a group of three guys - one older - and one girl fleeing the army of the Empire. And, of course, this is not a friendly, nice Empire. It's an EEEEEEvil Empire.
In Final Fantasy 7, you and your rebel group are fighting the evil Corporation who is killing planets with their technology. Suspicious ...
The Beautiful, Feisty Princess
Sure, you can say Princess Peach was a princess. But she was most likely to put her hands on her cheeks and cry, "Help me! Help me!" Even one of my favorite movies, the Princess Bride, had the Princess standing by while her dear Wesley did all the work. She watches in hopeless horror while a rat gnaws on Wesley, finally picking up a stick and half-heartedly bopping the rat on the head.
But Star Wars brought us a new kind of princess - one that kicked butt. She starts the movie by blasting away at the enemy troops, and continues her active self-defense through the series.
Leia, in a pensive moment
Lo and Behold, this is exactly the princess type that Final Fantasy brings us. In Final Fantasy 2, the Rebels are in fact led by the Princess - her father has been wounded by an arrow and is out of commission. In Final Fantasy 9, Dagger is the princess who joins the rebels, chopping her hair short to continue adventuring.
But let's not forget one of the most intriguing tie-ins! Check out the comparison of the
Yellow Chocobo and the Arctic Tom-Tom
!!
Final Fantasy - A Game Comparison
Final Fantasy History and Timeline


Editor's Picks Articles
Top Ten Articles
Previous Features
Site Map



Follow @lisavideogames
Tweet





Content copyright © 2022 by Lisa Shea. All rights reserved.
This content was written by Lisa Shea. If you wish to use this content in any manner, you need written permission. Contact Lisa Shea for details.