Orchid Profile - Laelia anceps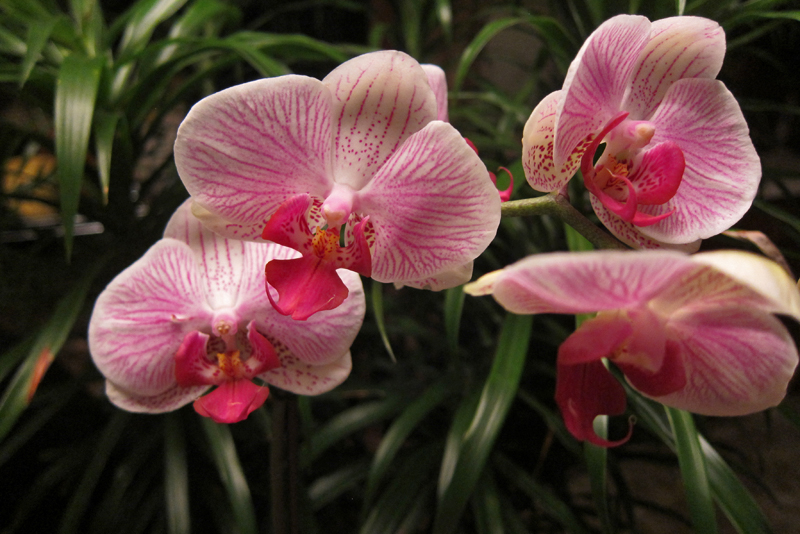 Laelia anceps
is an undemanding and easy plant to grow for most people. This species is naturally occurring in Mexico and is extremely drought resistant as well as temperature tolerant. It will thrive in temperatures from 20 degrees Fahrenheit, or -5 degrees Celsius, to 100 degrees, or 38 degrees Celsius, as long as it is given enough moisture. It is known as a vigorous grower of medium size with long inflorescences from which it will have three to five lavender flowers. The flowers are a nice size 3 to 4 inches, or 10 centimeters, and are known for their Christmas blooming period although the blooming period is November through January. There are two distinct varieties now recognized by taxonomists – the eastern variety and a darker western variety.
This plant needs a lot of light and will grow well outdoors in full sun with some shade at midday. It needs well draining media and does best mounted where it can dry out completely between waterings. During hot summer months it will need to be watered 2-3 times a week while in winter weekly watering will be adequate. Fertilize during the growing season and then stop after flowering to allow the plant to rest. Then start again when growth is evident. This is a very popular plant for outdoor growing in Southern California and Florida where there are mild winters. It will quickly produce large clumps when mounted in trees and when in bloom makes a spectacular show. Here is a picture of the western variety
Laelia anceps var dawsonii chilapensis
growing in the wild.
The Laelias are members of the Cattleya Alliance and have been used extensively in breeding to increase the number of flowers on a plant as well as pass on the easy growing habits. The "L" in Blc. Lc., and Slc. are all Laelia interbreeding. The smaller varieties have been used to impart the great color and smaller growth habit in much of the breeding for compact and miniature Cattleya Alliance orchids.
Recent work by scientists has broken the original Laelia genus into two different groups with the Mexican Laelias remaining in the original group and most of the Brazilian Laelias moved to Sophronitis. The genus is rather widespread with species found from Cuba to the southern part of Argentina. The southern varieties do not breed in the same manner as the more northern varieties, thus the reason for moving them into another genus.
You Should Also Read:
Miniature Laelias
Growing outdoors
Growing Orchids on Mounts


Related Articles
Editor's Picks Articles
Top Ten Articles
Previous Features
Site Map





Content copyright © 2022 by Susan Taylor. All rights reserved.
This content was written by Susan Taylor. If you wish to use this content in any manner, you need written permission. Contact Anu Dharmani for details.