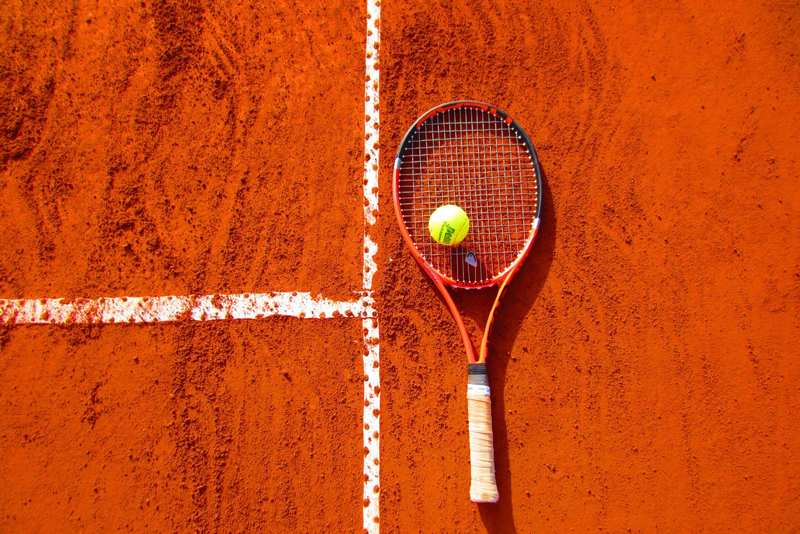 Tennis players love summer time because it generally means outdoor tennis on dry courts in pleasant weather. Summer can also bring with it very hot temperatures that are even hotter on the court. Every tennis player needs to be cautious and listen to your body when playing in the heat.
You'll often see the weather service issue a heat advisory when temperatures are expected to rise. They advise people to stay indoors and avoid going out during the hottest part of the day. While this may be very good advise, it's often impractical to tennis players in a tournament or other scheduled event.
The following are recommendations for a healthy summer on the tennis court.
Protection
Use sunscreen and wear a hat to avoid overexposure to the sun. Dark glasses will also protect your eyes. Take advantage of any shady spot on court and try to get out of the sun on every change of side.


Fluids
Hydrate yourself before, during, and after tennis in the hot sun. With all the sports drinks on the market, it's hard to decide between them, but really plain water is best. It's true even when the temperatures are "normal", but you must take in fluids on every change over. Seriously.


Strategy
On a very hot tennis day, consider your energy level, and that of your partner and opponent. You may want to adjust your strategy depending on those factors and expend energy only on important points.


Mindset
It's easy in the heat for your mind to wander and start thinking of the air conditioned clubhouse after the match is over. Better to fight and stay in the moment. Even if you feel like you can't go on for one more point, don't give it away, and don't give up. Your opponents are probably hot too.


Rest
If your body starts to get overheated, you may become dizzy or start cramping. Try using a cool towel around your neck and take in a few bites of an energy bar while resting in the shade on a change of side. Your body may or may not respond. Be sure to listen to what it's telling you.
Competitive tennis players like to win. Even social players want to beat their friends. If temperatures are hot on the court, and the above suggestions do not improve your sense of being, remember that it's most important to take care of your body. It won't be the end of the world if you have to retire from a match rather than faint from heat exhaustion.
Have fun on the courts and be safe when it's hot outside.


Related Articles
Editor's Picks Articles
Top Ten Articles
Previous Features
Site Map





Content copyright © 2022 by Sandy Eggers. All rights reserved.
This content was written by Sandy Eggers. If you wish to use this content in any manner, you need written permission. Contact Sandy Eggers for details.