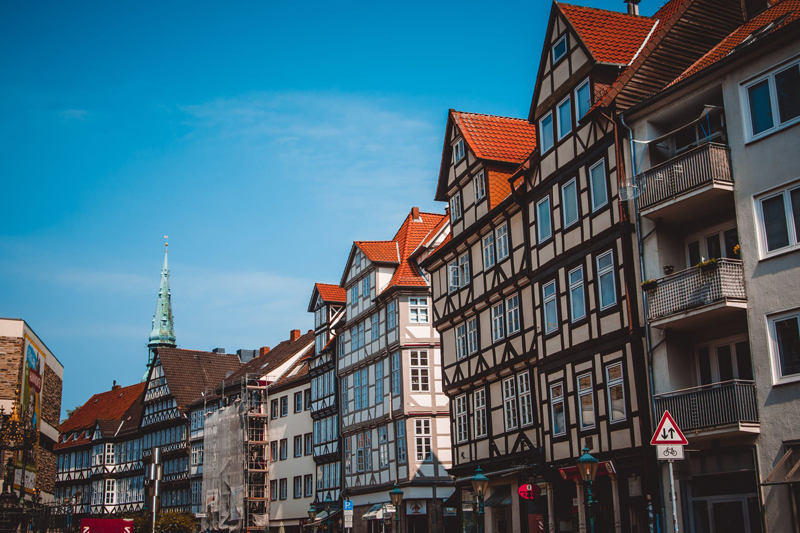 Germany has traditions and ways of life that have been passed down for generations, but in the last years it has not only become "Green" and environmentally conscious but successfully multicultural.
Germany and its Turkish German Community


It was to be a short term ´home in a foreign country´, surrounded by an unfamiliar culture, a wary people with an unheard of fondness for keeping pets, a strange language, different religion and European toilets. But fifty years later, to many of the 2.4 million Turkish Germans, Germany is now just ´Home´.
Chocolate Museum in Cologne, Germany


It is said that each German eats eleven kilos, almost 25 pounds, of chocolate every year, which might be one reason they have the biggest, and most comprehensive Chocolate Museum in the world.
Germany's Garden Colony Culture, Schrebergarten


Gardening is a passion in Germany, and the garden often a "Schrebergarten". A century old tradition. Tiny houses in small allotment gardens, on a city edge, in its center surrounded by asphalt and exhaust fumes, perhaps alongside rail tracks. Pride and joy of millions of city-dwellers.
Germany's Radioactive Wild Boar and Mushrooms


There continue to be radio active wild boars in Baden-Württemberg and Bavaria, together with an overall population boom in wild boar families. Thanks to the Chernobyl meltdown of 1986 there is another side to some of the residents of Germany's beautiful forests, including radioactive mushrooms.
Germany, Energy and Change After Fukushima


Japan's tsunami's effect on nuclear reactors brought about what was supposedly a partial and temporary nuclear shutdown in Germany, affecting its 'green' energy policy. Temporary it wasn't, and the long term outlook for consumers and the economy is anyone's guess, so far it is not positive.
Germany´s Cult Beach Chair, the Strandkorb


For generations a wicker beach chair, the ´Strandkorb´, once likened to an upright wash basket, has not only sheltered beach goers from wind, rain and too much sun it has become a part of Germany´s culture. A symbol for holidays, sand, sea and just the right amount of sunshine.
Germany´s Garden Colonies, Schrebergarten


Germans love their gardens, even if they are only boxes on a balcony, but Schrebergarten, little rented plots on a city´s edge, or perhaps surrounded by asphalt and sitting in the middle, are the pride and joy of millions of city-dwellers.
Green Germany, and a Non Nuclear Future


The plan was that German nuclear power plants were to be phased out by 2021, but the situation changed although not all Germans were in agreement. A nuclear reactor accident in Japan not only restored the status quo, the date for phasing out nuclear power was moved forward.
Herbs and Natural Medicine in Germany


A cough? Then out come onions, garlic and honey. Arthritis? Then...chili. For centuries herbs, plants, and vegetables have been used in German speaking countries as folk medicine and effective remedies. In combination with conventional equivalents, natural medicine is as relevant today as ever.
How to Make a Schultuete, School Cone


The first day at school, and its Schultuete filled by small gifts and candies, is a source of great excitement for Germany´s first graders. A tradition which began in early 19th century Germany, it is as popular now as it was then, and perhaps a fun idea and new tradition for your own family.
Spargelzeit, The White Asparagus Season in Germany


"Spargelzeit" is an eagerly awaited first symbol of spring in Germany. Asparagus, the ´Royal Vegetable´, much loved white stalks harvested and savored from around the middle of April until June 24th, the feast day of St. John the Baptist.
Today´s German Fashion Owes Something to East German Innovation


On the Eastern side of a divided Germany fashion was inseparable from politics, and there was a one style fits all mentality. So a sewing machine, needle, thread and "Sybille", a culture and fashion magazine, led to ´freedom´ and form of individual design that still influences German fashion today.
Editor's Picks Articles
Top Ten Articles
Previous Features
Site Map
Follow @GermanKultur
Tweet
Content copyright © 2018 by . All rights reserved.
This content was written by . If you wish to use this content in any manner, you need written permission.
Contact Francine A. McKenna for details.