Rumtopf, Traditional Fruit and Rum Pot Recipe
It is a centuries-old tradition. A way of conserving summer's soft fruits that takes a few months before it is ready to eat, but with an end result well worth the work...and the wait.
Rumtopf is easy to make, hard to "mess up" and delicious.
As fruit comes into season during the summer it is layered in a pot with sugar, covered with rum, left until Advent and enjoyed during Christmas and the cold winter months.
Summer in a jar, and a winter treat long before the first written recipe from the 1700's, the legend is that it was Northern German seamen who first discovered Rumtopf by accident.
Fruit they had collected and stored at stops during their voyage fell into barrels of rum, after tasting the result the sailors found not only had the fruit been preserved, but the added flavor of rum was a delicious bonus.
"Stored in rum" became the accepted way to transport and preserve fruit when under sail and it was gradually adopted in kitchens throughout the country. Although the name Rumtopf did not appear until 1885 in "ABC der Kueche", a cookbook written by Hedwig Heyl. She had been born into a North German ship owning family from Bremen, so knew something of sailing traditions.
Rumtopf (rum pot) Recipe
Soft seasonal fruit and berries
(this is a rough guide as weather conditions influence what is available and when):
June:
Cherries, Strawberries - although these remain delicious but tend to go a bit mushy
July:
Apricots, Peaches, Nectarines, Currants
August:
Peaches, Nectarines, Loganberries Yellow plums, Raspberries
September:
Pears, Dark Plums
Blackberries and blueberries can be added and are delicious, although they do color the other fruits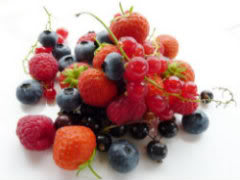 Star anise and vanilla pods can be put into to the Rumtopf in October
It is not traditional but pineapple can also be used and works well
Do not use:
Citrus fruit such as oranges or lemons as they are acidic and make the Rumtopf sour
Bananas and melons turn mushy and make the liquor watery
Apples are not improved either in taste or texture by the rum and sugar mix
You will need:
Large
wide-mouthed jar, preferably stoneware or porcelain, alternatively dark glass container, with a well fitting lid, to be placed in a cool and dark area.
Dark
or amber Rum - high strength at least 54 percent proof, preferably higher
Sugar
Brown is best, half pound sugar to one pound prepared fruit or berries, weigh fruit and sugar
Method:
Wash container thoroughly with soap or vinegar water, rinse out several times with boiling water and dry
Use perfectly ripe and undamaged fruit without blemishes
Carefully wash, dry and prepare fruit. Do not peel any but the pears if you use them, and of course pineapple.
Small fruits and berries, such as pitted cherries, strawberries and currents, should be left whole and the other fruit spoon sized, with medium fruit, plums, apricots, halved and pitted, and pears and peaches cut into wedges.
Put weighed prepared fruit in the jar
Cover with a half quantity of sugar. 1lb fruit to 1/2lb sugar
Gently stir through so sugar is distributed
Leave for one hour
Add rum to cover fruit and sugar mix completely plus two centimeters, one inch
Cover with a small porcelain or ceramic plate, to ensure the fruit stays under the rum as exposed pieces turn brown.
Seal jar, cover the top with plastic wrap to make it airtight, leave in cool dark place
The fruit takes six weeks to mature completely but a second layer of seasonal berries or fruits can be added after two weeks.
Remove plastic wrap, lid and plate. Gently stir contents of jar.
Add an additional layer of prepared fruit
Add sugar, do not stir
Leave for one hour so the sugar begins to work its way over the fruit
Cover with rum
Replace plate
Reseal top with lid and plastic wrap
Leave in cool dark place
An ongoing project this sequence can continue until October, with the fruit and berries of your choice as they come into season, and check now and then that the contents remain covered by rum adding more if necessary.
If the fruits you want to use are all on hand at the same time it is possible to make the entire Rumtopf in a day, making sure the different layers are individually coated with sugar and left for an hour and then covered with rum.
After the final layer has been added the Rumtopf must be left for at least six weeks to mature.
When the Rumtopf is ready it can be used as:
A sauce for ice cream:
vanilla ice cream, large spoonful of syrup and fruit, warm or cold, served as sauce
A dessert:
serve in individual glasses "as is" with whipped cream or creme fraiche
A meringue sandwich:
whipped cream and Rumtopf fruit, served with two small meringues or in a meringue shell
A cocktail:
one part Rumtopf liquor to 2 parts sparkling wine, small pieces of fruit added to the glass
A fruit fool:
puree Rumtopf, fold into whipped cream
A side dish for meats:
warm Rumtopf, serve with pork, chicken, duck or game
As a drink or as a preserve:
the strained Rumtopf liquid in a glass as a liquor or after dinner drink, small alcoholic pieces of fruit put into a bowl as alcoholic canapes for guests to help themselves, as a warm or cold filling for pancakes, as a topping for cheesecake or baked apple
Viel Spass beim Ansetzen und Geniessen!
Have fun with the preparation and Enjoy!
Rumtopf photo via Lecker, Romtopf in Brown Pot by Abendblatt.de - Rumtopf and ice cream by lecker.de
You Should Also Read:
Fruit Punch, Potato Salad Recipes
Kaiserschmarrn with Caramelized Apples
Obatzda, Beer Garden Snack, Recipes


Related Articles
Editor's Picks Articles
Top Ten Articles
Previous Features
Site Map



Follow @GermanKultur
Tweet





Content copyright © 2019 by Francine A. McKenna. All rights reserved.
This content was written by Francine A. McKenna. If you wish to use this content in any manner, you need written permission. Contact Francine A. McKenna for details.