Germany
is a fascinating country, set in the middle of Europe and a hub of European life. Filled with culture in all its diversity, beautiful scenery, areas of unspoiled nature, an infinite choice of places to visit, enjoy, remember or simply read about.
Its remarkable and complex history has introduced much that is positive to the world, from book printing and x-rays to the music of Beethoven and Bach and Albert Einstein's Theory of Relativity, while it has also had reason to go through a recent, and continuing, period of deep reflection.
Nine very different European neighbors share Germany's borders,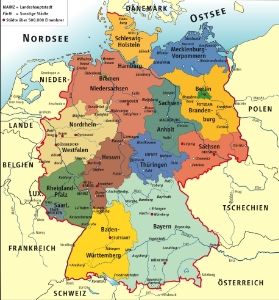 and just as dissimilar, in not only many of their traditions and traits but also their landscapes, are the country's 16 Laender, or states.
They cover everything from mountains and hills in the South to flat, sand, wet and marsh lands in the North, and throughout the country extensive forests, lakes and rivers.
Would you like to:
Know more about German traditions and holidays?
Try a traditional German recipe and discover the country's cuisine? (Yes it does have one.)
Learn about the different German states, customs and people?
Get to know something about present day life in the country, as well as its history and cultural oddities?
Add to your knowledge of Germany's culture, literature, art, and music?
Get some ideas for travel plans to visit Germany?
The German Culture site is updated with information or news to share with you, and links to the latest article are included in a newsletter, while if you ever have any questions or comments just contact me via email or the forum, I am happy to answer you.
If you would like to sign up for the German Culture newsletter look to the right of this article, type your email address in the box labeled
'Free Newsletter'
, and a confirmation email will be sent to ensure your spam filter allows the newsletter through. However if you not see the email, it should arrive almost immediately, please check your spam folder and just adjust your spam filters to accept Bella Online email.
BellaOnline won't spam or share your address and it is easy to cancel your subscription to the newsletter at any time.
Thank you for visiting the German Culture Site, and I really look forward to exploring Germany's culture with you.
Map of the Federal Republic of Germany, with borders to neighboring countries and Germany's 16 Laender, drawn by and courtesy of 'kgberger', via de.Wikipedia
For topics "in the news"

And you can follow German Culture on Facebook