Rote Grütze, Germany's Fruit Dessert Recipe
Rote Grütze is delicious, despite its unglamorous translation - Red Grits. "Red" for the summer fruits and "Grits" the thickening ingredients "grits/groats", used instead of today's potato or corn starch.
Originally "Hausmannskost", simple home cooking, now it's a summer berry "fruit salad with a difference", and summer favorite in Germany.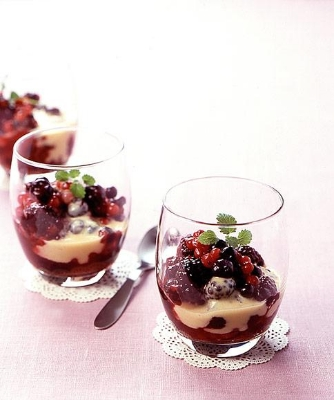 Not only in homes but at the trendiest restaurants and bistros.
Summer's seasonal berries, from red currants, raspberries and cherries to blackberries or blackcurrants for contrast, (although strawberries don't work), make Rote Grütze one of those easy recipes that is light, delicious and also just that little bit different.
Often made as a seasonal dessert it can just as easily be a light summer supper, a snack, even breakfast. Although for breakfast it will definitely be one without the optional alcohol.
The original classic version used only red currants and raspberries, but now almost any soft fruit is added. Although strawberries make a lovely decoration too many, or even any, in the mix can be a disappointment as the preparation with its use of heat makes them mushy, so they lose not only their looks but also their taste.
There must be as many German recipes as there are families who make Rote Grütze , and they range from simple and quick, bringing fruit to the boil with a cup of water and sugar to taste for a few minutes then thickening with potato or corn starch, to recipes like this traditional recipe given to me by my late mother-in-law. It was based on one used by her family in what used to be East Prussia, where there was an abundance of heavily laden berry bushes during the summer months.
ROTE GRÜTZE - A Fruit Pudding Recipe
(4 to 6 portions)
INGREDIENTS
:
2 lbs mixed fruit - red and black currants, raspberries, cherries, blackberries, red plums which must be quartered. At least two different fruits, a variety tastes and looks better, and traditionally the proportions should be two parts of 'sour' fruit to one of sweet.
2 Cups Water
1 Cup Red Grape Juice or Cranberry Juice
1/4 cup Potato or Corn starch
Sugar to taste
Optional lemon juice or finely grated zest
Optional red wine and/or Kirschwasser (Cherry Water - a colorless fruit brandy)
METHOD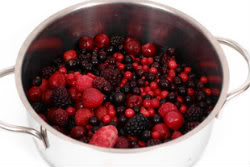 Wash and prepare fruit, remove pits from cherries
Cook fruit over a low heat in 2 cups/1 pint water until tender
Strain over a large bowl through sieve lined with cheesecloth, being careful not to crush fruit
Place fruit in large serving dish
Make up to three cups of liquid with red grape juice, or you can also substitute some of the quantity with red wine and/or Kirschwasser
Bring to the boil over medium heat
Dissolve potato or cornstarch in cold water and add to hot liquid in pan, stir constantly until thickened
Sweeten sauce to taste and continue stirring until sugar has dissolved
Add lemon juice or zest if used
Pour the thickened juice over the fruit in the bowl
Sprinkling with a little sugar prevents a skin forming on the top
Refrigerate for at least five hours, overnight if possible, and until about half an hour before it is needed
Pour into individual bowls or glasses before serving, or prepare sometime beforehand, return them to the refrigerator and bring out shortly before they are to be served
In Germany the traditional topping is a thin
Vanilla Sauce
, but heavy/thin cream or ice cream are also popular. Often a sprig of a green herb such as lemon balm is added as a contrast.
Rote Grütze can be used as a topping for pancakes, waffles, cheesecakes, yoghurt, quark, ice cream, and even cottage cheese.
Combined with heavy cream it's a filling and/or "frosting" for richly decadent cakes, a delicious topping when poured over a cream filled meringue, or it can be enjoyed just as it is.
And there are alternatives in the "GRÜTZE" family: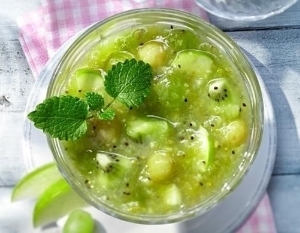 Grüner (Green) Grütze
made from gooseberries in combination with greengages, seeded green grapes, kiwi, apple or pineapple, and as a liquid green grape juice, white or rose wine and/or Kirschwasser or some other fruit brandy.
Gelbe (Yellow) Grütze
from peaches, yellow gooseberries, pineapple, bananas, yellow plums or any other yellow fruits, and white/green grape juice or apple juice, and for that extra "kick" white or rose wine and/or Kirschwasser or another flavor of fruit brandy.
Although it began as a seasonal recipe with summer berry bushes providing all the raw ingredients, you can easily use frozen fruits when fresh are not available, just thaw them thoroughly and use any resulting liquid in the preparation.
This will be a little different in taste and texture but still good to eat, not only making a refreshing end to heavy winter meals but bringing back the color and memories of summer.
Guten Appetit!.....And enjoy your Rote Grütze