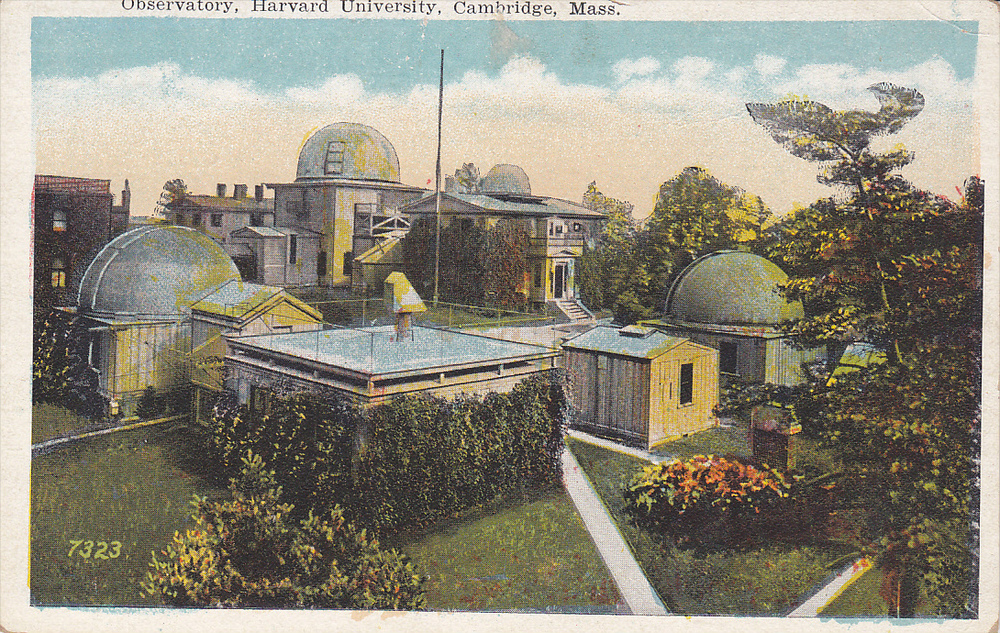 Harvard College Observatory
Edward Pickering directed Harvard College Observatory from 1877 to 1919. Unusually, he hired women to do computations. Yet even those with college degrees got half the salary of men, and were expected to concentrate on routine work. Pickering wanted data analyzed and recorded, not theoretical work. Nonetheless the "computers" made significant discoveries. One of the least known, but considered by some professional astronomers to be the most able, was Antonia Maury.
Family and education
Antonia Coetana de Paiva Pereira Maury was born in Cold Spring, New York on March 21, 1866 into a highly intellectual family. Her maternal grandfather was John William Draper, physician, scientist and pioneer of photography. Henry Draper – doctor, professor and astrophotographer – was her uncle.
Antonia's father was a well known naturalist. His paternal grandfather was the first diplomat appointed by the newly-independent United States, and his great grandfather was a prominent Virginia educator who had taught three American presidents.
Aged nine, with her father's encouragement, Antonia read Virgil in the original Latin. So it was no surprise that she graduated from Vassar College – where Maria Mitchell was one of her professors – with honors in physics, astronomy and philosophy.
Harvard Observatory
Seen through a prism, white light splits into the colors that make it up – that's a
spectrum
. A rainbow is a simple spectrum. Starlight may have dark lines on the spectrum that astronomers can analyze to determine characteristics like temperature and chemical composition. Here are
examples of such spectra
. Spectroscopy was a new technique enabled by advances in photography, and was crucial to the observatory's work.
The observatory was hiring staff for the Draper Memorial project in the 1880s. It was to be a star catalog classifying stars by their spectra. Anna Draper was funding it in memory of her late husband, Antonia's uncle Henry. A job at Harvard Observatory should have been ideal for a supersmart graduate with Maury's background, but it didn't work out that way. Although expected only to compute, she couldn't help looking at the physics behind the calculations – and Pickering didn't like it. For Maury, it was a big contrast to the advanced intellectual inquiry that characterized Vassar, and that she'd been used to at home.
Maury's first task was to determine the orbit of the star Zeta Ursae Majoris (Mizar). She worked out both its orbit and period of revolution. Pickering announced the achievement in the American Journal of Science under the title "On the Spectrum of Zeta Ursae Majoris", noting that "a careful study of the results has been made by Miss. A. C. Maury, a niece of Dr. Draper". But Maury was offended when she wasn't mentioned in his discussion of the results, nor properly given credit for producing the results.
A second major disagreement related to the system the observatory used for classifying stellar spectra. Photography gave greater detail than what was available when the system was devised. However, the classifications hadn't kept up with the data. Maury said that important physics underlay differences in the width and sharpness of spectral lines. Pickering said her system was too complicated to use.
Back and forth
Maury quit her job, though she returned occasionally over the years. Otherwise she taught, traveled, tutored, lectured and did environmental work.
She also completed the catalog resulting from her study of nearly seven hundred stars. It appeared in 1897 as
Spectra of Bright Stars Photographed with the 11-inch Draper Telescope as Part of the Henry Draper Memorial
. It was based on her classification system.
In 1918 Maury rejoined the observatory staff when she was able to work with Pickering's successor.
Maury's classification system
Danish astronomer Ejnar Hertzsprung and American astronomer Henry Norris Russell independently plotted the luminosity and temperature of a number of stars. Surprisingly, the stars weren't randomly scattered. They followed a certain line, or clustered in definite regions. We now call this the
Hertzsprung-Russell (H-R) diagram
. It's the key to understanding stellar evolution.
In order to carry out his work, Hertzsprung needed spectra classified so that they distinguished between stars of the same color. Only Maury's system did that. She maintained that a characteristic included in her system represented a "fundamental property of the stars." Pickering disagreed, but Hertzsprung felt that denying Maury's classification was "nearly the same as if a zoologist, who had detected the deciding differences between a whale and a fish, would continue in classifying them together."
W.W. Morgan, one of the creators of the modern
MKK system
of stellar classification, described Maury as "the single greatest mind that has ever engaged itself in the field of the morphology of stellar spectra." Astronomer Dorrit Hoffleit, who had worked at both Harvard and Yale, argued that if Maury's classification had been put into use, the modern system might have been developed decades earlier.
Retirement and recognition
Maury officially retired from the observatory in 1935. Although she didn't abandon astronomy, she devoted more time to nature and conservation. She was also the curator of her grandfather's house in Hastings-on-Hudson in New York. Both her uncle Henry and his father John William Draper had built observatories there.
Awards were not heaped on Antonia Maura, but belated recognition came in 1943 when the American Astronomical Society gave her the Annie Jump Cannon Award in Astronomy.
You Should Also Read:
Astrophotography and the Birth of Astrophysics
Maria Mitchell
Edward Pickering


Related Articles
Editor's Picks Articles
Top Ten Articles
Previous Features
Site Map





Content copyright © 2022 by Mona Evans. All rights reserved.
This content was written by Mona Evans. If you wish to use this content in any manner, you need written permission. Contact Mona Evans for details.