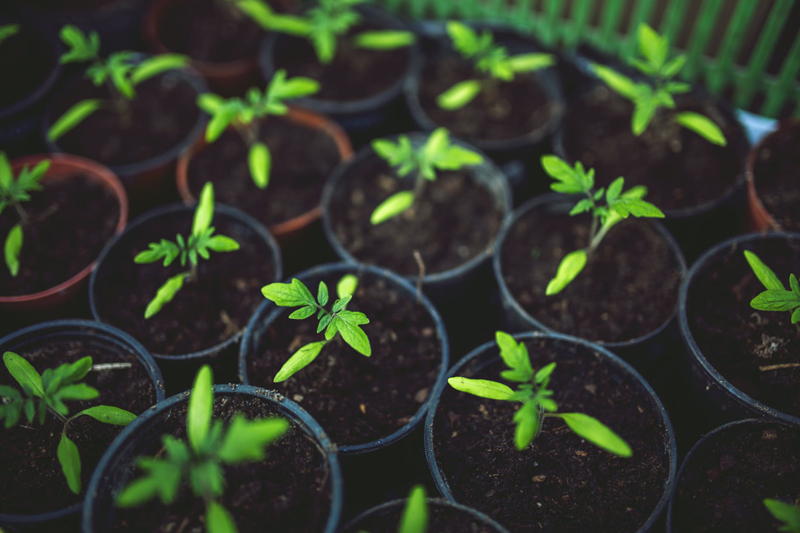 Do you have a bare spot in your yard? Are you just tired of cutting grass on a steep hill? Do you just want to get rid of grass in a funny nook? If so, you will want to check out one of these fabulous groundcovers. However, remember that the reason they are called groundcovers is that they cover the ground. Some of them can be quite invasive.

1. Sweet Woodruff – This groundcover is also an herb. It is used in herbal crafts because of its fresh cut hay smell. Woodruff grows 4 to 6 inches high and has tiny white flower blossoms in the spring. It spreads fairly quickly and will grow in partial shade or sun. This little charmer is not too hard to control. I spend five or so minutes each year keeping it in check.
2. Variegated Vinca – V. minor 'Sterling Silver' - If you want a groundcover that is fast spreading and downright invasive, this is the groundcover for you. It also is a fun addition to window boxes. However, plant with caution. This groundcover will grow right through your windows into the house and can force its way under shingles and siding. If you watch it closely, it can be a great groundcover for bare spots or hills. It grows best in full sun, but shade, soggy clay soil, and rocky dry spots didn't phase this plant in my zone 7 garden beds.
3. Mondo Grass – This grass looks like a mini version of Liriope, but doesn't spread as fast. The fact that it stays low and almost looks grass-like makes it a popular groundcover for the odd spots in yards where it is just too hard to mow. Does best in full sun. It survived in part shade, but seemed a bit sulky and spread very slowly.
4. Liriope – Liriope spicala - This taller groundcover spreads much faster than Mondo Grass and is tall enough that it does not make a good substitute for lawn grasses. However, it is a wonderful choice for hillsides and will tolerate shape. You can inter-mingle Liriope and some of the shorter Hosta varieties for a low maintenance hillside garden beneath a tree.
5. Pachysandra – Pachysandra terminalis - This old fashioned favorite is often the plant of choice for hillsides. It is low growing, so does not need to be cut back and it is not too invasive for low maintenance gardens. Pachysandra does well in shady areas and will happily grow under trees, but does not care for dry shade.
6. Thyme - Thymus vulgaris – This herb is a groundcover that I personally enjoy using between stepping stones. Although Thyme can not stand up to heavy foot traffic, it can handle the occasional accidental misstep and releases its fragrance when someone brushes against it.
7. Dragon's Blood Sedum – S. spurium – This sedum is low growing, so there isn't the flopping problem taller sedums usually have. The foliage is nice, but the striking bright red flowers really liven up the fall flower bed. It does best in full sun, but does seem to spread just fine in part shade.
8. Candytuft – Iberis sempervirens – Candytuft has a wonderful evergreen foliage that would make it exceptional even without the little white flowers that cover these plants in the spring. They are equally happy in part shade or full sun in my gardens.
9. Irish Moss – Sagina subulata - Release this groundcover on your property with caution, since it is very invasive. I like to use Irish Moss on hilly, rocky spots where it cannot escape easily. Luckily, if you need to pull it up, it does not have extremely deep roots, and is easy to remove. However, if you drop even the smallest bit, it can root itself, and you will shortly find that it has once more run amok. Irish Moss does well in sun or part shade and will grow in damp or dry areas.
10. Homestead Purple Verbena – Verbena Canadensis 'Homestead Purple' – This verbena has nice foliage and purple flowers that bloom from late spring right up until frost. It spreads well and is happiest in full sun. I love to use it in front of Sedum Frosty Morn and purple Liatris.




Editor's Picks Articles
Top Ten Articles
Previous Features
Site Map





Content copyright © 2018 by Katelyn Thomas. All rights reserved.
This content was written by Katelyn Thomas. If you wish to use this content in any manner, you need written permission. Contact Gail Delaney for details.