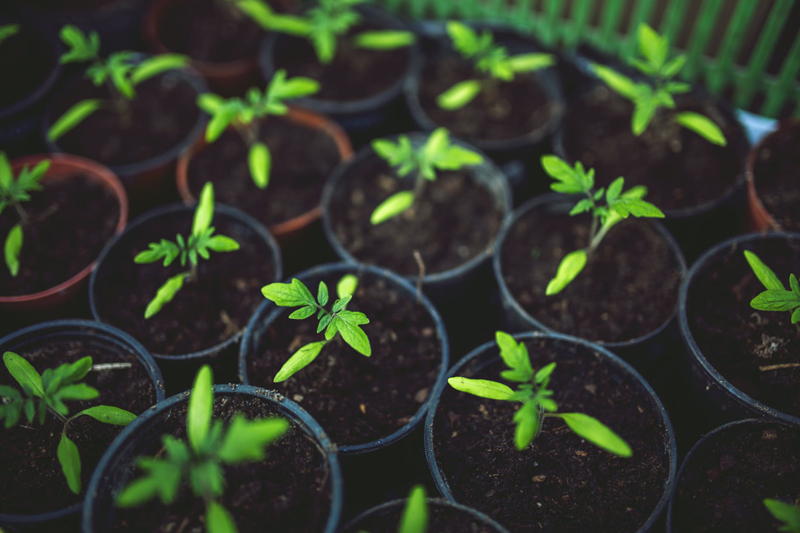 Everything you need to know about planning, growing, and harvesting an amazing vegetable garden.
Differences Between Sweet Potatoes and Yams


Sweet potatoes and yams, which one is better and what other differences are there between the two? This article is a look into that gold-orange potato that we serve mainly for Thanksgiving Day dinner. When I think of sweet potatoes, I think of something sweet to eat, like candied yams.
Food for Your Garden


Gardens need certain nutrients to improve the soil. By adding these nutrients, you will help your plants grow stronger, produce more fruit and fend off disease.
Growing Bigger Onions


Who doesn't love onions? If you want to grow big onions in your garden, it's not hard to do. this article will help you from start to finish.
Growing Chives in the Garden


No garden is complete without some chives growing. The green color is often used to garnish food dishes, as well as provide a hint of onion flavor.
Growing Dill


Dill, Anethum graveolens is an important spice, especially if you are canning pickles. This herb is easy to grow and even if you don't use it for pickles, you can grow it for other reasons.
Growing Organic Pimento Peppers


If you want to plant peppers, plant organic pimento peppers. Not only is growing organically better for the environment, it is also healthier to eat. They are simple to grow from seed so you can plant them in your own garden.
Growing Shrubs in Containers


Many people grow shrubsin the ground. It the normal thing to do, right? Why not mix it up a little bit and plant your next shrub into a pot. If you put the pot on wheels, you can move it to other areas of your yard more easily then digging it up and transplanting it.
Hardening Your Plants


You've grown your plants from seed and they have grown indoors with protection. Now you want to plant them outdoors. Wait! You need to harden them off first before you transplant them into the ground.
Harvesting Vegetable Seeds


When you plant your vegetable garden, are there certain kinds of plants you stick to every year? If they are not hybrid plants, then you can gather the seed and start your own plants next season.
Harvesting Your Produce


When is the best time to pick your vegetables? How do you store them for later use? Some of these questions will be answered in this week's article.
Heirloom Tomato Plants


The snow is finally beginning to melt. Tonight for the first time in many months, it is warm enough to rain. Nothing makes me think of gardening more than hearing that sweet gentle rain falling. Even the robins have returned and are out finding food. All this has made me think . . .Tomatoes.
How to Grow Celery


Think you can't grow celery? You may want to reconsider that notion. It is possible to grow great tasting celery if you follow a few rules.
How to Grow Garlic


Types of garlic and how to grow and harvest them.
How to Store Your Carrots


This is a continuation of planting carrots. What do you do with them after the season comes to a close? There are several ways to store them through the winter months.
Planting Carrots


Most every garden has carrots and radishes planted. What are the right ways to plant the seeds? As the season progresses, you need to know what to look for in pests and how to control them. This week's article is on planting carrots and some of the pests you need to guard against.
Pruning Tomato Plants


Pruning trees and vines is done without a thought, but how about your tomato plants? Well, you should prune the indeterminate tomato plants if you want your plants to be healthy and produce better fruit.
Starting Chives Indoors


If you want an early start with your chives, why not start them indoors first? Once the chives are growing, what is the best way to preserve them for use during the winter months? This weeks article will answer some of those questions.
Starting Pepper Seeds Indoors


You can buy peppers already growing at the local greenhouse or nursery, but their choices are often limited. Many times, they don't have the pepper varieties that I want to grow. Instead of being forced to buy what they have, I like to buy my pepper seeds and start them indoors.
Tomato Growing Guide


Who doesn't love tomatoes? Here's a guide to planting and growing this popular vegetable and maximizing your chances of a successful harvest!
Vegetable Insecticides


Gardening is a wonderful productive pastime. You can grow delicious food for your family and friends. However, what do you do about those annoying bugs that come to dine?
Editor's Picks Articles
Top Ten Articles
Previous Features
Site Map
Content copyright © 2018 by . All rights reserved.
This content was written by . If you wish to use this content in any manner, you need written permission.
Contact Gail Delaney for details.