The Bead Spinner Review and Tips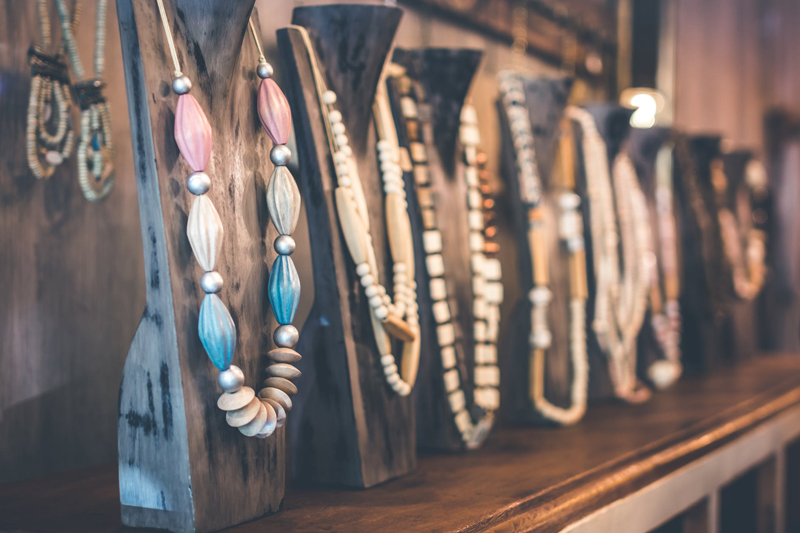 Review
The Bead Spinner is a simple-looking device designed to help you string small beads faster - twenty-five times faster than stringing by hand, according to the advertising. It can save time when you need to string beads without regard to pattern (because it picks up beads randomly).
There are many different sizes and models of bead-spinning products on the market. The one I reviewed is the "standard" size, molded-plastic model available from SerendipBeady (link below). You can also find larger and smaller sizes, as well as beautiful models made of solid wood.
The Bead Spinner has two main parts: a base (the "stand") and an upper chamber (the "bowl"), which spins. My kit also included an optional "extension handle," which is a little wooden dowel that you can insert into the center of the bowl to make it easier to spin. Three twisted-wire needles in varying sizes were also included. Needles are required for stringing with beading thread, but not for wire.
There are two bead-spinning techniques to choose from. The first requires bending the needle or wire into a "J," or hook, shape. You begin by filling the bowl 1/2 to 3/4 full with seed beads. Then, dip the bent end of the needle or wire into the beads, and use your other hand to spin the bowl in a counter-clockwise direction.
Now, the instructions honestly warn, "If this is your first attempt using a bead spinner - the beads WILL go flying!" And, sure enough, they did for me, but just a little. (As the instructions also point out, bead spinning takes some practice to master, just like any other technique.) Once I got going, the beads did begin to ride up onto the needle.
ToHo "Mint Julep" Seed Bead Cocktail™ strung onto a needle during and after spinning.
I found that after an inch or two of beads were on my needle, new beads stopped hopping on, so I had to stop and push the beads down onto my thread. That didn't add much time to the process, and it was still much faster and easier than stringing beads individually by hand.
The second technique does not require that you bend the needle or wire into a "J" shape. You simply "skim" the end of the needle or wire along the beads at a slight angle. With this method, you need to spin the bowl in a clockwise direction to string the beads.
I found this technique to be much more difficult than the first. Beads would jump onto my needle, but then fall down into the bowl. It was also difficult to find and maintain just the right angle to maximize the number of beads getting strung. When I did get some beads onto the needle, they would fall off again when I tried to remove it from the bowl.
Interestingly, after doing some research online, I discovered that some people strongly prefer the straight method over the "J" method. So be sure to experiment with both. I'm guessing that the second technique takes longer to master than the first, but probably works once you learn how to do it properly - and maybe it even works better.
Even though the straight method didn't work for me, I do recommend The Bead Spinner for speeding up the stringing process when making single or multi-strand necklaces and bracelets, or for stringing beads onto wire in preparation for bead crochet or knitting. And if you sell your jewelry, it will cut down on production time without sacrificing quality, which is something you should always strive to do.
That said, if you string most of your beads using bead stringing wire like SoftFlex or Beadalon, you should take The Bead Spinner for a test run before purchasing it, to make sure it will work for you. Since I couldn't get the "straight" method to work properly, I couldn't even attempt to use bead stringing wire (because, of course, you can't bend it into a "J" shape). Also be aware that bugle or tube beads don't string as well with the "J" method as round beads do, because they get caught in the bend in the wire.
Tips
Here are some tips and recommendations I found in The Bead Spinner literature and through various resources on the Internet:
Effectively using The Bead Spinner takes practice, so be patient when you first start out.
Always work with the bowl about 1/2 to 3/4 full with beads, or it will not work properly. If you don't have that many beads to string, use a smaller model.
Spinning "gently" works better than spinning the bowl fast.
Work on top of a towel to catch stray beads.
The Bead Spinner is only guaranteed to work with seed beads, but it often works with larger beads as well.
Be sure to use the correct size (thickness) of needle for the beads you're stringing. (Beads will not string properly onto a needle that is too large.)
Do not scrape the sides or bottom of the bowl with the needle or wire while you spin, because this will keep the beads from stringing.
To make the bowl spin more smoothly, add a drop of baby oil or mineral oil to the prong on the base.
Avoid cheap, foreign-made models, because they may not have the proper dimensions or operate smoothly.
There are ways to make your own bead spinning device using margarine tubs, etc., but they may not work as well when you're stringing a mixture of beads that have varying weights. The Bead Spinner is specially shaped to keep heavier beads from dropping to the bottom of the bowl, ensuring a random pattern of beads.
~ You can purchase The Bead Spinner and bead-spinning accessories through SerendipBeady.
~ To share your bead spinning experiences, stop by the Jewelry Making Forum.
---
Chris Franchetti Michaels is a writer and jewelry artisan specializing in beaded designs, wire work, and metal fabrication. She is the author of the books Teach Yourself Visually: Jewelry Making and Beading, Beading Quick Tips, and Wire Jewelry Quick Tips. Visit her website BeadJewelry.net for more jewelry-making help and inspiration.
You Should Also Read:
Measuring Bracelets with the EZ Bracelet Sizer
Crochet and Knit Wire Jewelry - Book Review
Cord and Beading Thread Dispensers


Related Articles
Editor's Picks Articles
Top Ten Articles
Previous Features
Site Map





Content copyright © 2021 by Chris Franchetti Michaels. All rights reserved.
This content was written by Chris Franchetti Michaels. If you wish to use this content in any manner, you need written permission. Contact Susan Mendenhall for details.