Steckerlfisch, a Grilled Fish on a Stick Recipe
Enjoy fish? Then you will love Steckerlfisch, they are delicious.
First used in 1902 to describe "Grilled Fish on a Stick", the word comes from "Steckerl", Bavarian dialect for little stick, and "Fisch", German for fish, although it had been a favorite way of cooking fish for centuries for towns and villages in the foothills of the Alps.
Long before it had a name.
Originally it was fish from the many Bavarian lakes and rivers but,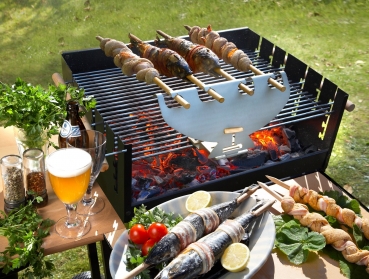 as transportation became easier, others like herring and mackerel became popular.
As the high "healthy" fat content of their flesh means they won't dry out while cooking Salmon, Halibut, Swordfish and Tuna are among other fish used.
These days, unless from a specialist fish supplier or restaurant, it is usually mackerel that is served in
Biergärten
, beer gardens, during Germany's "out door living season" and at
Munich's Oktoberfest
.
Grilling or barbecuing your own choice of fish to a Steckerlfisch Recipe is fun, easy, that little bit different and well worth the effort.
GRILLED FISH ON A STICK, STECKERLFISCH RECIPE
Ideal for Outdoor Grilling
1 lb Trout or Mackerel (or whitefish, sea trout)
Seasoning: Lemon juice, Salt and freshly ground pepper
MARINADE
:
1/2 to one pint of Oil
Rosemary stems
Thyme stems
Sage stems
Bunch Parsley
Bunch Dill
Tarragon, fresh or dried
Oregano, fresh or dried
Mint, fresh or dried
Basil, fresh or dried
Fennel, fresh or dried
1 dried Chili, seeded if you prefer it not too hot
4 Scallions, cut into rings and including the tender part of the green
1 crushed garlic clove
Salt
METHOD
:
Prepare and gut the fish if it has not already be done, leaving the head, fins and tail. Wash thoroughly under running water and dry.
Rub the inside and outside of the fish with lemon juice and salt and pepper.
Leave for 5 to 10 minutes, then brush the marinade over the fish making sure it is well covered.
Any leftover herbs can be put inside the fish.
Using very long, strong 24 inch, wooden kebab sticks or other suitable sticks, that have been soaked in water, place the stick in the fish from mouth to tail.
Place in a large flat container, or wrapped in saran wrap, for at least 12 hours so the marinade can work.
After removing from the fridge allow to come to room temperature for about one hour.
Place the fish over a glowing barbecue or grill, and make sure there are no flames. The fish should be angled over the charcoal fire, this way the fat runs down the stick and not onto the fire itself.
Grilling time around 30 minutes
The grilling coals can have pine needles or herbs such as Rosemary, Thyme, or Juniper added during the cooking time, it not only makes a delicious aroma it also add to the flavour.
Keep basting the fish with marinade, or butter, as it cooks, and turn it from time to time as this ensures an evenly crisp skin.
When it has been bought from an "outside" source it is traditional to eat the fish on the paper in which it had been wrapped, but in a beer garden, just as at home, it can be served on a plate together with a pretzel,
potato salad
or horseradish sauce and boiled, buttered potatoes.
Mahlzeit........... Enjoy your Meal
Mackerel as a fish on stick at a BBQ photographer Usien, Bavarian Steckerlfisch on barbecue, Bavarian Steckerlfisch westernacher-chiemsee.de
You Should Also Read:
Beer Gardens in Germany
Obatzda, Beer Garden Snack, a Recipe
Munich's Oktoberfest


Related Articles
Editor's Picks Articles
Top Ten Articles
Previous Features
Site Map



Follow @GermanKultur
Tweet





Content copyright © 2021 by Francine A. McKenna. All rights reserved.
This content was written by Francine A. McKenna. If you wish to use this content in any manner, you need written permission. Contact Francine A. McKenna for details.