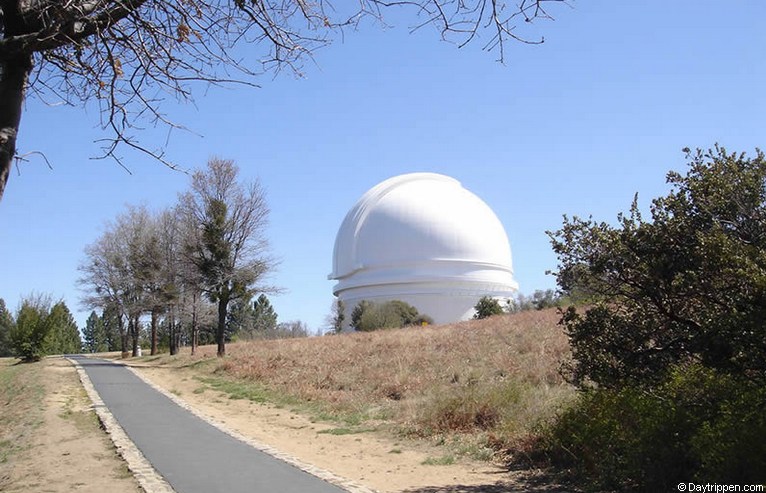 Palomar Mountain Observatory [Photo: Daytripper.com]

A mile above the California desert stands Palomar Observatory, the jewel in the crown of optical astronomy for most of the second half of the twentieth century.

George Ellery Hale (1868-1938)
In the early twentieth century, questions about the nature of the cosmos teased astronomers. They could debate them, but answers seemed just out of reach. For example, was the Milky Way the whole universe or were there other galaxies?

George Ellery Hale – like William Herschel two centuries before him – realized that only larger telescopes and better instrumentation would provide evidence to replace discussion with discovery. Hale was an outstanding solar astronomer, but his enduring contribution to astrophysics was hardware. One obituary said of him, "Four times over he built the most powerful telescope in the world." He had a vision, but he also had the knowledge, organizing ability and drive to realize the vision.

Hale founded Yerkes Observatory in Wisconsin, and its 40-inch refracting telescope was the largest in the world. Later he founded Mt. Wilson Observatory in southern California with a 60-inch reflector which was the biggest in the world. But it wasn't big enough, so the 100-inch Hooker Telescope followed – with it Edwin Hubble showed that the Andromeda nebula was another galaxy.

But Hale's greatest project was founding Palomar Observatory and turning the dream of a 200-inch telescope into reality. Although he died before the completion of "the Big Eye," it was named for him at its dedication a decade after his death. It's still owned and managed by the California Institute of Technology (Caltech).

The Big Eye
It's impossible to make a 200-inch telescope mirror — the US Bureau of Standards said so. Yet Hale talked the Rockefeller International Education Board into a six-million-dollar grant for an observatory with a 200-inch telescope.

The whole telescope would be a marvel of precision engineering, but the mirror got the attention. In 1934 the country was in the grip of the Great Depression and in those hard times the vision of the greatest telescope ever to be built captured the public imagination in a way hard to imagine now.

Corning Glassware in New York cast the mirror blank using their new Pyrex glass, which was much less susceptible to temperature changes than ordinary glass. The mirror had to hold its shape as the temperature changed, or when it was tilted at different angles. And what was its shape to be? A paraboloid, accurate to within two-millionths of an inch.

The mirror-casting was a big attraction. Corning set up a viewing gallery in its factory and sold tickets. When the Big Eye traveled to California on a special train in 1936, crowds lined the tracks to see it pass - schools and businesses closed to let people watch.

After ten years of grinding and polishing, plus a world war, "first light" for the Hale Telescope was in 1949. Edwin Hubble had the honor of making the first observation.

The telescopes of Palomar
Palomar's first telescope was an 18-inch Schmidt, which is no longer operational. It started up in 1936 and in its time was used for a variety of projects, from early supernova surveys to the search for asteroids and comets. With its wide field of view, it was good for surveying. And since it showed up objects possibly worth further study, it complemented a powerful telescope like the Hale with its greater depth.

The 18-inch telescope was so successful that they built a 48-inch Schmidt (named the Samuel Oschin Telescope in 1987) which had an impressive track record of its own. Its pioneering project was the National Geographic Society-Palomar Observatory Sky Survey, the first complete photographic survey of the northern sky. This was an important teaching tool, a standard reference, and the basis for other catalogs such as George Abell's catalog of galaxy clusters.

More recently, the Oschin Telescope has been used to discover both near-Earth objects and Kuiper Belt objects beyond Neptune. Its discovery of Eris prompted discussions which brought about the reclassification of Pluto as a dwarf planet.

The glamor of the Hale Telescope began to fade with the advent of the 400-inch Keck Telescope in 1993. And despite cooperation from local communities, as San Diego expanded, light pollution reached Palomar Mountain. Nonetheless on average, there are 290 days in a year in which observations are made with the Hale Telescope. It has also kept up with the times, its most important innovation being an adaptive optics system which corrects for atmospheric disturbance. With its laser guide star it matches the performance of a space telescope in the part of the sky in which it can be used.

Visiting
Palomar is open to the general public only during the day, and most of the area is off limits. However it's a beautiful drive, the view is spectacular and on an overcast day, you might – as we did – find yourself above the clouds under a clear blue sky.

It has an exhibition area and a gift shop with a nice selection of goodies and books. In addition, sometimes there are guided tours, but you can do a self-guided tour of the Hale dome at other times. A viewing area in the dome tells you about the telescope in pictures and videos, and you might even find a docent there to answer questions.

References:
(1) Caltech Astronomy, https://www.astro.caltech.edu/palomar/
(2) Ronald Florence, "Palomar, After 50 Years" San Diego Historical Society Quarterly, https://sandiegohistory.org/journal/1998/october/palomar/

You Should Also Read:
Lick Observatory - 10 Fascinating Facts
Eris and Pluto - They're not Twins
The Kuiper Belt


Related Articles
Editor's Picks Articles
Top Ten Articles
Previous Features
Site Map





Content copyright © 2023 by Mona Evans. All rights reserved.
This content was written by Mona Evans. If you wish to use this content in any manner, you need written permission. Contact Mona Evans for details.