Space at the Science Museum London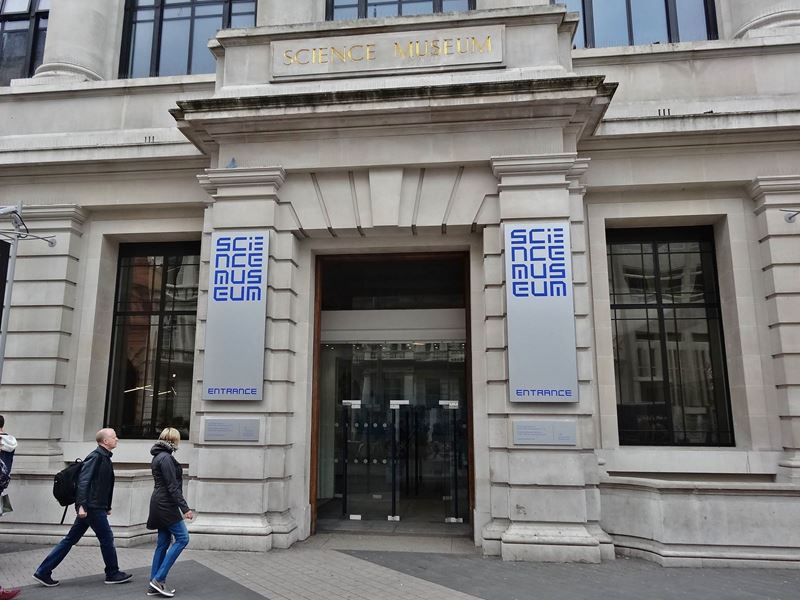 Where can you see the Apollo 10 command module and the original mirror for William Herschel's Great Forty-Foot telescope? In the Science Museum in South Kensington, London, England. And there's quite a lot more on offer to those interested in space and astronomy.

The Earth turns
Léon Foucault was an ingenious nineteenth century French scientist who wanted a straightforward demonstration of the Earth's rotation. So he devised the pendulum that's named after him. A Foucault pendulum is a weight on an extremely long wire. The original one that Foucault demonstrated in the Panthéon in Paris was 67 meters long.

When a pendulum starts swinging, it swings back and forth in the same plane, which does not change. But in a Foucault pendulum, it does appear to change in relation to the floor under it. This is because the Earth is turning beneath the pendulum. Near the main entrance to the Exploring Space gallery, there is a Foucault pendulum – visitors can check it out by having a look at different times.

Exploring Space
This gallery tells a story about the exploration of space, both by humans and by satellites and probes. Probably the most eye-catching exhibit is a replica of the Apollo 11 lunar module Eagle. Sometimes you can see a group of entranced children sitting on the floor nearby for a chat with "Gene Cernan". A well-briefed actor plays the part of the last man to set foot on the Moon, though when I eavesdropped, I noticed that the knowledge was more authentic than the American accent.

The gallery uses a blend of images and video, original artifacts, replicas and models. You can learn about Isaac Newton's essential theoretical contribution to spaceflight, and find out about some of the pioneers of rocketry. What do space telescopes and probes tell us about the cosmos? You can see how satellites study Earth and how important their services are. And what's it like living in space? You might be surprised at how complicated it can be to do some of the things that are simple on Earth.

Making the Modern World
Next to the space galleries is Making the Modern World, a fascinating selection of objects that helped to shape our world. Some of them relate to space and astronomy, such as a selection of Herschel items.

The original 48" mirror from William Herschel's Great Forty-Foot telescope is there. It was the largest ever made when he completed it in 1789, and it was only surpassed in 1847 when Lord Rosse's Leviathan came into use in Ireland. Interestingly, the Science Museum also has one of the 72" mirrors from Leviathan, but it isn't always on display.

William's sister Caroline was also an astronomer. She discovered eight comets and eleven other objects including galaxies and star clusters. You can see one of the telescopes her brother made for her.

A V-2 rocket stands at the far end of the gallery. The V-2 was used to launch rocket attacks on London during World War II. Nearby is what I think is the most amazing exhibit in the room, the Apollo 10 command module. There is a connection between the two objects. Do you know what it is? (The answer is at the end of the article.)

The command module Charlie Brown shows the scorching from its re-entry. It's also very compact, and it still surprises me that such a small vehicle brought three men home from the Moon. Apollo 10 was the dress rehearsal for Apollo 11. The crew did almost everything that Apollo 11 would need to do, including separating the lunar module from the command module, but taking it only to 15.6 km from the surface of the Moon.

Charlie Brown is the only Apollo command module on display outside the USA, though until the mid-nineties Apollo 13's Odyssey was in the Musée de l'Air, Paris, France.

Model gallery
A narrow gallery overlooking one side of Making the Modern World includes quite a number of models related to astronomy and space. Some of them are older mechanical models that show the movement of the Earth and Moon – and possibly other planets – around the Sun. They are called orreries, because one of the first people to own one was Charles Boyle (1676–1731), fourth Earl of Cork and Orrery. Some of them are quite elaborate.

Eighteenth Century Science
King George III was a keen astronomer, promoted agricultural development and was interested in the sciences. He had Kew Observatory built in order to observe the 1769 transit of Venus and hired Stephen Demaimbray to run it. Both the king himself and Demaimbray had collections of scientific instruments. They are shown in this gallery, along with some other instruments of the time. There are also videos to show how some of them worked.

And the gallery contains what we might term the original orrery. It was made by John Rowley for the Earl of Orrery in 1712-3. Such a model was also known as a tellurium.

IMAX
You won't be surprised to read that I think the museum ought to have a planetarium. However it does have an IMAX theater whose offerings include films related to space and astronomy.

What connects …..?
What connects the V-2 rocket and Apollo 10? Wernher von Braun. He designed and oversaw the construction of the V-2 rocket. But he is also considered the "chief architect" of the Saturn V rocket, the launch vehicle for the Apollo missions.

Last revised 2019-08-29
You Should Also Read:
Kew Observatory
Caroline Herschel
Cosmonauts - Birth of the Space Age


Related Articles
Editor's Picks Articles
Top Ten Articles
Previous Features
Site Map





Content copyright © 2023 by Mona Evans. All rights reserved.
This content was written by Mona Evans. If you wish to use this content in any manner, you need written permission. Contact Mona Evans for details.