Southwest Michigan's Local Food Movement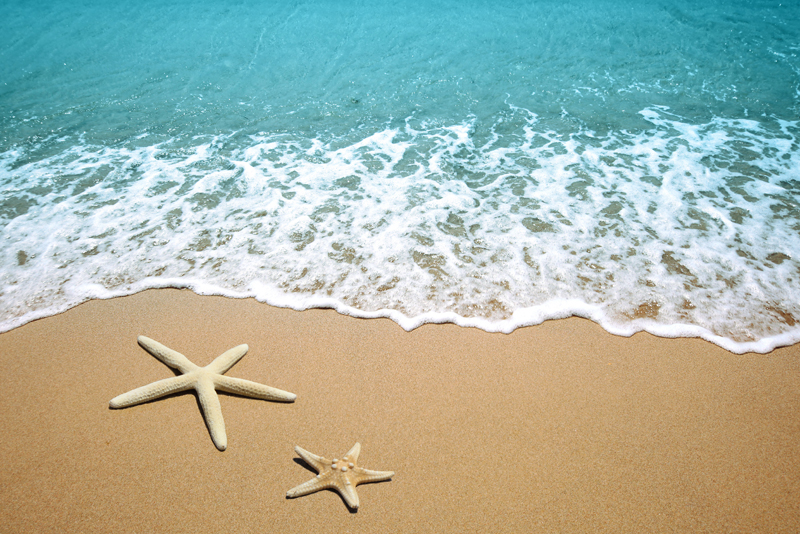 About 70 miles East of Chicago, the neighboring states of Indiana and Michigan, often referred to as Michiana, are a part of our nation's bountiful "fruit belt". Along the sparkling western coast of Lake Michigan, several lakeshore counties spread out like a beautiful tapestry of farmland, orchards, and vineyards. This region rivals California in providing non-citrus fruit, fresh produce, meats and wines to the rest of the country.
Why so productive? With its rich sandy soil, moderating lake effect weather, and desirable elevations, southwest Michigan has almost ideal growing conditions. A variety of microclimates are influenced by Lake Michigan which helps keep early and late freezes at bay, provides insulating snow cover in winter, and cool breezes in summer. Small family farms continue to be the mainstay of sustainable agriculture, keeping Michigan a leader in fruit production for well over a century.
With all this going for it, Southwest Michigan was well positioned for the current 'locovore' movement picking up steam across the country. Recent grassroots efforts are helping to re-invigorate the agricultural base through the support of local family farms and agri-tourism. Many restaurants, cafes, and other businesses design menus around what's in season, and grown locally, including grass-fed livestock. Visitors from Chicago and Detroit come to the area expecting fresh, local foods on the menu and fine regional wines. The local food movement embraces seasonal bounty.
Leading the charge in support of local agriculture is Judy Kite-Gosh, chef/owner of the Retro Café and Kite's Kitchen, a catering and specialty food business in New Buffalo. In 1992, Judy left the hectic city-life of a company executive in Chicago in search of a new life, a new business adventure, and a new chance to pursue her first love…FOOD. She inherited her love of food from both a grandmother and an aunt who were chefs and gardeners. Never without fresh ingredients with which to cook, her grandmother and aunt picked from their own gardens or those of local farms in the area.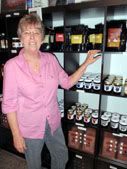 Judy wanted the same local connection to the food she planned to prepare in her future restaurant and catering business. "I wanted to be where there was a strong local farming community to support my business plans". She found just the agricultural bounty she was looking for in Berrien County, Michigan. Judy's husband, Tom, does the local sourcing for the business, visiting local farms weekly during the growing season for the freshest and best the area has to offer. "Over the years we've built lasting relationships with our local farmers".
"We probably freeze and preserve more than any restaurant I know. We make all our own preserves, pie fillings, chutneys, sauces and soups from fresh local fruits and vegetables. From May to October we're processing and freezing fruits and vegetables for use all year. We stock our retail store with all our homemade products.
Tom and Judy believe using locally grown meats, fruits and produce is a quality of life issue. "I love really good food and fresh, seasonal, local food is the best there is. At its peak it is also the most affordable. It supports the local economy, reduces our carbon footprint and has positive effects on overall health".
In an effort to 'practice what she preaches,' three years ago, Judy and a group of like-minded individuals came together and raised money to fund the production of a local PBS documentary titled, 'Farm Fresh To You'. With two years of hard work invested, 'Farm Fresh To You,' premiered in June of 2009. The documentary has been made available to PBS stations nationwide. The project was so successful that a thirteen part PBS series titled, "Get Local," which will explore farming and food in the entire Great Lakes region is in the planning stages along with a companion cookbook. Viewers of the 13 part series will also be able to get tips on canning, preserving and freezing the bounty of the seasons.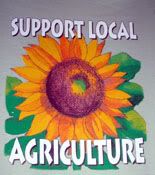 Helping local chefs and farmers find each other is one of her next projects. She plans on hosting a weekly chefs' market beginning this spring. "Farmers will know better what to grow and how much to meet the chefs needs. Chefs will better understand the flexibility required when dealing with nature. And having a single drop-off and pickup point will save everyone time and money".
"The local food movement is gaining momentum. We've added two new area Farmer's Markets in the last four years. The local schools are improving food programs and adding more fresh, local products to the menus". As for how other communities can work to support their local agricultural base, "The biggest challenge is to get the right people together who are willing to do the work. It requires a lot of organization and communication. You need passionate, organized people to make it happen".
Look for the related article "Cooking With The Seasons", for some of Judy's favorite recipes.
Read more about Judy and Southwest Michigan by clicking on the related links below.
For more info on Michigan visit: www.michigan.org and for more info on Michigan's Harbor Country visit: www.visitharborcountry.org.
You Should Also Read:
Tree-Mendus Fruit Farm Eau Claire Michigan
Michigan's Harbor Country
Cooking With The Seasons in Southwest Michigan


Related Articles
Editor's Picks Articles
Top Ten Articles
Previous Features
Site Map





Content copyright © 2022 by Hazel M. Freeman. All rights reserved.
This content was written by Hazel M. Freeman. If you wish to use this content in any manner, you need written permission. Contact Hazel M. Freeman for details.