Maria Mitchell - in Her Own Words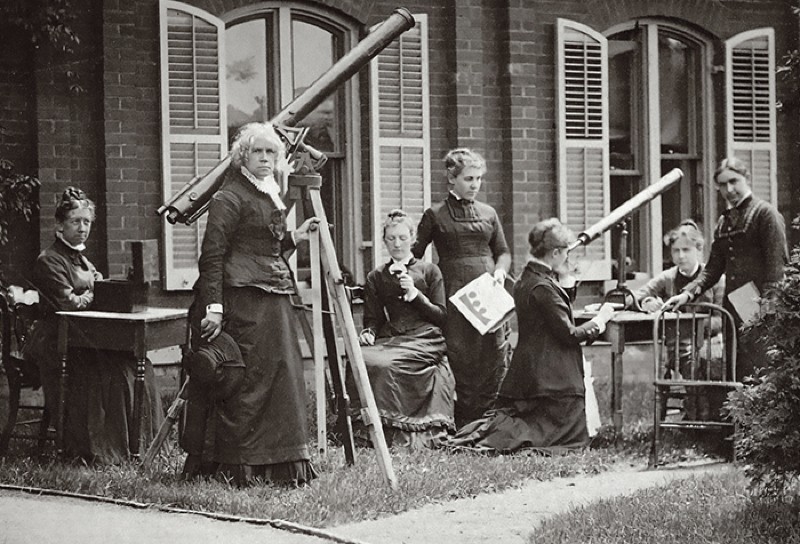 Maria Mitchell with students at Vassar College
We're rarely privileged to spend time in the company of someone who makes history. But I discovered a splendid little book that was almost like having tea with nineteenth-century astronomer Maria Mitchell, and hearing about her travels, her life and her recollections of outstanding figures of nineteenth-century science and culture. The book is
Maria Mitchell: Life, Letters, and Journals
, and it's available as a free ebook.
Maria Mitchell (1818-1889)
Mitchell was only the second woman to be credited for discovering a comet, the first having been Caroline Herschel. For her discovery Maria received worldwide recognition and a medal from the King of Denmark.
When Matthew Vassar founded Vassar College his first faculty appointment was Maria Mitchell. She was the first American woman to receive a science professorship, the first woman member of the American Association for the Advancement of Science and the first woman elected to the American Academy of Arts and Sciences.
The book
Phebe Mitchell Kendall compiled the book several years after her sister Maria's death. Phebe herself was also a prominent woman, one of the first two women elected to the Cambridge School Committee in 1879 when Massachusetts women got to vote in school committee elections.
The book has thirteen chapters, of which the first is an account of Maria's early life. I suppose that Phebe used her own family knowledge, and perhaps Maria's diaries, to write it. It's an engaging account of an interesting family and of life on Nantucket Island in the first half of the nineteenth century.
As the title suggests, the other chapters are excerpts from Maria's journals and letters with some occasional commentary.
The good
I enjoyed Maria's writing. Her voice is strong, thoughtful, sometimes opinionated, sometimes amusing. For example, when traveling from Massachusetts to Denver, Colorado to observe a solar eclipse, all went well until Pueblo, Colorado. She writes:
In sending [the telescopes] … , I had carefully taken out the glasses, and packed them in my trunks. I carried the chronometer in my hand. It was only five hours' travel from Pueblo to Denver, and we went on to that city. The trunks, for some unexplained reason, or for no reason at all, chose to remain at Pueblo."
Maria was widely read, and had been a librarian for many years. She numbered writers of the time amongst her friends, and there are journal notes of her interactions with Ralph Waldo Emerson, Nathaniel Hawthorne and John Greenleaf Whittier.
My favorite chapters described Maria's European visits where she met numerous prominent astronomers, including many of the players in the drama of the discovery of Neptune. French astronomer Urbain LeVerrier calculated the whereabouts of an unknown planet via disturbances of the orbit of Uranus. His calculations enabled the Berlin Observatory to find Neptune.
But as LeVerrier worked in Paris, in Cambridge, England John Couch Adams was independently doing similar calculations. Unfortunately, when someone at the observatory looked for the supposed planet, they couldn't find it. So although Adams's calculations were good, he became almost a historical footnote to the discovery of the new planet.
Maria met Adams at Cambridge, which she obviously enjoyed, relating that "we laughed over a roll, which we saw in the College library, containing a list of the ancestors of Henry VIII.; among them was Jupiter."
But what about LeVerrier? Maria writes,
I am afraid I shall have no letter to Leverrier, for every one seems to dislike him. Lady Herschel [John Herschel's wife] says he is one of the few persons whom she ever asked for an autograph; he was her guest, and he refused!
However the Astronomer Royal Sir George Airy did send a letter to Paris for her, and Maria did meet LeVerrier who gave her a little tour of the Paris Observatory. But "it was evident that he did not expect me to understand an observatory. We did not ascend to the domes."
The not-so-good
I found the tone of the first chapter a bit cloying at times, but I guess I have to forgive the adoring younger sister of a great woman.
More annoying was the rather haphazard organization of the chapters. The material made me long to read more about her travels and the people she met. Nonetheless it was confusing in parts, as it didn't present a coherent narrative, and changed topic without warning.
Chapter II, for example, is titled "Miss Mitchell's Comet". However after the story of the discovery of the comet, there are a dozen or so other topics covered. They include her work with the American Nautical Almanac, meeting the social reformer Dorothea Dix, and her opinion about sewing, which was "that the needle is the chain of woman, and has fettered her more than the laws of the country."
Be warned that often each paragraph is a new event or story.
Recommended?
Nonetheless I enjoyed the book and think that there is a lot in it that would appeal to others. You don't have to read it as a whole, but can dip into it, according to your interest and mood. I think it's a wonderful introduction to a superb astronomer and a great woman who could have spent more time on research and enhanced her own astronomical reputation. Instead she devoted her time to teaching, and encouraging higher education for women.
Maria Mitchell: Life, Letters, and Journals, by Maria Mitchell, compiled by Phebe Mitchell Kendall, 1896. Available as a free ebook from Project Gutenburg: https://www.gutenberg.org/ebooks/10202
You Should Also Read:
Caroline Herschel
Doodles for Women Astronomers
Maria Mitchell


Related Articles
Editor's Picks Articles
Top Ten Articles
Previous Features
Site Map





Content copyright © 2023 by Mona Evans. All rights reserved.
This content was written by Mona Evans. If you wish to use this content in any manner, you need written permission. Contact Mona Evans for details.