Illuminations - A Planetarium Afloat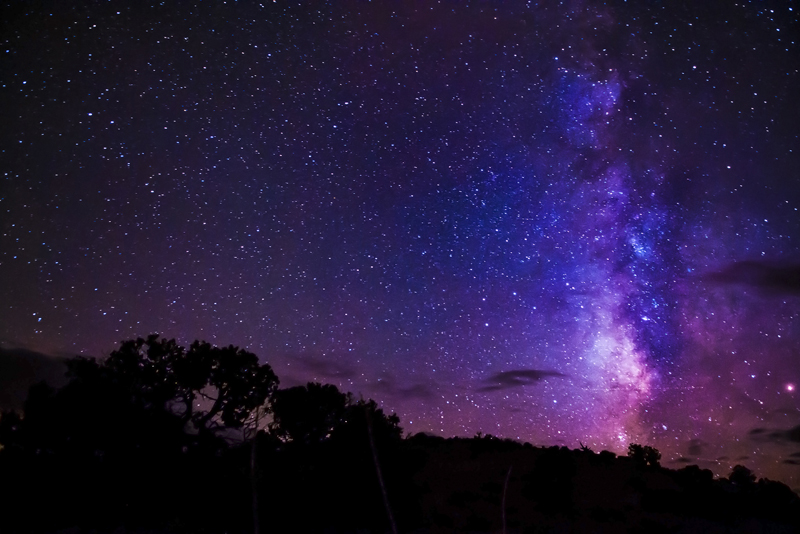 A ship at sea is a bit like a space station, each being a self-contained community in an alien environment. But there is also an ocean-going ship where you can get sky views to rival those from the International Space Station. The Cunard vessel
Queen Mary 2
(part of Carnival plc) is the only one with its own planetarium.
In addition to a theater dedicated to performing arts,
Queen Mary 2
has a second theater named Illuminations. It seats nearly 500 in steeply banked rows of seats, which provides good viewing. However also it means you need to take care when walking down the stairs. A small stage with pull-down screens, and a projection booth means that the venue is used for various activities, such as lectures, cookery demonstrations and movies.
But Illuminations can also become a 150-seat planetarium. Most of the seats are a gold color, but in the center there is
a block of dark red seats
, as you can see in Mark Lambert's photo. The circle on the ceiling above them shows where the planetarium dome is. To transform Illuminations into a planetarium, a skirting comes down to create the dome.
As you can imagine that a 12-meter (39 feet) dome isn't something you could just carry on board and push up into place. The parts had to be lowered into place through a hole left in the top of the ship as it was being built.
Six projectors positioned around the theater provide a surround picture and the red seats can recline. In fact, they are dangerously comfortable - I missed nearly a quarter of one of the planetarium shows by dozing off in one of them.
The Hayden Planetarium of the American Museum of Natural History in New York produced the original planetarium presentations. The films were great explorations of the cosmos and also one on the search for life. Narrators included Harrison Ford, Tom Hanks and Robert Redford.
Although I'm a great fan of all three of these actors, I have to admit that I'm not such a great fan of the idea that astronomy films need to be narrated by Hollywood stars. There are many presentable and articulate astronomers around. And indeed once you have a planetarium, an astronomer on board would be useful. So a partnership initiated in 2006 with the Royal Astronomical Society in London has been providing astronomers on selected voyages.
Members of the Royal Astronomical Society give formal talks in the Illuminations Theater. Most are professional astronomers, but all are experienced speakers and many are also writers and broadcasters. Besides the lectures, they are available to answer questions and for chats. Weather conditions permitting, they also lead star-gazing on the deck. You may not be surprised to hear that star parties are more likely when cruising the Caribbean than when crossing the Atlantic.
Certainly when the weather is unsuitable a planetarium would be handy. Oh, wait, we've got one! Then why not get some planetarium software that the astronomers can use? In 2010 this was done and the Royal Astronomical Society also has a copy of the Sky-Skan software for training purposes. The Society has put together a sky presentation that the on-board astronomer can use, but individuals can also give their own presentations to show aspects of the sky and how it changes. All of them have been very popular with the passengers.
Outside Illuminations is a pair of plasma screens showing "AstroBulletins" from the Museum of Natural History. This is a great idea, but unfortunately, although the contents are interesting, they are not current.
A final touch to the astronomical theme is that the entrance to Illuminations is decorated with figures from Greek mythology, an allusion to the night sky whose constellations are based on these ancient tales.
Note: I have traveled on Queen Mary 2 through the partnership between Carnival plc and the Royal Astronomical Society.
You Should Also Read:
Northern Lights Planetarium
Kew Observatory
Royal Observatory Greenwich


Related Articles
Editor's Picks Articles
Top Ten Articles
Previous Features
Site Map





Content copyright © 2021 by Mona Evans. All rights reserved.
This content was written by Mona Evans. If you wish to use this content in any manner, you need written permission. Contact Mona Evans for details.