Iditarod Trail Sled Dog Race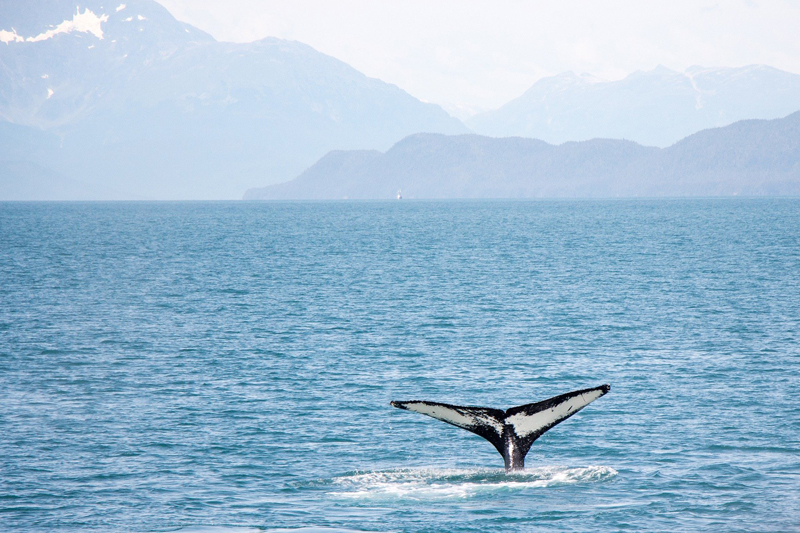 On the first Saturday in March, Anchorage, Alaska hosts a huge annual event. Beginning at the intersection of 4th Avenue and D Street in downtown Anchorage; barricades block off the side streets, mobile food venders are out in force along 4th Ave., selling everything from hot coffee to reindeer hotdogs, and people from all over the world line the snow-covered street.

What is going on? It is the ceremonial start to what is often called "The Last Great Race"! The annual Iditarod Trail Sled Dog Race® is a celebration of Alaskan culture, the sport of dog-mushing and the amazing part of Alaska's state history played by the Alaskan Husky dog.

The excitement builds as each team is announced and volunteers guide the excited dogs and sled to the start line. It's quite a sight to watch 14-16 enthusiastic huskies, all harnessed and pulling together, racing down the middle of the road controlled only by good training and the voice of the musher on the sled. There are no "reins" with a dog-sled team.

The serious race to Nome, 1,000-miles away along the Bering Sea coast, won't start until the following morning, nearly 70 miles away in Willow, Alaska. From there, teams will follow one of two well-known, if only roughly marked, trails which alternate every other year. Check points at villages along the route offer food, rest and veterinary care for the dogs, with mandatory stops and layovers dictated by race rules.

For an analogy of what a sled dog race is all about; consider it similar to what an old-time Tractor-Pull at a state fair is to Belgian horses, or a sheep-herding trial is to Border Collies. It is what they were bred to do and what they love. It's a way to celebrate the unique and invaluable part that Alaskan Huskies played in the everyday life of early Alaskan pioneers and Alaskan natives alike. In many ways, it would have been difficult, if not impossible, to settle Alaska without them.

Even post-World War Two; with trains, planes and automobiles commonplace across most of America, sled dogs were still being routinely used in Alaska for transportation and daily work, especially in native villages and bush Alaska. With few roads and minimal train tracks, they were absolutely essential in winter.

It wasn't until the 1960s introduction of the "Iron Dog" (the early snow-machine or snowmobile) to Alaska that the sled dog was pretty much abandoned as an everyday part of life. Not all that long ago in the overall scheme of things, but the world moved on quickly. Unlike larger vehicles, snow-machines could go anywhere huskies could go and they didn't need rest breaks.

Something had to be done to save the history of the sled dog culture and the Alaskan Huskies themselves, and to preserve the memory of what used to be the iconic Iditarod freight and mail track used by the teams all the way from the deep-water sea port at Seward, Alaska, where freight ships could anchor year-round, to Interior Alaska and far-away Nome's gold fields.

Joe Reddington, Sr., his wife Vi and historian Dorothy Page, were instrumental in organizing what finally became the Iditarod Trail Sled Dog race®. The first full-length race was held in 1973. The back-story is a long and interesting one, and their dedication and foresight are appreciated by sled-dog enthusiasts and Alaskan historians alike.

Alaskan Huskies are popular as pets in Alaskan homes as well as sledding kennels today. Sled dog racing is the State Sport of Alaska, with recreational mushing and ski-jor enthusiasts across the state, but the sport of sled dog racing is not practiced only in Alaska. Mushers bring racing teams to Alaska for the Iditarod from as far away as Norway and Russia, from Canada, and from many northern states in the USA.

Alaskan Huskies are recognized as the premiere dogs for the sport and are highly valued for their speed, endurance and aptitude. For more about Alaskan Husky Dogs themselves, please read my BellaOnline article centered around these superb athletes.

The iconic Iditarod Trail Sled Dog Race® brings history alive every March as the teams follow part of what is now designated as a National Historic Trail. Onward to Nome! Mush!



Related Articles
Editor's Picks Articles
Top Ten Articles
Previous Features
Site Map





Content copyright © 2023 by Deb Frost. All rights reserved.
This content was written by Deb Frost. If you wish to use this content in any manner, you need written permission. Contact Deb Frost for details.