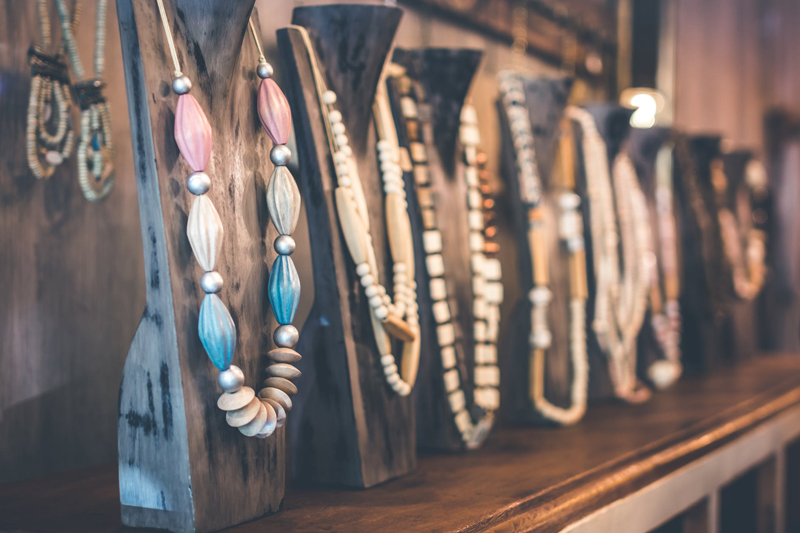 Now that you know
the basic technique for creating the Byzantine chain
, consider these tips for making your chains the best they can be. Keep in mind that these methods apply to any style of chain that you create using open jump rings, as well as to all chain maille weaves.
Create a Professional Look
The key to making any jump-ring chain look professional is to properly close each and every ring in the design. Use a magnifier to help you see, and take the time to wiggle together the ends of each ring until they look perfectly aligned, with only a tiny, smooth line where the ends come together. This will also keep your chain from scratching skin or snagging clothing.
Harden the Rings
I tend to use dead-soft tempered sterling silver wire for my projects, because it is easier to bend and shape than harder varieties. The trade-off is that the softer metal can pull-apart or become misshapen more easily. There are several ways to increase the temper of soft metal (that is, to make it stiffer).
You can wiggle the ends of each jump ring back and forth a little with your pliers before you secure it. This stiffens the metal, but it also fatigues it, making it more brittle. If you bend any metal back and forth too much, it will break - so use care with this method.
Hammer each ring before you get started. If you want to stiffen rings but not flatten them, use a nylon head or rawhide hammer. Another option is to run rings through a manual pasta machine, which also flattens them slightly. (But be careful not to pinch your fingers between the rollers!)
Tumble polish your finished chain in a rotary tumbler. The impact of metal shot against the sterling silver gradually increases its temper. You'll also achieve a mirror-like finish, which you can darken through oxidation later if you'd like.
Polishing and Oxidizing
If you don't have a tumbler, you can polish your chain using a polishing cloth or scrap of felt that you have coated with jeweler's rouge. To make the processes easier, secure one end of your chain in a bench vice, then pull it out straight with one hand and use your other hand to polish. Tim McCreight recommends twisting a loop of scrap wire through one end of your chain, and clamping that wire into the jaws of the vice to protect your chain from damage.
To oxidize your chain, follow the standard procedure for darkening the metal, and then attach it to a vice in the same manner. Instead of using a cloth, rub the chain with 00 steel wool.
~ For a convenient vice that you can clamp to a table top, try the Universal Vice
~ For a rouge that is easy to apply to a scrap of felt, consider Powdered Red Polishing Rouge XXG
---
Chris Franchetti Michaels is a writer and jewelry artisan specializing in beaded designs, wire work, and metal fabrication. She is the author of the books Teach Yourself Visually: Jewelry Making and Beading, Beading Quick Tips, and Wire Jewelry Quick Tips. Visit her website BeadJewelry.net for more jewelry-making help and inspiration.
You Should Also Read:
How to Make a Byzantine Chain
How to Make Wire Wrap Hearts
Polishing Sterling Silver with a Rotary Rock Tumbler


Related Articles
Editor's Picks Articles
Top Ten Articles
Previous Features
Site Map





Content copyright © 2021 by Chris Franchetti Michaels. All rights reserved.
This content was written by Chris Franchetti Michaels. If you wish to use this content in any manner, you need written permission. Contact Susan Mendenhall for details.