Strawberry and Toasted Almonds Salad Recipe
You have to love strawberries when they are in season. They are so sweet and flavorful - and all you have to do is wash them for an instant, healthy snack. You can pick them from the bush, buy them from the grocery store or grow your own , that's if you have the free time to tend to your plants! :)
The outdoor farmer's markets are the way to go if you are privileged to frequent these. Look around on the internet and search for - local farmer's
markets - you may be surprised that they are not far from your neighborhood. There's also lots of information at these markets regarding healthy cooking, recipes ideas and tips. It's great to visit these markets just to talk with the vendors about their produce - you can learn a lot.
Strawberries are a great source of vitamin C, fiber and antioxidants and eaten together with the almonds provides high protein and vitamin E.
So - let's get to it! My Strawberry and Toasted Almond Salad recipe came about from when I lived in California. There was an abundance of strawberries from the fields surrounding the Orange county area, that you just had to make something because they were so inexpensive.
This recipe uses a ranch dressing and is finished off with a balsamic reduction - otherwise referred to as a glaze, which is very easy and inexpensive to make. Alternatively, if you don't want to make your own glaze you can purchase a bottled balsamic glaze at your local market if you want to spend the extra dollars.
The sweetness of the strawberries, the nutty crunch of the toasted almonds and the tangy come sweet balsamic glaze, with a hint of saltiness from the feta cheese, makes this a very nutritional salad with tons of combined flavor and texture. Enjoy!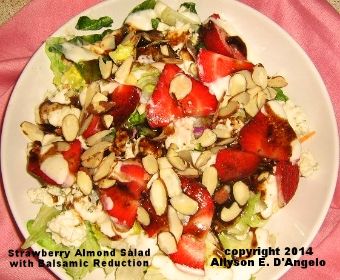 Ingredients
1/2 cup slivered almonds
2 cups dark balsamic vinegar
2 cups fresh strawberries, sliced
4 cups lettuce (I used romaine, chopped)
2 oz. crumbled feta cheese
Ranch salad dressing
Method
Preheat the oven to 350 degrees F.
1. On a parchment or foil lined shallow sheet pan, arrange the almonds in a single layer. Toast them in the oven for approximately ten minutes or until the almonds start to turn a golden brown. Remove them from the oven and set aside to cool.
2. Balsamic Reduction or Glaze:- In a small aluminum saucepan bring the balsamic vinegar to a boil and reduce the heat to a slow simmer. Cook for approximately 30 to 40 minutes until the vinegar has reduced by two thirds.
Please keep your eye on the vinegar when reducing, as towards the end it can finish off quickly and burn the bottom of the pan, making the glaze bitter. When the vinegar coats the back of a wooden spoon, your glaze is ready. Set aside to cool and refrigerate. This can be made ahead of time.
3. In a large bowl place the lettuce, 1 cup of the sliced strawberries, 1/4 cup of toasted almonds and 1 oz. feta cheese. Drizzle with your desired amount of salad dressing and toss together with a pair of tongs. Divide the salad into two bowls. Dress the salad with the remaining almonds, feta cheese and strawberries. Drizzle all over with balsamic glaze and enjoy.
You Should Also Read:
Visit my other site American Regional Cuisine for more great recipes


Related Articles
Editor's Picks Articles
Top Ten Articles
Previous Features
Site Map





Content copyright © 2022 by Allyson Elizabeth D´Angelo. All rights reserved.
This content was written by Allyson Elizabeth D´Angelo. If you wish to use this content in any manner, you need written permission. Contact Allyson Elizabeth D´Angelo for details.