Stuffed Pork Rolls with Spinach Saute Recipe
I love concocting recipes from inexpensive cuts of meat, because it means you can stretch your budget a little further for something extra special you may want to make during the next week or two until payday. This recipe uses boneless pork shoulder steaks that fortunately for me, they were on sale. That's a feature I always love.
These turned out delicious and were easy and affordable to make, using readily accessible ingredients from your local market. Unfortunately, when I made this recipe with the small package I purchased, I had no idea they would have been such a big hit with my diners. So, if you have a family of four or more, make sure to double this recipe or look for larger steaks - you can always slice them for the plate when they are cooked. They are going to love them.
What makes this recipe great, is that aside from the pork shoulder steaks, you will be using simple and mainly fresh ingredients - chicken broth, onions, spinach, parmesan cheese, bacon and garlic. The cooking techniques are easy here - only browning the pork rolls a little bit and then, 2 minutes of sautéing of the onions and garlic. To get it all going in the pan you will combine everything and cover it with a lid and let it do its braising thing - while you do something else! I hope you try my Stuffed Pork Rolls with Spinach Sauté recipe. It's easy and inexpensive and downright delicious!
The recipe for the Spinach sauté follows the main recipe. You can use as much spinach, bacon, garlic here as you wish. You'll need a very big bag of spinach to have enough to serve 4 people, as it reduces dramatically in volume just like you would cook onions or mushrooms. You need a lot of it!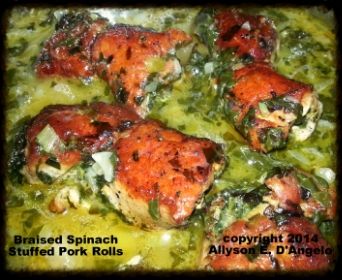 Ingredients
1 lb. boneless pork shoulder steaks
Olive oil + 3 tablespoons
Kosher salt and ground black pepper
3 garlic cloves, crushed
2 cups fresh spinach, chopped finely
1/2 cup grated Parmesan or Romano cheese
1 large sweet onion, finely diced
2 large cloves fresh garlic, chopped
3 cups chicken broth or stock
Method
1. Pound the steaks until they are about one quarter inch thick. They make break up a little just because of the lines running through the meat. That's okay, they hold up well during braising. Sprinkle with a little kosher salt and pepper, olive oil and set aside.
2. In a bowl, combine the crushed garlic, chopped spinach, grated cheese and 3 tbsp. olive oil. Mix all ingredients together well. Next, take a pork steak and divide healthy amounts of the spinach mixture over half of the steak. Fold and tuck the mixture, rolling as you go (from the short end) and simply secure with a toothpick on the underside. Brown the stuffed rolls in a frying pan over a high heat until golden brown on two or all sides. Drain on paper towels and when cool enough to handle, remove the toothpicks.
3. In a 3" deep pan, heat a couple tablespoons of olive oil over medium heat and add the onions and garlic. Sauté, but do not brown, for approximately 3 to 4 minutes. Add the broth or stock and bring to a boil. Reduce the heat to low and add the pork rolls. Cover and cook until tender, approximately 1 hour if they are small (longer if they are thicker.)
Season the sauce according to your taste with salt and pepper. If you want to turn the sauce creamy, remove it from the heat add a little light or heavy cream (about a quarter cup) and stir in well.
Easy Spinach and Bacon Sauté
I served this dish with a quick and easy, fresh spinach and bacon sauté. Just cook some bacon until it's almost crispy and chop. In a sauté pan add a little olive oil and then the garlic and cook until fragrant over a medium heat – do not brown. Then, quickly add the spinach and bacon and cover until it's wilted.
This spinach saute takes a total cooking time of approximately 5 minutes and it's done. Simply wonderful! You can also serve this recipe with fresh veggies, over rice or whatever your imagination lets you run wild with.
You Should Also Read:
Visit my other site American Regional Cuisine for more great recipes


Related Articles
Editor's Picks Articles
Top Ten Articles
Previous Features
Site Map





Content copyright © 2023 by Allyson Elizabeth D´Angelo. All rights reserved.
This content was written by Allyson Elizabeth D´Angelo. If you wish to use this content in any manner, you need written permission. Contact Allyson Elizabeth D´Angelo for details.