Budweiser Attacks Craft Beer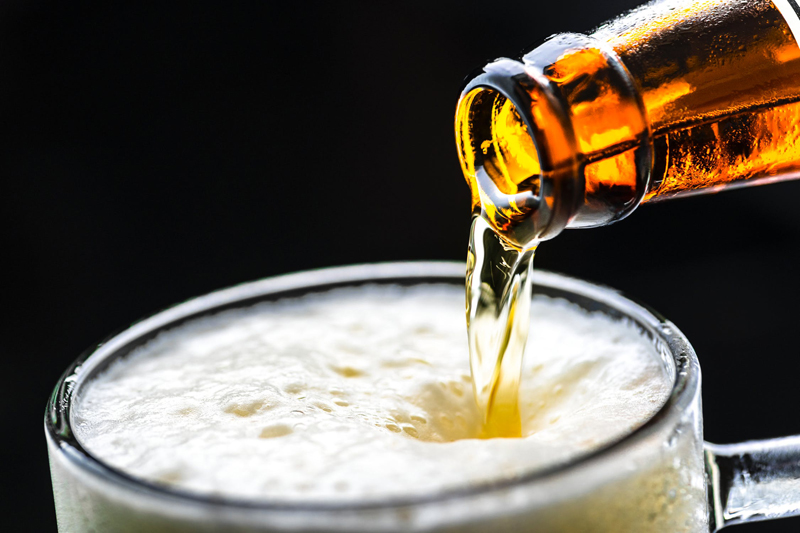 I had an Italian friend who once shared a fable with me. I'd like to share it with you.

Once upon a time, there was a snake who lived among the fall leaves, rocks and grasses in a large field by a river. A beautiful young woman came along, running happily through that very field. The snake stopped her as she skipped by and said, "Please, Pretty Lady, pick me up and put me in your warm coat. I am so cold out here; I am sure to freeze."

The girl replied, "No way, Snake. I know better. You are a snake. As soon as I put you in my coat, you will bite me and I will die. It is your nature."

"Oh, no," answered the snake. "If you save me, you will be my protector. We're in this together. I will never turn against you. Please, don't let me die. I am so cold out here."

The girl thought and thought about it. She knew the dangers of snakes, but he gave his word. It was true that she would be his protector, and he would be grateful for the life she would provide for him.

"Okay, Snake. I'll warm you." She gently picked up the snake and placed him inside her coat.

In a flash, she felt the pierce of his fangs near her heart. Her eyes grew dim, and in her dying breath she whispered, "But Snake, you promised that if I helped you, you would not bite me. We would continue on together. You gave your word."

As the snake slithered away, he replied, "You knew the danger all along. I bit you because, as you said, it is my nature."

And so it is with Anheuser-Busch InBev. As a macro-beer company, this multi-national beer company holds in its portfolio such brands as Budweiser, Corona, Stella Artois, Beck's, Hoegaarden, and more. In recent years, they have felt the burden of slipping market share as more and more beer drinkers become enamored by the variety and diversity within the craft beer community.

To bolster their slipping numbers, they have made an effort to position themselves as partners of the craft beer world. They created the Shock Top brand, a portfolio that includes a Belgian White, Lemon Shandy, and a handful of Wheat Beers with honey, fruit, and bourbon enhancements. In a way, it back-fired. Seasoned craft beer drinkers remained un-swayed, and it may have created a bridge that led Bud, Stella and Michelob drinkers into the curious world of craft beer. Market share continued to erode, but A-B InBev developed a new strategy.

Little-by-little, A-B InBev had begun to partner with some of the heavyweights in the craft beer world. Redhook, Widmer, and Kona became the Craft Beer Alliance, taking A-B InBev in as a partner with 35% share.

In 2011, they bought Goose Island who created such ethereal beers as Sophie, Matilda, and Pere Jacques to complement their strong beer platform, which included 312 Urban Wheat, Honkers Ale and a host of wonders that could capture the imagination of the discerning craft beer lover. Founded by John Hall in 1988, Goose Island was on a growth path that included an expanding brewery and bottling plant by 1995. A-B offered $38.8 million for Goose Island, and now contract-brews Honkers Ale and IPA in New Hampshire for the Eastern seaboard. Does it matter that jobs left Chicago? This is A-B's idea of craft beer.

Anheuser-Busch InBev also snatched up Blue Point Brewing on Long Island in New York, 10 Barrel Brewing in Bend, Oregon, and most recently, will be closing on a deal for the beloved Elysian Brewing Company with four brewpubs in Seattle, Washington.

Despite this incredible "interest" in the craft beer community, A-B InBev produced and spent BIG BUCKS on their "Budweiser, brewed the hard way" commercial during the 2015 Super Bowl on February 1st. It was an outright assault on the craft beer community, from the very "first impression" of a Michael Jackson (The Beer Hunter) look-alike, to criticism of beer tastings, and a final slam of Pumpkin Peach Ale, which is proudly brewed by Abita Brewing Company in Louisiana and their very own Elysian Brewing acquisition..

The ad gives the impression that it is somehow "wrong" to taste what you drink. After all, Bud has built its reputation on convincing people to guzzle, not taste; order what looks posh (as in the Stella Artois adverts); and feel the love for puppies and horses. According to the commercial, thinking and tasting are not a part of being a Bud drinker.

That said, is it ironical that Anheuser-Busch InBev employs an army of chemists, sensory specialists, and people who are qualified beer judges? Some of these people travel the country presenting beer-and-food demonstrations which educate the consumer and encourage tasting the beers in "their" portfolio. Their sensory specialists endeavor to ensure consistency in the Bud product, no matter where it is manufactured. The brands are "adjusted" to mirror the target product, even when outsourced.

And as a Beer Judge, I have sat at the table with A-B InBev Judges who are every bit as critical as any craft beer drinker smeared in the "Budweiser, brewed the hard way" commercial. Did the owners of the Bud brand declare war on the craft beer community, despite buying up shares of highly-respected craft breweries? Is it the snake, lying in wait?

Our Craft Beer Champion, Michael Jackson, has been gone since 2007. A-B InBev found it fit to mirror his look-alike early-on in their commercial. Make no mistake: This was no coincidence. Positioning tells me they have done very careful marketing. They could have used a Charlie Papazian look-alike, but they might face legal repercussions. Better to use a dead man.

The question is: How serious is A-B InBev about distributing the great craft beer they have acquired in their portfolio? The only thing they want to do is buy-up tap space to force small, independent, and traditional breweries out of business. It's their nature.

Cheers!


You Should Also Read:
Sound Bites
Eight Facts You Didn't Know About Beer & Health
Beer Geeks - An American Sub-Culture


Related Articles
Editor's Picks Articles
Top Ten Articles
Previous Features
Site Map





Content copyright © 2022 by Carolyn Smagalski. All rights reserved.
This content was written by Carolyn Smagalski. If you wish to use this content in any manner, you need written permission. Contact Carolyn Smagalski for details.