Eight Facts You Didn't Know About Beer & Health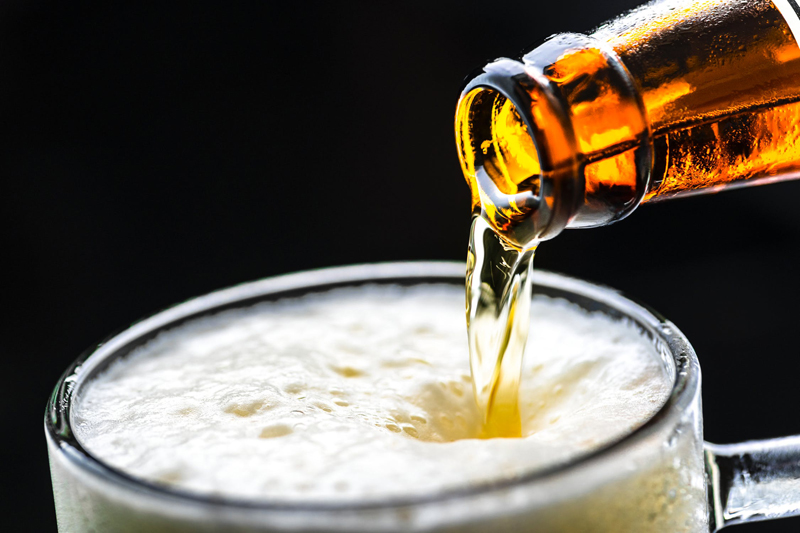 An amnesiac walks into a tavern and asks the bartender, "Do I come here often?" … An Irishman, an Italian and a priest walk into a bar. The bartender says, "What is this, some kind of joke?" … A dyslexic walked into a bra … You've heard them all, but they are such classics that our eyes begin to sparkle and our faces relax in a childish grin every time we hear them.

Laughter and the social interaction of sharing a joke are good for us. Research indicates that our physiology changes when we laugh. Our heart rate goes up, our pulse quickens, we burn more calories, and we breathe more deeply, sending greater amounts of oxygen to our tissues. It's all about creating a healthy lifestyle.

And, believe it or not, moderate beer consumption is part of that healthy equation. Europeans believe this is a fact worth promoting. But we don't attach beer to good health in America. Sensationalism in American advertising and TV has created an overblown culture of fear to such an extent that common-sense has fallen by the wayside.

I was speaking with a quick-witted lady of 85 about this strange phenomenon, a woman who has lived through generations of change in this country. "Why do you suppose Europe is so far ahead of us on this front?" I asked. "Europe is older than us," she replied. "They have more history, more tradition. They see that beer is a natural product with an art and a craft behind it. Of course, they would understand it better. We're still a young country."

In September 2011, Professor Frans J. Kok, Head of the Division of Human Nutrition of Wageningen University, Netherlands, headed-up the 6th European Beer and Health Symposium at Bibliothèque Solvay in Brussels, Belgium. Eleven Speakers from Denmark, the Netherlands, Spain, France, Italy, and the U.K presented dissertations on the positive impact of beer on health and social well-being.

Pre-eminent authorities included Lluís Serra-Majem, PhD, of Spain, a medical doctor specializing in Preventive Medicine and Public Health, who spoke on the importance of following a Mediterranean diet, including fermented beverages such as beer and wine. Dr. Serra-Majem is Founder and Director of the Community Nutrition Research Centre of the University of Barcelona Science Park and holds the UNESCO Chair for Research, Planning and Development of Local Health Systems.

In this comprehensive symposium, a wide array of topics were explored. Said Professor Kok, "It is important to realize that beer fits into a healthy lifestyle, and if you combine moderate drinking and non-smoking with a healthy diet and sufficient physical activity, the European citizen would do the best for his or her health and also for the quality of life."

Nothing makes one more sexually attractive than being in good health. Good health includes such benefits as having a lean, shapely figure; a colorful glow to the skin; and the stamina to enjoy physical activity, whether painting the Sistine Chapel or embracing 48-hours of sensual intimacy. It's good for your brain, too.

Think not?

Eight facts on beer and heath, presented at the symposium:

Beer lowers the risk of cardio-vascular disease and heart attack

Licia Lacoviello, PhD at Naples University, Italy, and PhD at Leiden University, The Netherlands, stated, "Abstainers should be informed that regular and moderate alcohol consumption would put them at a level of cardio-vascular or mortality risk substantially lower than avoiding drinking."

There is no substantiated connection between Beer and the formation of Beer Belly

What about that infamous beer belly? Professor Arne Vernon Alstrup of the University of Copenhagen, Denmark, says there is no substantial scientific evidence that such a phenomenon really exists. Studies examining such a theory have been poorly conducted, at best. Factors such as lifestyle (active vs. sedate), type of foods typically chosen by drinkers of wine or beer (fruits, low-fat meats vs. processed foods and pork), and whether heavy drinkers were also heavy eaters were not examined in many studies.

Beer promotes bone formation, benefits connective tissue, and reduces hypertension

Professor Jonathan Powell, Director of Studies at MRC Human Nutrition Research in Cambridge, London, presented a comprehensive analysis on beer as a high source of dietary silicon. Dietary silicon is involved in bone formation. It is beneficial to connective tissues, increases aortic circumference, and reduces hypertension.

In addition, moderate alcohol intake inhibits bone density loss.

Beer contains polyphenols

Professor Ramon Esteruch of the Hospital Clinic, University of Barcelona, Spain is conducting research in Polyphenol Research, and has found that beer contains polyphenols which play a cardioprotective role in the body. For this reason, moderate consumption of beer could decrease risk of cardiovascular disease.

Non-alcoholic beer is a good supplement for lactating mothers

These days, we scoff at the idea that mothers of the past were told that drinking Milk Stout was good for lactation. Hernandez Aguilar, PhD, of the Valencia Health Department, Spain, concurs that non-alcoholic beer may be beneficial for nursing mothers. It improves the antioxidant properties of their milk and benefits the oxidative status of both the mother and her offspring.

Beer is as effective as water in hydrating after exercise

Manuel J. Castillo, MD, PhD of the University of Granada, Spain, found in his research that beer does not prevent adequate recovery or rehydration after physical exercise. On the contrary, it is equally effective in rehydrating the body as water.

Moderate consumption of beer is good for cognitive health and slows the aging process

Vincenzo Solfrizzi, PhD and illustrious researcher at the Institute of Geriatrics, the University of Bari, Italy, conducted extensive research that showed that "patients with mild cognitive impairment who were moderate drinkers had a lower rate of progression to dementia than abstainers." In addition, those with higher levels of drinking did not show any greater progression to dementia than those who were teetotalers.

Beer is healthy and enjoyable

Okay … maybe you knew this one. George Philliskirk, PhD, Director of the Beer Academy, UK, Fellow of the Institute of Brewing and Chairman emeritus of the Board of Examiners of the Institute of Brewing asserts that beer has a long history in the development of cultural, scientific, economic and social development of Western civilization.

As a socially enjoyable drink it is crafted with diversity of style throughout the world. It allows relaxation and laughter. The negative impact of those who excessively consume alcohol has skewed the picture. In moderation, beer is social, healthy, and enjoyable.

A guy walks into a bar in Detroit, in Michigan, and asks the barmaid, "What's the fastest way to get to Dearborn?" "Are you walking or driving?" asks the barmaid. "Driving," says the guy. "That's the quickest way," says the barmaid.

Cheers!

Drink beer but exercise daily:
You Are Your Own Gym: The Bible of Bodyweight Exercises


Using the right glass will enhance the experience:
Libbey Craft Brew Sampler Clear Beer Glass Set, 6-Piece
You Should Also Read:
Lucy Saunders - The Best of American Beer & Food - Cookbook with Recipes
Quick & Easy Recipes to Treat a Hangover
Heart Healthy Beer


Related Articles
Editor's Picks Articles
Top Ten Articles
Previous Features
Site Map





Content copyright © 2018 by Carolyn Smagalski. All rights reserved.
This content was written by Carolyn Smagalski. If you wish to use this content in any manner, you need written permission. Contact Carolyn Smagalski for details.