Ptolemy and the Butterfly - M7 and M6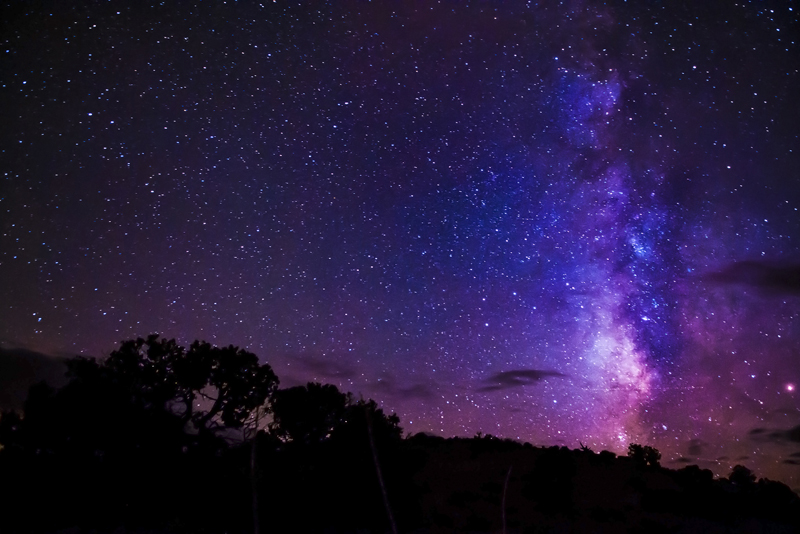 There are objects beyond the Solar System. We call them
deep sky objects
, and they include nebulae, galaxies and star clusters. In the 18th century they were known collectively as
nebulae
. Except for the occasional star cluster, all the other things were just fuzzy objects in the telescopes of that time. French astronomer Charles Messier (1730-1810) began to catalog all the fuzzy objects so they wouldn't be mistaken for the comets that were his true love in astronomy.
Two of the early objects that he included in his catalog were
open star clusters
, M6 and M7, apparent neighbors in the constellation Scorpius. Of Messier's hundred objects, M6 and M7 are the two that are farthest south.
Open star clusters
The stars in a cluster aren't together by chance. They all formed from the same gas cloud, are about the same age, and have a similar composition.
Some clusters are so packed with stars that their mutual gravity pulls them together into a globular shape. These
globular clusters
are billions of years old and we know of about 150 in the Milky Way.
On the other hand,
open clusters
are quite common and comparatively young. In regions with plenty of gas and dust to make new stars, open clusters are still forming. Many of them have fewer than a hundred stars, and even the largest ones rarely contain more than a thousand. This means that the mutual gravitational attraction of the stars is comparatively weak, so these clusters tend to break up over time.
Although the chemical composition of the stars in a cluster is similar, the stars aren't identical. The color of a star and its evolution depend on its mass. For example, the most massive stars are the brightest. They burn brightly, but not for long, and their brilliant lives end in supernova explosions.
M7: Ptolemy's Cluster
M7 (also designated NGC 6475), is visible to the naked eye and has been known since ancient times. Ptolemy, the great second-century Greek astronomer, was the first person that we know of to record this cluster's existence. Since telescopes wouldn't be invented yet for over a thousand years, he didn't know it was a star cluster. He described it as nebulous, but it's since become commonly known as Ptolemy's Cluster.
In the 17th century, Italian astronomer Giovanni Batista Hodierna (1597-1660) observed Ptolemy's Cluster with a telescope, and was able to see thirty stars. Modern observations give the number of stars as at least a hundred.
The cluster is estimated to be 980 light years away and 25 light years across. It's around 200 million years old, and has a mass over 700 times that of the Sun. Here's a
a photograph of Ptolemy's Cluster
taken from Kitt Peak National Observatory in Arizona, USA.
If the viewing conditions are good, M7 is easily visible, if you're in the southern hemisphere. As you get into the northern hemisphere, the farther north you are, the lower the cluster is in the sky. For much of the time it's too low to be seen in northern Europe and the higher latitudes of North America. Above 56°, it's not visible at all. However if you can see the scorpion's stinger, M7 is easy to see in a dark sky. Only binoculars are then needed in order to see stars.
The best time to view M7 is between June and August – winter in the southern hemisphere and summer in the northern hemisphere.
From M7 to M6
In this finder chart you can see
M7 nicely placed between the scorpion's stinger and the teapot of Sagittarius
. Someone has suggested that if you were pouring tea from the teapot that "M7 is just where you put the cup!" (If you aren't a tea drinker, you may not see how appealing this image is.)
The chart also shows that M6 is about 5° to the northwest of M7. With binoculars you can get them both in the same field of view. Nonetheless this doesn't mean that they are actually close together. They appear to be close together because they're along our line of sight. In fact, M6 is about twice as far away from us as M7.
M6 Butterfly Cluster
It seems unlikely that Ptolemy saw M7, yet failed to notice M6. Nonetheless he evidently didn't think the latter was worth recording. Hodierna was the first person to record seeing M6, and it was independently discovered nearly a century later by Swiss astronomer Philippe Loys de Chéseaux.
But it was American astronomer Robert Burnham (1931-1993) who was reminded of a butterfly when he observed the cluster. He described it as "a completely charming group whose arrangement suggests the outline of a butterfly with open wings." I've seen many images of M6 that don't remind me of a butterfly.
This photo of M6
is the most persuasive one I could find.
M6 is about half the age of M7, probably less than 100 million years old, and also twice as far away as M7. In M6 lots of bright blue stars are still burning hydrogen, evidence for the youth of the cluster. The most massive of these stars will swell into giant stars when they run out of hydrogen fuel. Only one of them already has done that, the cluster's brightest star BM Scorpii, an orange giant and variable star.
Photo credits
1. Ptolemy's Cluster: Allan Cook & Adam Block, NOAO, AURA, NSFF
2. Finder chart: freestarcharts.com
3. Butterfly Cluster: N.A.Sharp, Mark Hanna, REU program/NOAO/AURA/NSF
You Should Also Read:
Charles Messier - Comet Ferret
Galaxy or Star Cluster
Starbirth


Related Articles
Editor's Picks Articles
Top Ten Articles
Previous Features
Site Map





Content copyright © 2023 by Mona Evans. All rights reserved.
This content was written by Mona Evans. If you wish to use this content in any manner, you need written permission. Contact Mona Evans for details.