Valentina Tereshkova - the First Spacewoman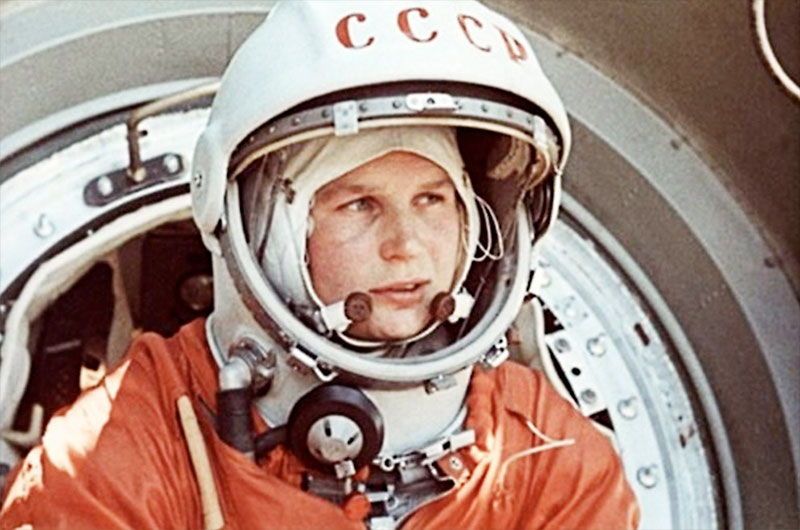 For three days in June 1963 a space-suited cosmonaut circled Earth strapped into a tiny spacecraft so basic that it wasn't safe to land in it. Yet the first woman in space logged more flight time than the total of all the US astronauts put together.

Family and education
Valentina Vladimirovna Tereshkova was born on March 6, 1937 in Bolshoye Maslennikovo, a village on the Volga River about 350 km northeast of Moscow. Her father, a tractor driver, was drafted when Russia and Finland went to war. Valentina was two years old when he was killed in action, leaving her mother Elena to raise three children on her own.

World War II brought education to a halt. Young Valentina was at least eight when she finally began her formal schooling. As a teenager, she left school to get a job, eventually becoming a loom operator at the cotton mill where her mother worked. She continued her education at night school and graduated from the Light Industry Technical School.

Sky diving
Two outside interests claimed the young woman's attention. Valentina was active in Komsomol (Young Communist League), and became secretary of her local branch. Yet her great passion was sky diving. She made her first dive in 1959, training at her local aeroclub, and in a few years she'd completed ninety jumps.

Woman in space
The space race was on between the USSR and the USA. The Soviets had put the first satellite into orbit and the first man into space. By 1962 both countries had sent men into space, but no women. Perhaps the Soviets could achieve that, thereby again scoring points over the Americans? Premier Nikita Khrushchev was keen, Colonel General Nikolai Kamanin, head of cosmonaut training, was in favor, and Sergei Korolev, head of the space program, was reluctantly convinced.

Spacefarers in both the USSR and the USA were military pilots. There were few women pilots in either country, but, in fact, a Vostok spacecraft was automated and didn't need a highly trained pilot. But it did need a parachutist, because the space capsule and the cosmonaut landed separately. (This was a state secret, like most of the space program.)

They concentrated recruitment on aeroclubs, and of the hundreds of nominally qualified women, two dozen were chosen for testing. Only five passed all the tests, and they then followed the same rigorous training that the men did.

Tereshkova wasn't the most technically qualified, nor did she get the highest test scores. But all five of the women had passed exhaustive training and were the right stuff, so other criteria came into play. The clue to Tereshkova's being chosen for the first mission is Kamanin's reference to her as "Gagarin in a skirt". Besides their determination, both Gagarin and Tereshkova had good working class credentials, and were nice-looking with attractive personalities and good people skills.

The Mission
Alas for the women, the first female mission would also be the last one for another two decades. The original joint mission with two women in space ended up being Valery Bykovsky (male) in Vostok 5 and Tereshkova in Vostok 6. The other women kept up their training until 1969 when the group was disbanded.

Vostok 6 launched successfully from Baikonur Cosmodrome in present-day Kazakhstan. She made 48 orbits of Earth in three days. The mission was classified until the launch was successful. Having being told that Valentina was taking part in a parachuting contest, even her mother only learned that her daughter was in space from the radio .

The spacesuit chafed, the pressure of the helmet was extremely painful, and Tereshkova felt ill. Fortunately, a real disaster was avoided when she realized that an error in the control program would make the space capsule ascend when it was supposed to be landing. Mission control was able to send her new coordinates to enter manually. (As requested, she kept this secret for many decades.)

At 6000 m (20,000 ft) above the ground, Tereshkova ejected and parachuted, nearly landing in a lake, and having difficulty with the parachute in strong winds. She and Vostok 6 landed separately and safely, if slightly bruised.

A Soviet ambassador
A hero at home and away
Besides being honored in her own country, Tereshkova was warmly greeted as she toured elsewhere. She was decorated as a Hero of the Soviet Union, the country's highest honor, and several more followed from around the world, including the United Nations Gold Medal of Peace.

Women and peace
Although Tereshkova didn't call herself a feminist, she championed rights for women and worked for world peace. She headed the Soviet Women's Committee for many years, and in 1975 was the Soviet representative to The United Nations Conference for the International Women's Year in Mexico City.

Education and work
Tereshkova studied at the Zhukovsky Air Force Academy, graduating with distinction as a cosmonaut engineer, and in 1977 earning a doctorate. She worked as an engineer in the space program.

Marriage
In November 1963 Tereshkova married fellow cosmonaut Andriyan Nikolayev. Some marriages are made in Heaven, but this one may have been made in the Kremlin. Leaders from government and the space program attended, and Khrushchev presided. The following year Elena Andrianovna Nikolaeva-Tereshkova was born, the first person born of two space travelers. Apparently, it wasn't a happy marriage, and when Elena came of age Premier Leonid Brezhnev approved a divorce, and Tereshkova remarried.

Politics
Tereshkova was active in politics, for over twenty years a member of the Central Committee of the Communist Party. She was also a member of the Supreme Soviet, the highest Soviet legislative body. That changed with the breakup of the USSR, but in 2011, she was elected to the Russian legislature's lower house, the State Duma.

Space hero Valentina Tereshkova celebrated her 80th birthday in 2017. The Science Museum in London devoted a section of the Space Galleries to her achievements.
You Should Also Read:
Cosmonauts – Birth of the Space Age
First Orbit – film review
Yuri Gagarin – the First Spaceman


Related Articles
Editor's Picks Articles
Top Ten Articles
Previous Features
Site Map





Content copyright © 2022 by Mona Evans. All rights reserved.
This content was written by Mona Evans. If you wish to use this content in any manner, you need written permission. Contact Mona Evans for details.