Review of Coffeehouse Knits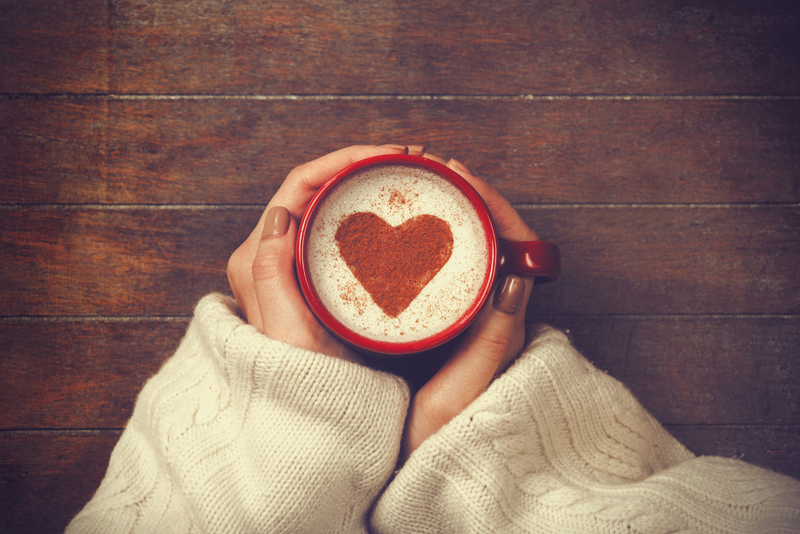 I always struggle with whether or not to purchase printed pattern collections, as there are usually only one or two within the book that I actually want to knit. However, Coffeehouse Knits is a rare exception, a collection of twenty patterns that all call to me. Author Kerry Bogert has put together a book that will appeal to both new and experienced knitters, and also to gift recipients.

If you love spending time at coffeehouses, you will love this combination of hot drink, intelligent design, and comfortable knitting. The book is set up like a magazine issue, with essays sprinkled in between the designs. The photography is well-done, and simply paging through can result in dreamy hours.

There are eight sweater patterns here. In every case, construction is fairly simple, with techniques such as German short rows used in specific areas. House Blend and Marshmallow respectively offer a cardigan and a tank top knit in pieces. Dirty Chai and Latte Swirl are both top-down circular yoke sweaters; Gingersnap and Frothy offer dropped shoulder construction knit in the round from the bottom up; and the last two, Chocolate Challah and Morning Brew have unusual yokes knit after the body (knit in the round) is completed. Yarn weights vary, but with seven sizes offered, it shouldn't be difficult to knit each one with a lighter or heavier yarn as you prefer.

Twelve accessory patterns are offered, with neck wear heavily represented. Two scarves, four cowls, and two shawls are again designed in a variety of yarn weights. Both sock patterns are written for fingering, while the hat pattern is for DK and the mittens for worsted.

Techniques are somewhat varied for accessories; two of the cowl patterns use simple stranded patterns, and one scarf use brioche. Both socks are knitted top-down. The sweater and shawl patterns use either simple cables, lace edgings, or knit and purl patterns.

Unusually, I find very single pattern in this collection simple yet stylish. Each is offered in shades of coffee; changing color of course is the easiest way to personalize a pattern, and all would shine in a different palette. A few use low-key hand painted yarns as written, and quite a few of them would look wonderful with other, equally toned down colorways. I don't see these patterns as suitable for the extremely wild hand paints, but then I have strong color preferences towards neutrals and shades of single colors. Art shade lovers might differ from this opinion.

The four essays that punctuate the patterns are well-written. I enjoyed the connection between spending time at a coffee house and knitting. As I often knit in coffeehouses, however, I am the poster child audience for this anthology. You will need to decide for yourself if you fit the demographic for this book.

What I love: the versatility and simplified construction of the sweater patterns. I find myself wanting to knit all of them, which is extremely rare. I also love the focus on simplicity, as that fits my personal aesthetic. Some may find these patterns boring; I find them striking and modern.

What I don't like: it is currently published as a hard back book, which is heavy to carry around. It retails for twenty-seven dollars in the United States, which is reasonable for a collection this big but a lot of money at one time. And, finally, a very small nitpick: where are the tea patterns? The iced tea summer shawls? The London Fog turtlenecks? The Green Tea cowls? Perhaps this is actually a positive omission, however, as it could mean a later volume is in the works?

Disclaimer: I am not affiliated with the editor, authors, or publisher. I purchased this book with my own funds.

Bogert, Kerry, Coffeehouse Knits: Knitting Patterns and Essays with Robust Flavor. Interweave Press, 2019. ISBN: 978-1-63250-659-7.

You Should Also Read:
Knitting Modular Shawls, Wraps, and Stoles Review
Review of More Lovely Knitted Lace
Review of Yarn Substitution Made Easy


Related Articles
Editor's Picks Articles
Top Ten Articles
Previous Features
Site Map





Content copyright © 2022 by Korie Beth Brown, Ph.D.. All rights reserved.
This content was written by Korie Beth Brown, Ph.D.. If you wish to use this content in any manner, you need written permission. Contact Korie Beth Brown, Ph.D. for details.