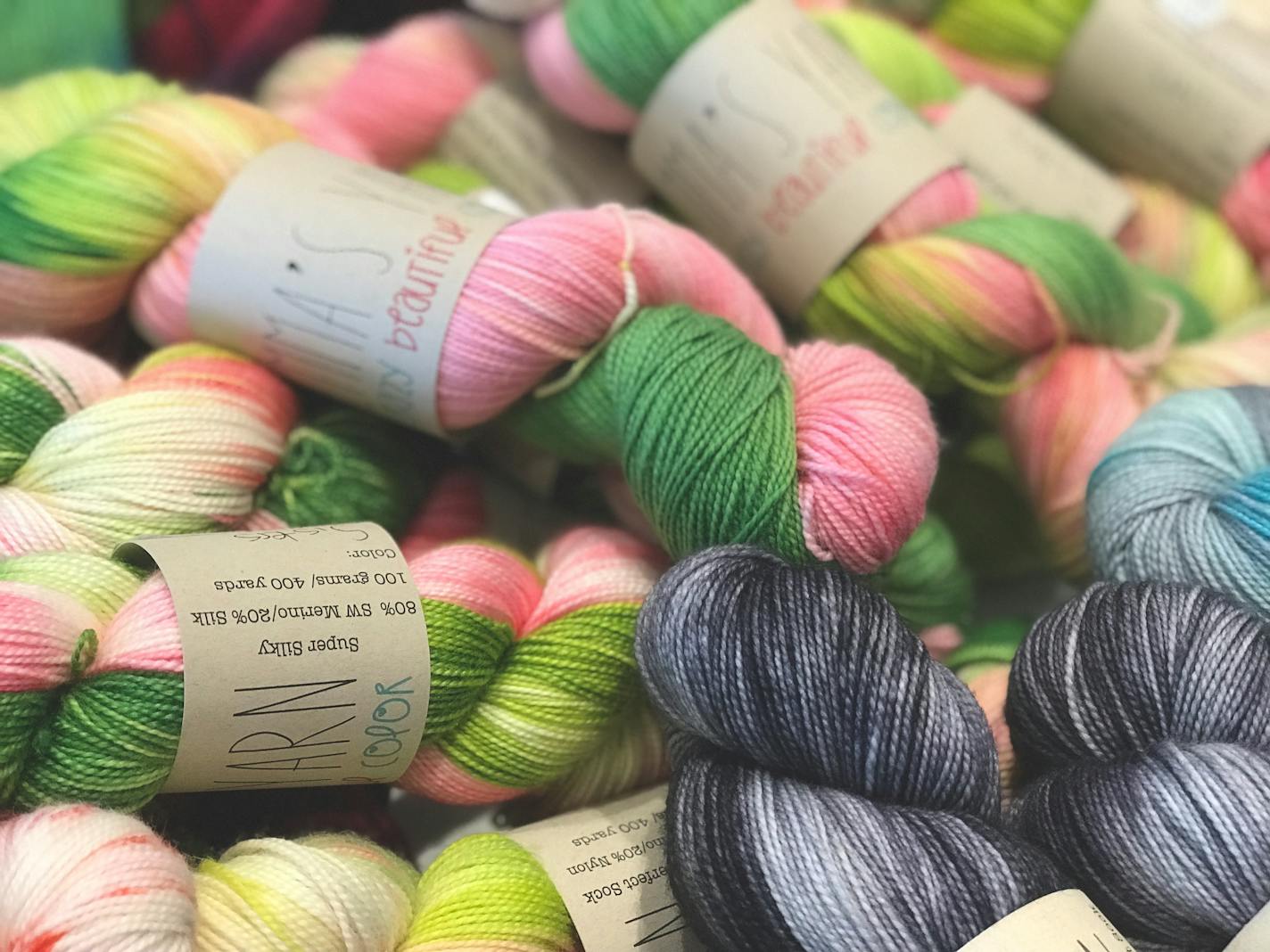 So you've finished that first garter scarf, and you're looking for a project that will advance your knowledge of the knitterverse….

Or you've knitted a few sweaters, and you're looking for a project that will fill in a specific hole in your wardrobe….

Or you want to make a quick gift for a friend….

All of these situations start with a desire to make something beautiful. The question that then arises is this one: pick a pattern and search for yarn to match it, or fall in love with a particular yarn, and find an appropriate pattern?

Most knitters will tell you that either way works, as long as you know how to go about it. New knitters, however, need a few pointers before they sashay out to the store.

The easiest way to proceed, of course, is to find a pattern that you like and buy the suggested yarn. This has many advantages, the chief among them is that you know what you are doing, how much yarn to buy, and how big the gauge swatch should be. This is the path that most people take for their first few projects. Disadvantages? The suggested yarn may be too heavy for where you live, or you may have to settle for a not-so-great colorway. Or the gauge is inappropriate for you for whatever reason – perhaps bulky yarns are too much for your figure, or you don't want to take the six months or more needed to knit a garment in fingering weight. Or you love the pattern – mostly – but would prefer to convert it from a cardigan to a pullover, or vice versa…

Perhaps the most wonderful part of knitting is that all of these scenarios can be resolved happily with enough knowledge and experience. This brings us to starting with a particular pattern and choosing a different yarn. You will want to consult someone at your local yarn store (known affectionately as your LYS) for how much to buy, particularly if you are converting to a different gauge. The shop person will also be able to show you how to figure out which size to use (you can also check out the articles here regarding math for knitters!) With time and patience, you will learn how to make the conversions quickly and how to change a pattern so that the finished garment will be more to your liking. For the first few projects, however, be sure to get a second opinion!

With all that said, there are times when a particular yarn calls to you. Perhaps it's a beauty that's been discontinued, and you're buying up remnants. In this case, look for a very simple design. I once did this with Rowan Purelife Revive; I bought odd skeins from my LYS and made a poncho using a Churchmouse pattern.'The results were wonderful, and I will definitely keep Churchmouse in mind for future projects where I've got the yarn but need a structured way to proceed!

Another wonderful resource for yarn-first people is the fine "Knitter's Handy Book of…." Series written by Ann Budd. There are currently three books available, showcasing accessories, sweaters knit in pieces and seamed, and top-down sweaters. I've used these patterns over and over again, and because Budd allows you to choose directions based on gauge, it's easy to customize for your particular yarn choice.

Whichever way you go, enjoy the knitting. When you're done, wear the garment with pride. You're a maker!

Disclaimer: I am not associated with either Churchmouse Yarns and Teas, or with Ann Budd. I purchased my patterns with my own funds. Both of these designers can be found on Ravelry.com. You can also contact Churchmouse directly at their eponymous website.

You Should Also Read:
Churchmouse Yarns and Tea
Ann Budd, Designer and Teacher


Related Articles
Editor's Picks Articles
Top Ten Articles
Previous Features
Site Map





Content copyright © 2022 by Korie Beth Brown, Ph.D.. All rights reserved.
This content was written by Korie Beth Brown, Ph.D.. If you wish to use this content in any manner, you need written permission. Contact Korie Beth Brown, Ph.D. for details.