Sauteed Broccoli Rabe/Rapini Recipe
Broccoli Rabe or Rapini, as it's referred to in certain parts of the European world, is a very nutritious cruciferous vegetable. It is widely used in southern Italian, Portuguese and Galatian cooking.
Rapini has a slightly bitter taste, but when you make my Sautéed Broccoli Rabe - Rapini - recipe adding the ingredients and textures, you will find it becomes addicting. This young, leafy veggie has leaves that kind of look like nettles with their jagged edges and the florets look like mini broccoli buds. If you buy rapini with small yellow flowers growing on them, they are also edible and not to be picked off.
The nutritional value of this veggie is rich in vitamins A, C and K, along with potassium, calcium and iron. It's a fantastic addition for any of us to our diet, but especially if you are expecting a child. The iron and calcium boost alone would be very beneficial for mommy and baby.
Broccoli Rabe is available throughout the year, but its peak season is from autumn to spring in the northern hemisphere, so take advantage during this time. If you find that your palate doesn't entertain bitter greens much, then check out my cook's notes at the end of the recipe on how to turn this recipe into a main meal.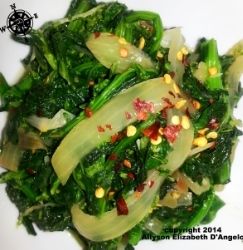 Ingredients
2 lb. Broccoli Rabe
3 tbsp. olive oil
1 tbsp. fresh garlic, chopped fine
1/4 tsp. red pepper flakes
1 large onion (cut in half and in long slices)
4 anchovy filets, rinsed if packed in salt and mashed with a fork
Salt and pepper to taste
Method
1. Prepare the Rabe/Rapini - Trim the tough ends of the stalks and discard. If the stalks of the rabe are long, cut them into manageable sized pieces (approximately 3 inches in length.) Rinse the broccoli rabe well, shake it and place in a colander in the sink. Do not pat dry - leave the water droplets on the rabe.
2. Heat the olive oil over a medium heat in a large skillet. Add the onions and garlic and cook until the onions start to turn opaque, stirring often. Next, add the red pepper flakes and the mashed anchovy fillets. Cook for approximately 3 more minutes, stirring often.
3. Finally, add the broccoli rabe to the onions in the skillet and cover with a lid (or a large piece of foil) and steam for approximately 5 to 8 minutes, stirring occasionally. When the greens start to wilt they are almost done and at this point you can remove the lid. Add a little salt and ground black pepper to your liking and cook 2 minutes more.
Cook's Notes
To turn this sauteed broccoli rabe recipe into a main meal, simply add some cooked, sliced sausage and some type of small cooked pasta like orechiette to the pan at the end of cooking to heat through. Delicious!
You Should Also Read:
Visit my other site American Regional Cuisine for more great recipes
Visit Cinzia for more awesome Italian Cuisine


Related Articles
Editor's Picks Articles
Top Ten Articles
Previous Features
Site Map





Content copyright © 2022 by Allyson Elizabeth D´Angelo. All rights reserved.
This content was written by Allyson Elizabeth D´Angelo. If you wish to use this content in any manner, you need written permission. Contact Allyson Elizabeth D´Angelo for details.