Crochet and Knit Wire Jewelry - Book Review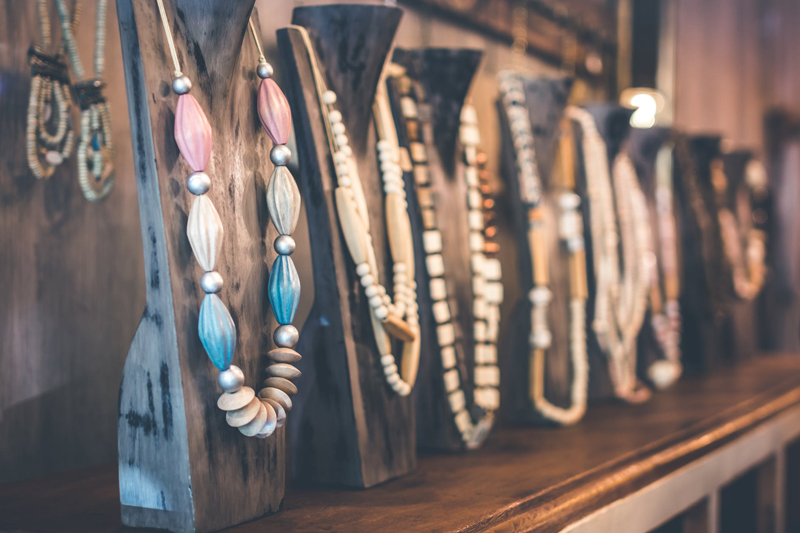 Knit and crochet wire jewelry has an artsy, freeform style that sets it apart from jewelry made by more traditional methods. Designs can be simple or elaborate, featuring wire alone or showcasing fringes of colorful beads.
Wire Jewellery - 25 crochet and knit wire designs to make, by Kate Pullen, provides step-by-instructions for 25 original projects organized by level of difficulty from Beginner to Advanced. Each project is clearly described in the text and accompanied by big, detailed photos. Most projects are followed by examples of Variations, which demonstrate how the same techniques can be used to create different designs.
One of my favorite projects is the very first in the Beginner section of the book. It's a simple Beaded Crochet Chain that is deceptively easy to make but striking in appearance and wonderfully versatile. Other Beginner projects include a Knitted Square Pendant & Brooch, Crochet Wheel Earrings, and a Bejewelled Crochet Cuff.
The Intermediate projects are a little more complicated, but you should be able to tackle them after practicing with the projects in the Beginner section. Intermediate projects include a Beaded Knitted Cuff, Knitted Gauntlet, Knitted Flowers, and a Gemstone Crochet Collar.
The projects in the Advanced section are the most fun and creative in the book. Here you will learn how to make designs with slinky beaded "tendrils," a Knitted Flower Hair Corsage, Knitted Crowns, and Crochet and Knitted Tiaras. These designs are true works of art, and browsing through them early on will help to keep you motivated if you're just starting out.
The final section of the book, Project Preparation, discusses the materials and equipment you'll need to complete the projects. It also covers the standard crochet and knitting techniques that are used to make wire jewelry. (This kind of introductory material is usually found at the beginning of jewelry making books, but at the end of traditional crochet and knitting books.) If you're an absolute beginner, you'll need to start with this last section before moving on to the projects, which begin at the front of the book.
I was impressed by the variety of projects in Wire Jewellery and by the clear, simple project instructions. The large, close-up photos helped me to understand the techniques and to trouble-shoot my own mistakes.
However, if you've never crocheted or knitted with wire before, you'll need to spend some time practicing the techniques before you attempt most of the projects in the book. The author has included some practice exercises at the back of the book to help you get going. If you do not know how to crochet and knit with yarn, I strongly recommend that you learn before tackling these same techniques with wire. Wire is much less forgiving and more difficult to work with than yarn, and working with yarn first will help you to better visualize what's happening with the wire as you manipulate it.
Once you master the basics, you may find wire crochet and knitting to be very satisfying and addicting pastimes that open up many new design possibilities for your jewelry, home decorating projects, and general artistic pursuits.
Wire Jewellery is available at Amazon.com and brick-and-mortar bookstores. Author and metalsmith Kate Pullen is also the editor of the Crochet Site here on BellaOnline.com, where you can learn everything you need to know about crochet and find projects to use for practice.
For help getting started knitting, pick up a copy of Teach Yourself Visually Knitting, by Sharon Turner, also available at Amazon.com.
---
Chris Franchetti Michaels is a writer and jewelry artisan specializing in beaded designs, wire work, and metal fabrication. She is the author of the books Teach Yourself Visually: Jewelry Making and Beading, Beading Quick Tips, and Wire Jewelry Quick Tips. Visit her website BeadJewelry.net for more jewelry-making help and inspiration.
You Should Also Read:
Making Colorful Wire & Beaded Jewelry - Book Review
Getting Started Making Metal Jewelry - Book Review


Related Articles
Editor's Picks Articles
Top Ten Articles
Previous Features
Site Map





Content copyright © 2021 by Chris Franchetti Michaels. All rights reserved.
This content was written by Chris Franchetti Michaels. If you wish to use this content in any manner, you need written permission. Contact Susan Mendenhall for details.