Bock for Spring - Maibock , Doppelbock , Eisbock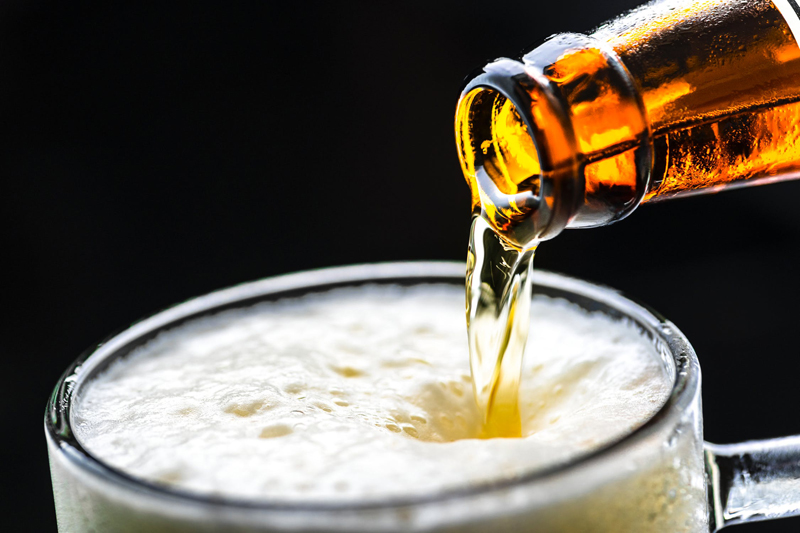 Nestled in the curves and dips of the Harz Mountains in Lower Saxony, Germany, is the delightful village of Einbeck with its history of past secrets and heroic tales. Just 40 miles south of Hanover, Einbeck's climate was botanically propitious to the growing of hops and established itself as one of the earliest hop growing regions in the world. Prior to the Reinheitsgebot of 1516, the German Beer Purity Law that imposed strict requirements on the ingredients used to make this fine brew, it was common for miserly brewers to flavor beer with gruit or other herbs, eggs, and tree bark.

Brewing privileges were highly coveted by the private-house breweries in the Einbeck region, however, and it was not long before these brewers discovered the preservative advantages of hops. Einbeck's location in close proximity to the North and the Baltic Seas made it an ideal member of the Hanseatic League Trade Federation. By the 14th century, the beer made in Einbeck had become a desirable export throughout England, Scandinavia, the Mid-east, and the Mediterranean and Baltic countries. It traveled well, and possessed a depth of color and clarity not common in other brews of the time. Since it was brewed in winter, then cold-lagered, it was less hindered by the growth of bacteria that could cause murkiness.

In 1612, Duke Maximillian I of Munich initiated a search for the greatest brewer in Germany. Einbeck was renowned for its premier brewers, and Elias Pichler was hailed as one of the very best. Maximillian invited Pichler to the Hofbrauhaus in Munich so he (Pichler) could teach the brewers of Munich how to brew this enviable beverage. This beer was called "Ainpeockische", and was eventually shortened to "poeck" or "bock" in German.

Hofbrauhaus in Munich is considered to be the "official" birthplace of the Bock style of beer. In 1879, the world known trademark of HB with a crown was registered in Munich, and by 1966 Hofbrauhaus was known as the most famous beer-serving center in the world.

Traditional Bock is most commonly brewed in the winter and spring. It is a strong, enticing version of the Dunkel style of beer common to Munich. Munich malts are commonly blended with the lighter Pilsner malts, which results in a style rich in sweet-malt character with strong melanoidin, or caramel-like, qualities. It is full-bodied, and ranges in color from deep topaz to dark walnut. This is low in hop bitterness or flavor, with virtually no hoppy aromas.

As the spring emerges, Maibock, or Helles Bock captivates center stage. This lighter version of bock carries the clarity of light, sun-infused straw or glistening gold-leaf. Aroma, as well as flavor, is malty. You may detect a low hop bitterness from noble-type hops, and minimal fruit esters. This strong version of Munich Helles possesses a higher alcohol content, relief from the doldrums of winter, slightly hedonistic in character - a pleasurable reward that parallels the emergence of the dogwood and the May-pole. Spring receives a traditional launch each year, when the Prime Minister of Bavaria and the Mayor of Munich join in tapping the first huge barrel of Maibock in grand celebration!

Doppelbock may also be considered a "rite of Spring" – that high gravity brew from the traditions within the monastery of St. Francis of Paula. During the Lenten season, the monks practiced the art of fasting for long periods. They soon discovered that illness and malnourishment could be avoided during this period with the salvation of "liquid bread," the "Salvatore" brewed with high alcoholic strength, low hop bitterness and high levels of malt sweetness. This style is marked with the traditional suffix "-ator" in recognition of its importance as a beer of strength. It is traditionally served in a stoneware mug.

As always, brewers always take their craft to the edge, and so Eisbock was born. The cold-lagering of this style is taken "one step beyond" during its second fermentation, when it is exposed to below freezing temperatures, causing the water within the beer to freeze. The frozen water is extracted, resulting in a beer of much higher alcoholic strength, yet retaining the velvety, seductively smooth character and malty sweetness.

Keep in mind that Weizenbock is not categorized as a Bock style of beer. Weizenbock is a dark wheat beer with robust body.

For those of you who wish to try the four different styles of Bock beer, I have compiled a list of North American and European signatures for your ultimate pleasure.

Beer Fox Recommended Bocks:

Aass Bock – Aass Brewery, Drammen, Norway
Bock Beer – Lakefront Brewery Inc., Milwaukee, Wisconsin, USA
Pandora's Bock – Elysian Brewing Company, Seattle, Washington, USA
Billy Goat Bock – Gilded Otter Brewing Company, New Paltz, New York, USA
Winter Brew – Sprecher Brewing Company, Glendale, Wisconsin, USA
Goats Peak Bock – Paper City Brewery Co., Holyoke, Massachusetts, USA
Dunkel Bock – Brew It Up Davis, Davis, California, USA
North Peak Hop Bock – North Peak Brewing Company, Traverse City, Michigan, USA
Bock – La Barberie, Quebec City, Quebec, Canada
Boston Victory Bock – Boston Beer Works, Boston, Massachusetts, USA

Beer Fox Recommended Maibocks:

Black Forest Maibock – Black Forest Brew Haus, Farmingdale, New York, USA
Town Hall Maibock – Minneapolis Town Hall Brewery, Minneapolis, Minnesota, USA
St. Boisterous – Victory Brewing Company, Downingtown, Pennsylvania, USA
Andechser Bergbock Hell – Klosterbrauerie Andechs, Andechs, Germany
Dead Guy Ale – Rogue Ales, Newport, Oregon, USA
Ayinger Maibock – Privatbrauerei Franz Inselkammer AG / Brauerei Aying, Aying, Germany
Fighting Finches Mai Bock – Tyranena Brewing Company, Lake Mills, Wisconsin, USA
Helles Bock – Baron Brewing, Seattle, Washington, USA
Tabernash Maibock – Left Hand & Tabernash Brewing Company, Longmont, Colorado, USA
Feierling Inselhopf – Hausbrauerei Feierling, Freiburg, Germany

Beer Fox Recommended Doppelbocks:

Instigator Doppelbock – Sly Fox Brewing Company, Phoenixville, Pennsylvania, USA
Thomas Hooker Liberator Doppelbock – Troutbrook Brewing Company, Hartford, Connecticut, USA
Andechser Doppelbock Dunkel - Klosterbrauerie Andechs, Andechs, Germany
Weihenstephaner Korbinian – Brauerei Weihenstephan, Freising, Germany
Dominator Doppelbock – Great Dane Pub & Brewing Company, Madison, Wisconsin, USA
Sixtus – Brauerei Forst AG, Merano, Italy
Elevator Procrastinator Doppelbock – Elevator Brewery a& Draught Haus, Columbus, Ohio, USA
Doppelbock - Baron Brewing Company, Seattle, Washington, USA
St. Victorious – Victory Brewing Company, Downingtown, Pennsylvania, USA
Willimantec Postage Due Doppelbock – Willimantec Brewing Company / Main Street Café, Willimantec, Connecticut, USA

Beer Fox Recommended Eisbocks:

Unplugged Eisbock – New Glarus Brewing Company, New Glarus, Wisconsin, USA
Kuhnhenn Raspberry Eisbock – Kuhnhenn Brewing Company, Warren, Michigan, USA
B3K – Lagunitas Brewing Company, Petaluma, California, USA
Eisbock 2004 – Niagara Brewing Company, Niagara Falls, Ontario, Canada
Double Ice Bock – Southampton Publick House, Southampton, New York, USA
Lelles Eisbock – Sly Fox Brewing Company, Phoenixville, Pennsylvania, USA
Zuper Eisbock – Watch City Brewing Company, Waltham, Massachusetts, USA
Hermannator Eisbock – Vancouver Island Brewery, Victoria, British Columbia, Canada
Broken Keg Eisbock – Pizza Port & Pizza Port Brewing Company, USA
EKU28 – Kulmbacher Brauerei AG, Kulmbach, Germany
 
Beer Fox Recommendations for Further Reading:
Bock - Classic Beer Style Series: 9
by: Darryl Richman
New Brewing Lager Beer: The Most Comprehensive Book for Home and Microbrewers
By: Gregory Noonan
Designing Great Beers:  The Ultimate Guide to Brewing Classic Beer Styles
By Ray Daniels

Cheers!
 
You Should Also Read:
Beer Fox Guide to Dortmunder
The Seductive Style of Kolsch
Pleasurable Saison & Belgian Beauty


Related Articles
Editor's Picks Articles
Top Ten Articles
Previous Features
Site Map





Content copyright © 2021 by Carolyn Smagalski. All rights reserved.
This content was written by Carolyn Smagalski. If you wish to use this content in any manner, you need written permission. Contact Carolyn Smagalski for details.