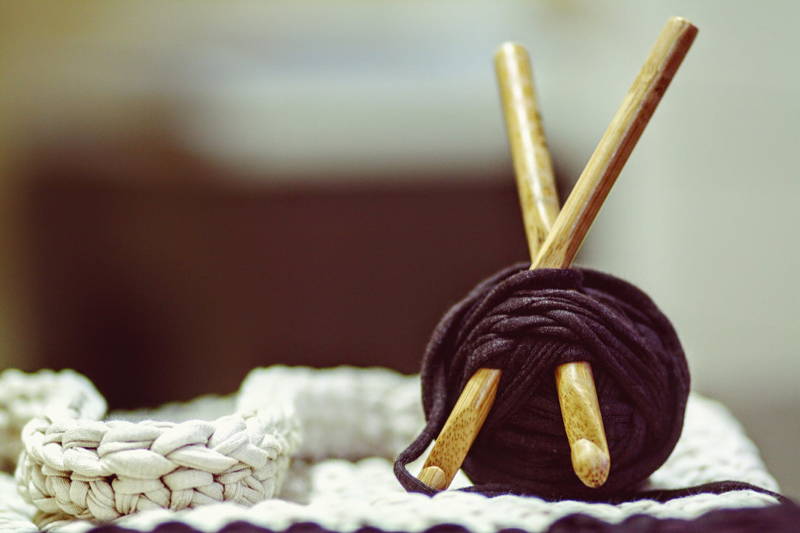 This is the third in a series of articles about Felting.
Tips for felting or fulling crochet.
The three elements of making felt are heat, water and agitation. If felting or fulling an item in the washing machine - put in other items such as towels to add to the friction and aid the process. An item put in the washing machine on its own will not shrink or felt at the same rate as if it is part of a bigger load.
Heat is important - turn your washing machine up as high as it will go! However remember that once you have started the process in the washing machine it is impossible or at the very least difficult to stop without a floor full of water!
Stitches
The process of felting or fulling your crochet means that the fibers shrink. They shrink length-wise and therefore your crocheted item is unlikely to shrink equally. It is also likely that items made from different stitches will shrink at different rates - 'long' stitches such as double and trebles US (trebles and double trebles UK) will shrink in a different way to items made with single crochet US (double crochet UK).
Remember that the finished item when it is completely fulled or felted will be a tight and firm fabric. It will no longer drape and the stitch definition will be lost. For softer items you may wish to crochet more loosely or even using a larger size hook. This will give you a more light and softer item suitable for clothing. This is an important fact to bear in mind when designing an item to be felted or fulled.
Yarns
Pure wool felts the most and has the largest shrink rate, blends will still felt and shrink but less so. Watch out for wool treated suitable for washing machines (ie Superwash). This is likely to be preshrunk and as such the fibers will not shrink and lock together making a felted or fulled fabric.
Other animal fibers will felt - for instance mohair, angora and alpaca, however these will be at different rates so again make a sample or test square first.
The finished fully felted or fulled fabric is liable to shrink substantially. An item is likely to end at less than half of the original size.
Pockets etc
To stop pockets and pouches felting together tack a piece of firm plastic into place between the two sides of fabric to stop them from touching and felting together. Note: Once the felting process has started then this can be removed. Another way to stop pieces from felting together is to manually start the felting process with hot water and soap, rubbing the side of fabric.
Drying
Items can be spun in the spin dryer to remove much of the water. If the finished item is a bag or something which needs pulling or molding into shape �stuff� it with some loosely scrunched plastic (for instance plastic bags). The finished work is quite robust and will stand pulling into shape. It can be hung out to dry or placed over a radiator to speed the process.
The first article in the 'Felting' series can be found here
Felting - History
The second article in the �Felting� series can be found here
Felting - Technique
You Should Also Read:
Felting - History
Felting - Technique
Crochet with hand dyed yarns


Related Articles
Editor's Picks Articles
Top Ten Articles
Previous Features
Site Map





Content copyright © 2022 by Kate Pullen. All rights reserved.
This content was written by Kate Pullen. If you wish to use this content in any manner, you need written permission. Contact Holly Messenger Aamot for details.