Fruit and Vegetable in Nutrition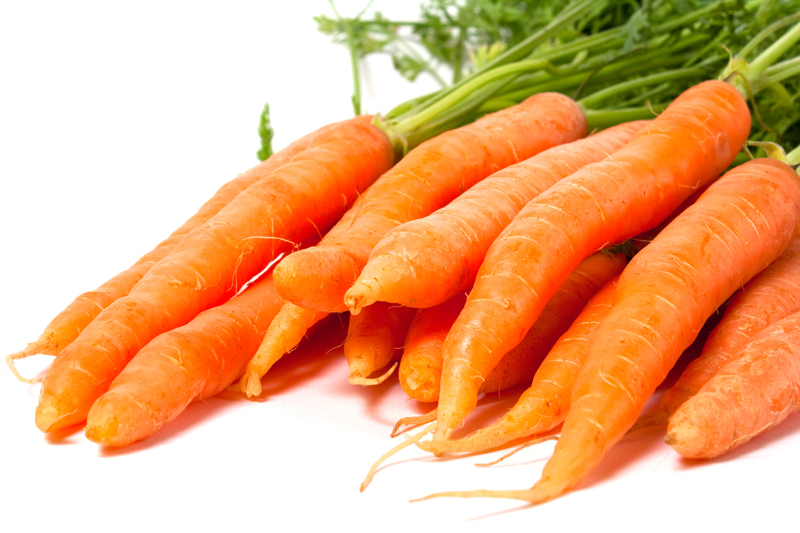 What is the
fruit and vegetable in nutrition
criteria for great health? It's simple. Research shows that eating at least 5 to 9 daily servings of nutritious fruits and vegetables can slow down your aging process and significantly reduce your risk of cancer, stroke, heart disease and more.
Wow! It's that simple?
Yes. BUT (and it's a big "BUT") the scientists are not talking about two bananas and three orders of French fries. They're referring to brightly colored yellow, orange and red fruit (at least 2-4 a day), plus colorful and dark green leafy vegetables (3-5 servings – the more the better).
The Best Fruit and Vegetable Nutrition
Although most produce is low in fat and calories, fruits and vegetables are NOT created equally.
The healthiest, most nutrient-dense varieties are richer in the antioxidant vitamins, minerals, fiber and phytonutrients that people need to stay well and look and feel their absolute best.
Organic berries are very high on the
fruit list
. All berries are excellent sources of carotenoid and flavonoid phytonutrients, with vitally important antioxidant protection. Cantaloupe, oranges, pink grapefruit, papaya, peaches, pineapple, kiwi, plums and red grapes are also excellent choices.
Apples and bananas, the two most popular, though nutritious, offer little antioxidant protection.
Excellent healthy choices from the
list of vegetables
include the dark green leafy varieties that are rich in carotenoid and cruciferous phytonutrients. These include spinach, kale, Swiss chard and romaine lettuce, broccoli, Brussels sprouts, bok choy, cauliflower and cabbage. Other particularly healthy choices are tomatoes, carrots, sweet potatoes, beans, garlic and onions.
And even though the popular corn and white potatoes, just like apples and bananas, have some nutritional food value, they're also high in calories and low in phytonutrient protection.
Choose the Healthiest Fruits and Vegetables
To get and stay healthy you need the
benefits of antioxidants
. Here are some healthy examples:
You could start your day with berries on sugar free whole grain cereal for breakfast.


For lunch, a romaine lettuce salad and/or homemade vegetable soup are good choices.


Prepare whole grain pasta with lightly stir-fried or steamed veggies for dinner.


Include fresh green healthy salads whenever possible.


And choose raw veggies for snacks and fruit for dessert.
If you think it might be difficult to get your 5 to 9 servings a day or you want to make sure you're building your immune system and maintaining optimum immune power protection, it only makes good sense to take a high quality nutritional antioxidant supplement that's rich in phytonutrients.
Supplementing with Antioxidants
No matter how many fruits and vegetables you eat a day, I recommend you supplement your diet with Carotenoid Complex. Each bottle contains the powerful equivalent of 250 pounds of raw organic fruits and vegetables, at only a small fraction of both the cost and calories.
Carotenoid Complex is by far the most thoroughly researched, truly natural, proven effective antioxidant supplement on the market. Just check out
the research
and you'll rest assured.
The USDA study, published in the prestigious
American Journal of Clinical Nutrition
, proved that
Carotenoid Complex
increases natural protective killer cells by a whopping 37% in just 20 days. It's mind boggling how much stronger your immune system can be just a few months from now.
To help protect yourself and your family from high blood pressure, heart disease, stroke, cancer, colds, viruses, and the next major flu pandemic, check it out at the
antioxidant
web site.
And be sure to find out about my free
Natural Health Newsletter
.
Click here for the
Site Map
Articles you might also enjoy
Top 10 Most Nutritious Vegetables
How To Lower Blood Pressure Naturally
Relieving Constipation Naturally in 12 Steps
Do You Need Nutritional Health Supplements?
To subscribe to the Natural Health Newsletter, just enter your email address in the subscribe box at the bottom of this page.
Note: The information contained on this website is not intended to be prescriptive. Any attempt to diagnose or treat an illness should come under the direction of a physician who is familiar with nutritional therapy.


Related Articles
Editor's Picks Articles
Top Ten Articles
Previous Features
Site Map





Content copyright © 2021 by Moss Greene. All rights reserved.
This content was written by Moss Greene. If you wish to use this content in any manner, you need written permission. Contact Moss Greene for details.