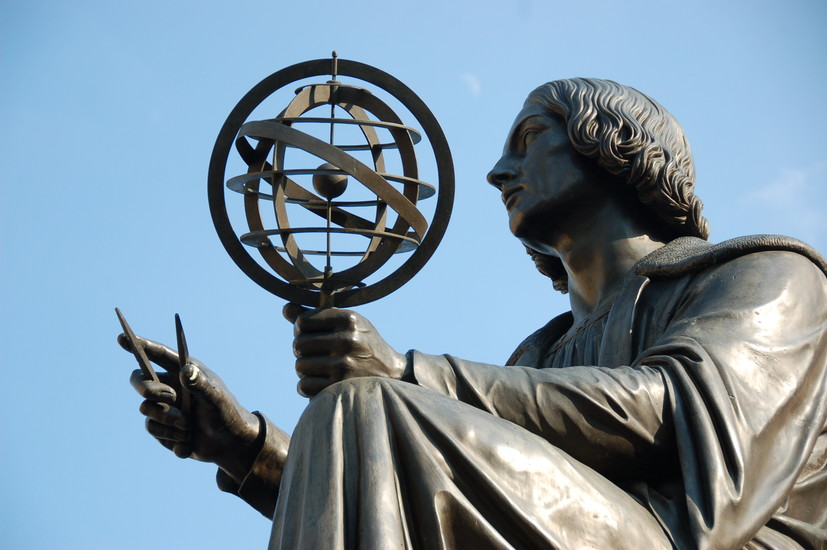 Monument to Copernicus, Adler Planetarium, Chicago USA
"The Father of Modern Astronomy," Nicolaus Copernicus, is one of history's most famous names. As a church administrator of Frombork [German
Frauenberg
] Cathedral in northern Poland, he was a notable local citizen. And although his work on astronomy was known by a number of people throughout Europe, his astronomical work wasn't celebrated until long after his death. Indeed his burial place was unmarked.
Family
Copernicus was born on February 19, 1473 in the independent Germanic city Torun which had joined with Poland. He was named after his father Mikolaj Kopernik, but later used the Latin form of his name, which is the one we know. Mikolaj senior was married to Barbara Watzenrode, a member of a prominent local family, and Nicolaus was the youngest of their four children.
When Nicolaus was eleven, his father died, and his uncle Lucas Watzenrode became guardian to the four children. Watzenrode was canon of Frombork Cathedral, and later the Bishop of Warmia [German
Ermland
]. He directed the education of his two nephews, and knowing that the Church was a good career move, also used his influence to help them along.
Education
After his elementary education in Torun, Nicolaus spent three years in the cathedral school of Wloclawek. He then went to the University of Krakow with his brother Andreas. It was there that Copernicus developed an interest in astronomy. Studying it along with Latin, philosophy, history and other subjects, he even bought books on astronomy. (These books are important later in this story.)
When Copernicus finished his studies in Krakow he went to Italy, first to Rome, then to Bologna to study law. Bologna was where he made his first astronomical observations.
Importantly, they taught Greek at Bologna, and Copernicus was a keen student. The great works on astronomy were in Greek and few of them had been translated. So he learned Greek not only well enough to read them, but even to translate some Greek verse into Latin, the language of educated Europeans.
Church and civic duties
Through his uncle's influence, Copernicus became canon of Frombork cathedral. This was a secure job with a lifetime income and in fact, that's where he spent most of his life. However, before he took up his duties, he got permission to complete a doctorate in canon law at the University of Ferrara, and to study medicine.
Although we know Copernicus as an astronomer, most of his life was devoted to other activities. He had many administrative duties and on occasion, he helped to organize the defense of his city.
The revolution
Copernicus wrote a summary of his astronomical ideas. The
Commentariolus
(Little Commentary) was sent to selected friends in manuscript form. But it took the persuasion of a young mathematician named Georg Joachim Rheticus to get published the entire work
De revolutionibus orbium coelestium
(On the Revolutions of the Celestial Spheres). Copernicus died on May 24, 1543. His life's work on astronomy was published on the same day.
The book wasn't actually considered all that controversial at the time. Some astronomers accepted parts of the Copernican system, which they found useful, but very few could accept that the Sun was the center of the cosmos. Nonetheless
De revolutionibus
was banned by the Roman church some seventy years after the death of its author, and it stayed on the banned list for two hundred years.
Where was Copernicus buried?
When the work of Copernicus was recognized as the seed of modern astronomy, people began to search for his grave. There were four unsuccessful searches over two centuries, but modern technology came to the rescue in the 21st century to locate the remains and identify them. (For more about how the ideas of Copernicus grew into modern astronomy, follow the link below this article to "Copernicus — the Revolution".)
Under an altar at Frombork cathedral, the mixed remains of several individuals were found. It was possible to say that one broken skull belonged to a man who had died aged 60-70 years. Further examination also showed a broken nose and a scar above the left eye. All of this seemed to point to Copernicus, especially when a computer program produced a
picture that resembled an aged version of a portrait of Copernicus
.
Yet it could have been just wishful thinking. They really needed a DNA test. DNA was extracted from the remains, but there was nothing to compare it with. No one knew where any relative was buried, not even his uncle Lucas who was also interred in the cathedral. This is where Copernicus's student astronomy books come into the story.
We know the books belonged to Copernicus because he had signed them. When he died, some of them ended up in the cathedral library. About a century later, they were part of spoils of war taken to Sweden, and are now in the care of Uppsala University. An examination of the books turned up some hairs which yielded DNA. Two of them matched the DNA on the Frombork remains.
On May 22, 2010, Copernicus had a second funeral mass. His remains were reburied in the same spot, but this time with a
memorial stone
to identify the quiet revolutionary.
You Should Also Read:
Johannes Kepler - His Life
Heroes of the Revolution
The Moon - Facts for Kids


Related Articles
Editor's Picks Articles
Top Ten Articles
Previous Features
Site Map





Content copyright © 2022 by Mona Evans. All rights reserved.
This content was written by Mona Evans. If you wish to use this content in any manner, you need written permission. Contact Mona Evans for details.