Reasons to Drink Beer - A Woman's Passion for the Brew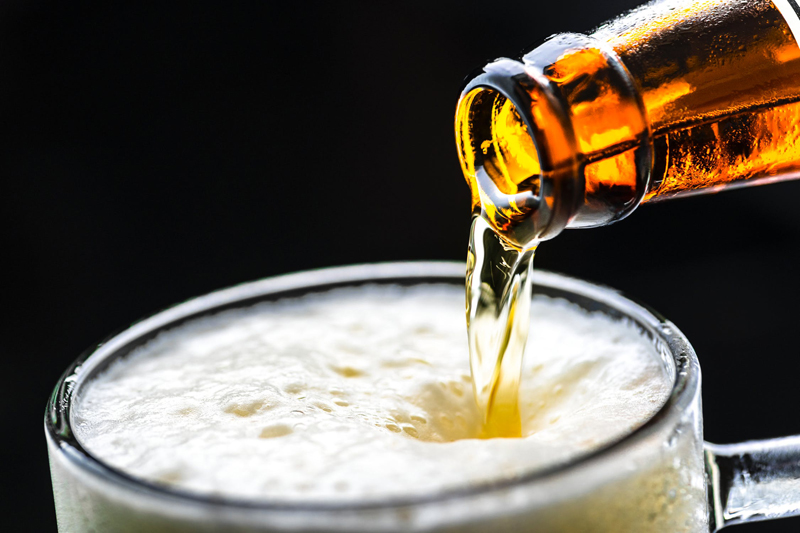 "Women are from Venus; Men are from Mars," so the saying goes. When asked to elaborate on the reasons I drink beer and why I have such passion for beer, my answers are quite different from the common frat-boy answers of "It makes putting up with idiots more pleasant," and "It makes the opposite sex more attractive." I have girly answers, as do my girly friends. Some of our answers may actually parallel those of the men, but the difference lies in level of importance (on the list) and in the intensity of our passion.

The most influential factor that seduces me into the world of beer is multi-dimensional, sensory stimulation. When beer is presented in a clear crystalline chalice, goblet, stange, or snifter, my eyes are allowed to explore the variety adherent to each style – the sparkling iridescence of a copper gem, the translucent haze of a golden morning, or the ebony glaze of an onyx semi-precious stone. Heads, varying from rocky, white mounds of mousse to sticky, creamy layers of foam, beg me to explore their delights with my lips. As the glass passes beneath my nose, waves of aroma fill my nasal passages.

There is an extraordinary feeling of exhilaration that comes from immersing yourself in these olfactory stimulants. Those who commonly drink a steady diet of Coors Light are missing out on these great earthly delights. It would be a bit like living on bananas all your life. I like bananas, but the thought of eating nothing but bananas insulates me from all the exciting flavors of Coq a la Biere, Salmon in Parchment, Arrogant Bastard Steak, or Crème Brulee. I like variety!

Scottish ales are resplendent with malty, caramel sweetness. The assertive medley of biscuits and toast blend with hoppy florals, earth, grass and fruit in the profile of India Pale Ale. Russian Imperial Stouts are rich with dark fruits, bittersweet chocolate, espresso, and Port-wine. Complexity reigns supreme in fruit lambic, where sour characters merge with barnyard, earth, hay, horse blanket, vanilla, layers of fruit, and oak.

As your mind fills with these aromatic perceptions, the velvety liquid spills over your lips, into your mouth, and across your tongue, spreading blends of sweetness and bitterness that mellow with your spirit. This intense layer of balance is the hook that couples it all together. The round, effervescent, dry or long-lasting finish within the mouth, married with this intense complexity of flavors!

My passion for beer does not stop at the sensory level. The social aspects associated with beer are of paramount importance. Beer is linked to casual celebration, and is increasingly becoming the beverage of choice for the classic wedding toast. Rather than that acidic thimble of cheap champagne, many are opting for a glass of Duvel or Chimay to mark their day. Your classic beer-toast can enter into the realm of the royals, along with Crown Prince Ludwig and Princess Therese of Saxony.

Another social aspect of beer is your presence among friends, whether it be in the local brewpub, at a beer cafe or your favorite brasserie. With the low alcohol level in beer, your mood lightly loosens, releasing tension and allowing you to relax in the ambience of friends and new acquaintances. Conversation flows more easily. You are more prone to participate in dancing and social games, opening you to novel experiences and giving others fond memories of your silliness. It makes you more human.

On culinary occasions, beer pairs well with food. In his book, The Brewmaster's Table, Garrett Oliver recounts a story about a cheese tasting he hosted at Peter Kump's New York Cooking School, now the Institute of Culinary Education. The tasting was a competition between the beer-cheese choices he selected, and the wine-cheese selections of sommelier Paul Grieco of Gramercy Tavern. Throughout the course of the evening, it became clear that beer was the better choice, full of flavor and variety, whereas the wine "entries were all off-dry whites."

Although wine is currently touted for the flavors it imparts to food, beer enjoys a long history as a culinary addition to gourmet foods in European cuisine, particularly Belgian, French and German specialties. With a little imagination and a solid knowledge of the flavor and aroma characteristics within select styles of beer, spectacular beer-cuisine dishes are at your fingertips.

As a woman, I'm all about health. Beer, in moderation, has a profound positive affect on the physical functions of the human body and is a dynamic guard against cardio-vascular disease, osteoporosis, cancer and cataracts. In study after study throughout the world, beer has proven itself as an asset to a healthy lifestyle.

Beer contains significant levels of vitamins B6, B12 and folate from barley. These aid in lowering the homocysteine levels in the blood, lowering the risk of cardiovascular disease. The Miranda study of 2000 showed that the antioxidant hop compounds in beer, xanthohumol and quercetin, are effective in preventing LDL (a harmful form of cholesterol) from oxidizing. During oxidation, LDL can cling to the artery walls, causing blockage. The antioxidants in beer inactivate the free radicals that can cause cardiovascular disease.

During the brewing process, bioavailable silicon is extracted from the orthosilic acid in barley grain during the mash. Nutritionally, this silicon promotes healthy bones and connective tissue. Xanthohumol and isoxanthohumol, hop flavonoids found in highly hopped beers, have shown positive effects against Alzheimer's Disease, osteoporosis, cataracts, and some forms of cancer. Flavonoids found in roasted malt prevent blood platelets from sticking together, decreasing the risk of blood clots that can cause heart attacks or thrombosis.

Beer effectively lowers cholesterol by being a high source of betaglucan, a soluble fiber found in malty microbrews. It can provide up to thirty percent of the recommended daily allowance of fiber. In addition, the lactoflavin and nicotinic acid in beer promote sleep, as do the hops themselves.

Beer, in moderation, is an appealing, stimulating, multi-dimensional and healthy choice of beverage for celebrations and refreshment. Therein lies my passion!
Cheers!
You Should Also Read:
Top Woman Beer Rater in the USA - hotstuff
The Elite Pride of Women Brewers
Champagne Beer for Champagne Girls


Editor's Picks Articles
Top Ten Articles
Previous Features
Site Map





Content copyright © 2021 by Carolyn Smagalski. All rights reserved.
This content was written by Carolyn Smagalski. If you wish to use this content in any manner, you need written permission. Contact Carolyn Smagalski for details.