Top Woman Beer Rater in the USA - hotstuff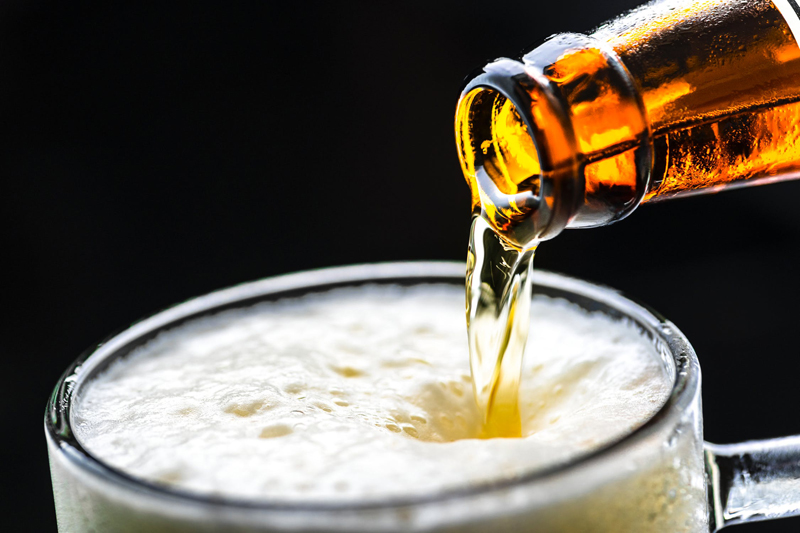 Passionate craft beer lovers are my favorite people in the world. Their passion creates a connectedness within a global circle of enthusiasts – one in which flavor, aroma and variety reign supreme. They have long outgrown their daddy's Michelob, in search of the Star of Africa among beers. This is a world that reveres the citrusy, herbal, resiny flavors of hops, the delicate nuances of proprietary yeasts and the rich, caramel characteristics of select barley. It is the world of the adventurer, forging fearlessly onward, searching for new tastes, styles and extremes.

Such a world is not the exclusive domain of men. Women are revered for their openness to new flavors. They are the first to venture into the newest experiences of raspberry vinaigrette dressings, Panang curry, and hummus bi tahina. It seems only natural that the greatest aficionados of beer tasting would be women. The fact remains that women who love beer are still in the quiet minority. These roots are silently growing, however, spreading out like magma beneath a dormant volcano, ready to explode in a climax that will draw other women to beer as quickly as they were drawn to wine two decades ago.

One such catalyst among women is "hotstuff", the number one woman beer rater in the USA and number two in the world at RateBeer.com. Hotstuff, aka Cindy Modesitt, hails from Fort Wayne, Indiana. She is not a certified beer taster by the BJCP and has not been educated at the Seibel Institute; nor is she a homebrewer. With her enormous amount of energy and enthusiasm, she has tasted and rated over 2,010 beers in the past three years. This is what Rate Beer is all about.

Rate Beer is a totally consumer-driven community, dedicated to enhancing the image of beer, promoting beer literacy, and building an appreciation for craft beer throughout the world. Membership is in the thousands and spans over 60 countries. Reviews are submitted by independent beer-enthusiasts who enter their opinions, good or bad, about beer and breweries.


Hotstuff was drawn into the world of beer tasting by her husband who joined as a member of Rate Beer three years ago as "The DM." After two months of sharing his beer, she made the confident decision to join the community as a beer taster. Such a distinction has taken them on "beer tour weekends" throughout Indiana, Illinois, Ohio and Michigan in search of new beer and other Rate Beer members. They have traveled to Munich, Germany, for Oktoberfest, and have laid out plans for vacationing in Portland, Oregon, also known as Beervana, the Beer Capital of the World, where craft beer sales constitute forty to fifty percent of all beer revenue. This is a city that boasts twenty-six microbreweries or brewpubs, and where movie theatres serve popcorn and craft beer. As I said, "Beervana."

During their European honeymoon, hotstuff and her husband met with Yogi_Beera, the number one woman at Rate Beer, who resides in Germany. They rated beer together, and continue an amicable cat-and-mouse rivalry as they continue their quest for ever-new pioneering flavors.


One of hotstuff's most memorable beer treks occurred in New York City in July of 2005. Hotstuff has the distinction of being quoted by Ken Wells in his book Travels with Barley - A Journey through Beer Culture in America. Wells referred to her less-than-enthusiastic review of Natural Light, and states, "I honestly couldn't argue with Hotstuff's evaluation." She, Wells and "The DM" met for lunch in the Heartland Brewery where the affable Wells signed her copy while she and her husband demonstrated beer-sampling techniques to their gracious host.

Beer tastings in their home are events that have brought some large groups of Rate Beer locals together. They also gather with Rate Beer groups at tasting/rating events in nearby Indianapolis, where members gain exposure to East and West coast brews that normally would not be in their tasting repertoire.

So, what do you ask a woman who has tasted over 2,000 beers? Just a few little questions:

Beer Fox: What is your favorite style of beer? Let me guess…the Belgians?

Hotstuff: You are absolutely correct in that Belgians are my favorite beer style although my statistics show otherwise. Nonetheless, I love a good Belgian beer!

Beer Fox: What about beer bars? I guess you've been to your share. Which do you consider the best?

Hotstuff: The beer bars that first come to mind are in no particular order: Blind Tiger (NYC - now closed but was there this past July), Map Room (Chicago), Goose Island (Chicago), Rathskeller (Indianapolis), and Pier 32 (Hamilton, IN). In my beer travels I have visited many more microbreweries and brewpubs than I have beer bars.

Beer Fox: How did you get the name of "hotstuff"?

Hotstuff: It's a nickname given to me by my husband. I'm trying to come up with a new username for myself on RateBeer, but haven't come up with one that I truly like.

Beer Fox: I think it's a perfect name for a woman beer taster! What do you like to do besides taste beer?

Hotstuff: I am very sports minded since I was a tomboy growing up and love competitor sports. I even play golf although it's been too long since I've played since my husband isn't a golfer much less a sports enthusiast, except for NASCAR.

Beer Fox: Do you have a favorite beer?

Hotstuff: As far as my favorite beer...hmmm. Let me get back to you on that question.

Beer Fox: I know it's tough to say what your favorite is. As a lover of craft beer, you don't fall into the same league as the Bud-Light lover. You thrive on variety! Do you agree?

Hotstuff: Yes, it truly is tough to pick a favorite beer in light of the fact that I have rated over 2,000 different beers. Today I will say that AleSmith Grand Cru (AleSmith Brewing Company, San Diego, California, USA) that I rated on February 14, 2005, is my favorite. I went back to the website and re-read my rating and boy did I like that beer! I also favor Ommegang Rare Vos (Brewery Ommegang, Cooperstown, New York, USA), Gulden Draak (Brouwerij van Steenberge N.V., Ertvelde, Belgium), Fullers 1845 (Fuller Smith & Turner PLC, Chiswick, London, UK) , Westvleteren 8 (Brouwerij Westvleteren, Sint-Sixtusabdij van Westvleteren, Westvleteren, Belgium) and Rochefort Trappiste 8 (Brasserie de Rochefort, Abbaye de Notre-Dame de Saint-Remy, Rochefort, Belgium).

Beer Fox: The crème de la crème! I wish you the best in beer, hotstuff! Happy Tasting!

Cheers!

You Should Also Read:
The Pleasures of Beer - A Woman's Passion
A Classic Beer Guide for Women
A Super Bowl Message to All Women from the Beer Fox


Editor's Picks Articles
Top Ten Articles
Previous Features
Site Map





Content copyright © 2022 by Carolyn Smagalski. All rights reserved.
This content was written by Carolyn Smagalski. If you wish to use this content in any manner, you need written permission. Contact Carolyn Smagalski for details.