Fertilizers and Compost Tea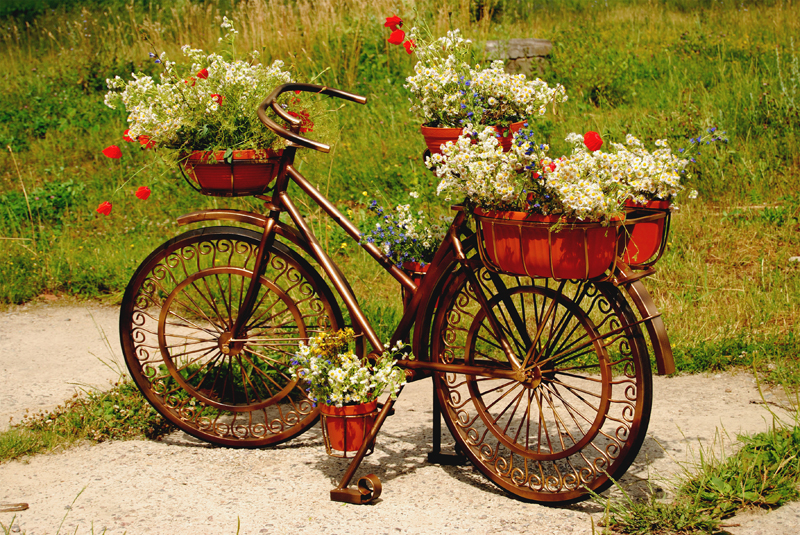 We've all heard how good compost is for our plants, but compost tea is even better. It takes all the beneficial nutrients and bacteria in compost and concentrates them in liquid form, making them readily absorbable by your plants' roots and leaves. Compost tea adds beneficial bacteria to the soil, helping to combat soil-borne disease, adds a beneficial coating to leaves helping to fight leaf diseases, and gives the plants the nutrients they need to grow healthy and strong.

Compost is the rich, black, clean smelling well-rotted stuff that results from well managed compost piles. Compost can be made from nearly anything organic, but the best compost for container gardens comes from well-rotted greens – lawn clipping, vegetable scraps, leaves, etc. Good-quality high bacterial compost is now widely available at garden centers, so you no longer need to make it yourself. I even found some wonderful compost at one of the large chain grocery stores – they recycle their old fruits and vegetables from the produce department and make some very high quality compost.

There are commercial compost tea makers available, or you can easily make one for small batches (5 gallons or so) using a bucket and a fish tank pump. The more oxygen added to your tea as it is brewing the better. This helps ensure that the 'good' bacteria will flourish and the 'bad' bacteria won't. For even smaller batches you can use the old fashioned 'sock' approach alone, just be sure your tea gets plenty of sun and air during the brewing process.

'Sock' approach
1. Fill a 5 gallon bucket with 3½ to 4 gallons of water. If possible, do not use 'softened' water as it will contain a high level of salts. Well water, distilled water or filtered water is best as it won't contain chlorine, which can kill off your beneficial bacteria. If using treated tap water, let the water sit a day or more for the chlorine to dissipate, or use a water treatment (available at pet fish stores) to remove the chlorine. After the chlorine is removed from the water, mix in 1 to 2 Tablespoons of molasses as food for the beneficial bacteria you'll be growing in the tea.

2. Take two large large cotton socks and place a rock or other weight at the toe ends to weight them down. Fill within three or four inches of the top with compost. Pack it in loosely so that the socks are flexible and the water will be able to mix through.

3. Tie off the tops of the socks with string or cord.

4. Add the socks to the chlorine-removed water and tie off to the handle so they will stay suspended. Place in a well ventilated area with sunlight, to help ensure the 'good' bacteria grow and the 'bad' ones don't. Mix often, and bob the socks up and down from time to time as you would a tea bag. Make sure the brew stays smelling good - it should smell sweet and like clean fresh soil – foul smelling brew is a sure sign that there's not enough oxygen and the 'bad' bacteria are taking over.

For a larger batch, use a large trash can as your container. Add 25 to 30 gallons of water (and treat or otherwise age to remove any chlorine), half of a 1 cubic-foot bag of bacteria-rich compost, and ½ cup molasses. Stir well and mix often. You will need to strain or filter the tea after it has completed brewing.

If you like, this is the stage where you can add the fish tank bubblers - bubble stones at the bottom of the bucket or can work best. They will help ensure that you get a top-quality compost tea.

You can use the tea after just a few hours of steeping, but two days of brewing is best to get the full benefit of the compost and bacteria. Remove the socks (or filter the tea, if making a larger batch) and pour the tea into your watering can or into a sprayer. Water your plants as you normally would, and you can liberally spray the leaves for additional feeding and disease prevention. Your tea is a mixture of living organisms so use it all right away, it will not keep. Use once a month if your garden is healthy and growing vigorously. Use as often as every ten days if your garden needs an extra boost.

And as an added plus, you can keep the used compost to add to your planting mixes – it will still contain plenty of nutrients and beneficial bacteria for future use.
................................................................................

CASUAL VISITOR … and just browsing? Why not sign up to the Container Garden newsletter? It won't matter what space or how many pots you have or even how much time you have to spend in your container garden; what will matter is that you get our reminders and good advice and ideas all in one interesting article.


You Should Also Read:
Vegetable Container Care
Natural Insecticide Recipes
Pest Control - GARLIC SPRAY


Related Articles
Editor's Picks Articles
Top Ten Articles
Previous Features
Site Map





Content copyright © 2022 by Jessica Carson. All rights reserved.
This content was written by Jessica Carson. If you wish to use this content in any manner, you need written permission. Contact Lestie Mulholland for details.