Interview with Susan Meyn of Journal Magic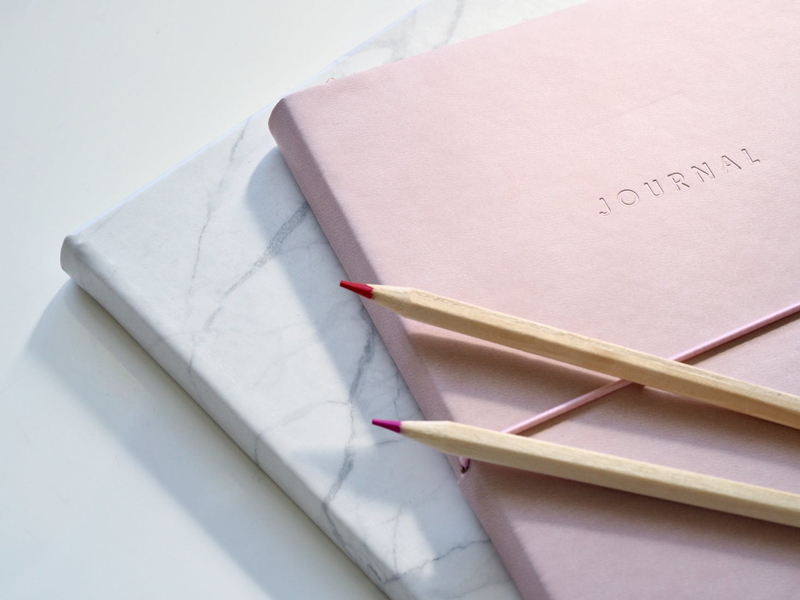 1. How long have you been journaling?

There were a few times when I tried a journal when I was young--with a lock and key journal, but it didn't take hold during those years. It was when I went through a divorce that it seemed to literally "call" me. I couldn't get enough then...as I learned about myself as I never had before.


2. What kinds of journals do you have?

Well, I'm sort of simplistic when it comes to journals. I keep one going all the time--an artist's pad with no lines is the kind I prefer. I've occasionally kept one on the computer, and use that when I'm working on a writing project and need help in loosening up. Aside from that, I use my sturdy artist's pad--and prefer no lines to allow for any kind of writing or drawing I might want to do. One of the things I learned early on was that I don't like fancy journals--the kind that are hard bound with gold leaf on the pages...they seem too fancy and seem to make writing in an open way more difficult. So any spiral notebook will do in a pinch.

3. I recently discovered your "Journal Magic" website. Can you share a little bit about this website? How did it get started? How long has it been around? Where our readers can find it on the web?

Well, my URL is www.journalmagic.com. My first website went up about ten years ago when I was just experimenting with working online. I've had several different "looks" at my site over the years. I named it "Journal Magic" because I see SO MUCH magic appear on my own, as well as others, journals. I think we all have 'magic' within--and that can be defined in lots of ways. Certainly we all have more creativity and wisdom available to us...and just need a means to getting it out...so....journal magic is it for me.

I wanted to create a safe place where people could learn about the gentle growth possible in journal writing. So it was shortly after beginning my website that I began to send out the "Journal Companion" which is just a little article about journaling. It was intended to just be a little reminder that folks would get through email--reminding them to take a moment for themselves and do some writing. I think I've had some success in that way.

I also created a tool for journal writers, called "JournalCards". They are a set of 55 different cards, each with a picture, a word, and four questions. The questions come from my many years of work as a counselor, and so help people to move into greater depth. They are for sale on my website in the Journal Magic Store, along with my Online Journal Classes. I'll have a book available soon, too, called "Journal Magic! Lessons in Therapeutic Writing." It will include some basics about journaling as well as 12, four-week sessions of exercises.

4. How often do you journal?

How often I journal varies...though I like doing it nearly daily. There are some days that get away from me and I don't ... and others when I am just too busy doing to take the time to sit quietly. I always journal with the students in my class, of course.

5. Why is journaling important to you?

Journaling is important to me because it is a SAFE place to explore, without judgment or criticism. It's almost as good as a pet--a place of unconditional love. I always feel that I am the best part of me there....if that makes sense to you. As I see my thoughts coming out on the page I sometimes am relieved, other times excited, and other times surprised. I just never know where my writing is going to go...and what new parts of me are going to show up. So...I suppose I would come back to the "magic" quality of it that I like so. Of course I like offering it to others...for those same reasons. I think it is a very empowering tool...and we all need to be empowered, and respectful of the wisdom we each carry within. As we are able to access it we can then utilize it...and hopefully make the world a better place.

6. What are your other hobbies?

Hmmm....other hobbies.....? I'm one that has found a way of doing what I like for a living, so I may have fewer hobbies since my work life is pretty diverse. I do like exercising (and find it necessary) and so go to the gym to work with my trainer frequently. As the weather cools here in AZ I like biking, and my husband, dog, and I love going to our cabin in Flagstaff to just hang out, read, and soak up the quietness. Both Mike and I like cooking and eating, so we enjoy that as another diversion. With three grandchildren nearby and three in Holland, I guess playing and communicating with all of them could be considered a hobby, too.

7. I understand from my visit to your website that you teach journaling in several different venues. Could you share about your journaling classes and where you have taught them?

I have been very lucky to teach a journaling class at a local community college, for their creative writing program. I hope to turn it into an online class next year. Of course I have my own Online Journal Classes that I offer from my website. This consists of four weeks worth of exercises and allows people to talk together about their reactions to what they learned as they journaled. I've done presentations for all kinds of groups...from employees of Hospices to a peer support group for police and fireman. One of my favorite presentations has been for those exploring complementary medicine. I consider journaling to be that---and even think of it as a kind of energy medicine. Research shows us so much about the benefits of this kind of writing...and I think more and more will be discovered in this area.

I'm going to be teaching a class on a cruise next year, and am hoping to add my knowledge to another nonprofit organization, too....so I just am open to whatever venue appears. It does seem that more and more people realize the value of this kind of work.

8. What is journal coaching?

Journal Coaching is simply a way to operate with another person in a helpful relationship. I may work with a person with a combination of a series of exercises from a class---and then email back and forth about it. It could also then branch out into my making suggestions for additional exercises to try...or suggesting that action steps be created to help them move from where they are to where they want to be. It's just a way to work with a person who may have some issues going on---and encouraging them to use journaling to help them explore within. It may even include some phone contact or could be in person, too.

9. One of the main questions writers ask about is discipline. Do you think discipline is important in journaling and could you provide a few tips on improving one's journaling discipline?

I think that often people begin to journal when they are motivated by some external event--as I did in my divorce. Illness can be another kind of motivator. Discipline can be enhanced by creating a group to do journaling. That may sound surprising, but I have become a BIG believer in journal groups. I think that it is most important, of course, that no one be required to share their journal---safety being at the core of this writing success. I know some sign up for classes of one sort or the other as a way of helping them follow through on their writing....since many of us have a tendency to put ourselves last. I know for myself it is no longer so much about discipline because I am CONVINCED of the value of writing...and make it a priority for my sanity! I think that it is necessary to feel the HOOK of journaling---to GET the value, and then discipline falls back as being of such a concern. It just then requires some time management. At least those are my thoughts about it today....and they might be different if you asked me next week!

10. We would love for you to share one journaling tip with us today that has impacted your journaling?

I have to give credit to Kathleen Adams for helping me take journaling seriously enough to make it my work. She is the author of "Journal to the Self" and her website is www.journaltherapy.com. One of the techniques I learned from her is called the Five Minute Sprint, and is probably the most important technique---as it suggests the importance of setting time boundaries which make getting started so much easier. Once started we then have a chance to embrace so much more of ourselves. I will share an additional lesson I learned from her and that is to read over the five minute sprint and underline key words and phrases. If you pick the one that has the most "juice" you can then use it as the title for another piece of writing. Do the same process again and you'll have a "series of three" which moves one very quickly into more depth. It is a great exercise to do when you want to move beyond the surface of your life....and that is where I think the power of both journal and of ourselves, lies.


You Should Also Read:
Journal Magic


Related Articles
Editor's Picks Articles
Top Ten Articles
Previous Features
Site Map





Content copyright © 2021 by Melissa Waters. All rights reserved.
This content was written by Melissa Waters. If you wish to use this content in any manner, you need written permission. Contact Kathy Garcia for details.