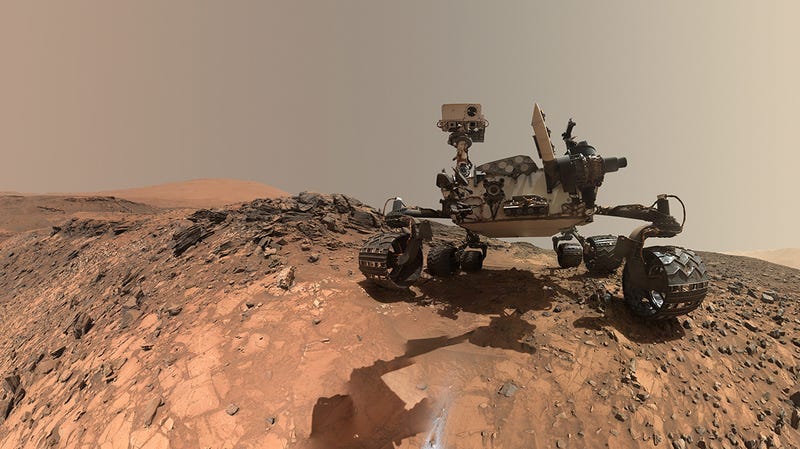 One January day in 2004 a great adventure began, linking our world to one millions of miles away. One of the heroines of the story, a robotic explorer called Spirit, landed on Mars. Opportunity, her twin, arrived on the other side of the planet several weeks later. Together they were scheduled to undertake a mission of exploration lasting three months.
The header image shows what what the rovers looked like. (Credit: NASA/JPL-Caltech/MSSS)
The two Mars Exploration Rovers are about the size of golf carts. They have six wheels — each with its own motor. The suspension and steering were designed for rugged ground and the maximum speed of 5 cm/s (2 in/s) was definitely not for racing! The rovers are solar powered. This is one reason the mission wasn't going to be a long one — the Martian dust was expected to build up on the solar panels until the rovers couldn't get enough power to continue.
NASA sent the rovers to collect evidence of water in early environments. This would also help to decide whether there might be — or have been — life on Mars. The Martian orbiters were well-placed to look for lakes and rivers, so what was really needed was a geologist. Better yet, two of them. The rovers were outfitted to study minerals, rocks and rock strata, in particular those that form in the presence of water: hydrated minerals.
While Opportunity went to the Meridiani plateau, Spirit's target was the Gusev crater where there seemed to be a dry lake bed with the remains of a river going through it. Gusev crater was very difficult terrain and no one really thought that Spirit would survive a winter there. Her only chance was to get onto a north-facing slope with the solar panels facing the Sun.
Certainly no one expected that Spirit would survive more than one winter and rove the red planet for six years, her mission only finally ending in the eighth year. The rovers survived by a stroke of luck. The Martian dust is a hazard for the solar panels, but it turned out that the wind often blew the dust off the solar panels in what they called "cleaning episodes". In addition, I think it's fair to say that the planning and engineering are very impressive.
Also, in the early days, who would have thought that to many people around the world, Spirit's end would almost seem like the death of an old friend. But an innovative feature of the mission was that the Rovers' images were put up on the Web almost as soon as they were collected. Anyone with internet access could feel as though they were part of this amazing exploration of another world. Hundreds of millions of people of all ages around the globe were looking at the pictures and following the progress of the rovers. With the cameras mounted at about human eye level, you could almost imagine being there.
The Mars Exploration Rovers (MER) team maintained that the rovers seemed to develop personalities. Spirit was a particular favorite because of having the more difficult job and carrying on even when damaged. Here was a plucky little robot on an alien planet, overcoming dust and extreme cold, meeting difficult terrain with a damaged wheel, but carrying on with her job against all the odds. Who could not love such a story? Pixar couldn't have done it better.
The dry lake of Spirit's first site was lava and not water, so she struggled across rocky volcanic terrain and climbed a hill to find something new. She discovered the kind of rocks they'd hoped for and many they had never anticipated. It was clear that there had once been flowing water on Mars, including the sort of environment that could also have supported life.
Spirit's trek took her 7.7 km (4.8 miles), but in April 2009 she was caught in a hidden sand trap only 150 meters (500 ft) from her next science target. But she was still able to take pictures and test soil samples in what turned out to be a place full of surprises. A press release quoted one of the team as saying, "If your rover is going to get bogged down, it's nice to have it be at a location so scientifically interesting." (Click to see a
picture taken by the Mars Reconnaissance Orbiter
— Spirit is the bright spot on the left.)
Spirit's final transmission was on March 22, 2010, probably just as the rover was going into hibernation mode at winter's onset. NASA tried a wide range of ways of contacting Spirit over the coming year, but on May 25, 2011, they formally ended her mission to concentrate on the remaining rover.
No one knows what happened to Spirit, but it's likely that unable to get enough sun to recharge the solar panels, the survival heater couldn't work and then the electronics were damaged. (Click to see a
mosaic made from Spirit's final pictures
, showing her last view.)
Opportunity carried on to Endeavour crater. The place on the rim where she arrived at the crater was named Spirit Point. The adventure went on.
You Should Also Read:
Mars Facts for Kids
Absolute Beginners - Seeing Mars and beyond
Mars Myths - Would You Believe Them


Related Articles
Editor's Picks Articles
Top Ten Articles
Previous Features
Site Map





Content copyright © 2022 by Mona Evans. All rights reserved.
This content was written by Mona Evans. If you wish to use this content in any manner, you need written permission. Contact Mona Evans for details.