Momma Said, "Eat Your Vegetables."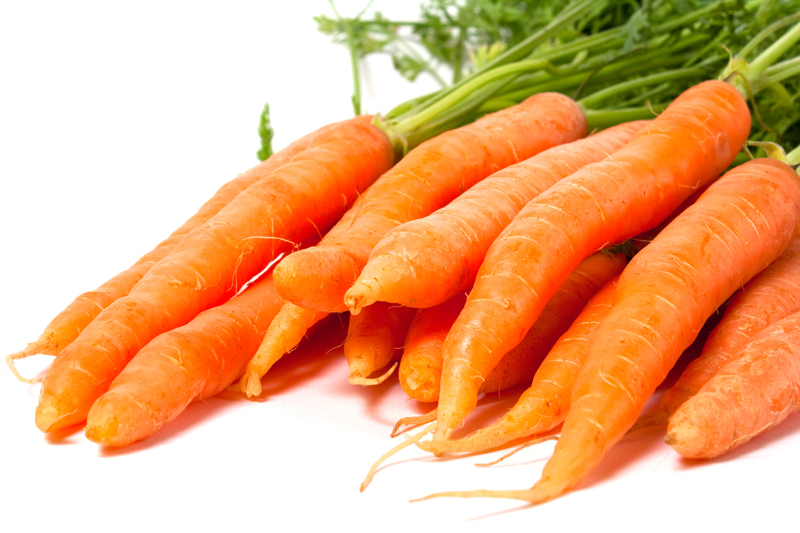 Nowadays even our good old "Uncle Sam" is telling us to eat our vegetables. Plus, Uncle Sam's got a lot more justification than, "If you don't, you won't get any dessert." Uncle Sam's got research with proof that Momma's intuition was right.
As a matter of fact, every single public health agency is saying the same thing. If we don't eat at least five to nine servings of antioxidant rich fruits and vegetables each and every day, we're setting ourselves up for a possible future of heart disease, stroke and cancer. And they have the scientific documentation to back it up.
I don't know about you, but my first reaction was, "Five to nine servings a day? You've got to be kidding." Based on the current American lifestyle, there's no way.
For example, take my husband. (No joke intended.) He enjoys fruits and vegetables, knows exactly how important they are to a strong healthy immune system and is totally committed to his well being. But in 35 years of marriage, I don't believe I have ever once seen him eat nine servings in a day. Oh sure, he may get five – on a good day. But never nine.
According to statistics, on any given day, about half the population eats no fruit. The closest most get is a little sugar laden strawberry jam now and then. Speaking of strawberries, they are an excellent source of carotenoids – Mother Nature's most potent antioxidant protectors against heart disease, cancer, cataracts and diseases of the nervous system. Carotenoids also fortify the immune system to help protect you against anything from the common cold to AIDS. If you're interested in an excellent, low calorie, proven effective supplement, you can check out
www.carotenoids.net
.
Carotenoids are found only in bright red, yellow, orange and dark green fruits and vegetables. Nowhere else. And since apples, bananas, iceberg lettuce and potatoes (the most popular fruits and vegetables) contain zero carotenoids, and almost no one eats red peppers and spinach on a regular basis, nearly 80% of Americans get no carotenoids. This pattern is also true for the other industrialized nations around the world.
So what can you do to make up the difference between the ideal and the reality of your diet. Well, you can change your eating habits. That's number one. Eat more green salads (not iceberg lettuce). Have raw fruit and veggies for snacks. Include some steamed vegetables with dinner. But if you're still falling short of the recommended five to nine a day, you can do what my family, my clients and I do. Take
Carotenoid Complex™ supplements
with meals. These are some of the many outstanding results.
"My 3 kids, 7, 6 and 4, ALWAYS had ear and upper respiratory infections! Between the 3 of them, they went to the doctor 28 times the year before we began Carotenoid Complex™ – and that was a typical year. We have been on Carotenoid Complex™ for two years and my kids haven't been to the doctor in that whole time – whoopee! It's been great to have them healthy."
AF (SC)
"Everyday, as a pathologist, I see the results of failure of immunity in the forms of illness, infections and malignancies. This has reinforced my personal conviction to do all I can to keep my immune system as healthy as possible – by proper nutrition, exercise and daily supplementation including Carotenoid Complex™. It's amazing to my friends that I never get sick. But I never do."
Dr. KH (CA)
"I had 9 tumors in my breasts for 20 years. Since I have a history of breast cancer in my family and you never know when a tumor might turn malignant, my doctor insisted on mammograms and ultrasounds every 6 months. After taking Carotenoid Complex™ for 18 months, my tests showed that all my tumors had disappeared. The doctor was really surprised. It's been 3 years since then and I'm still tumor free."
NK (NV)
Carotenoid Complex™ is the only formula that's been proven to be not only bioavailable (utilized by the body), but to also dramatically strengthen the immune system, help reduce heart disease and prevent oxidation of cellular fats – one of the main causes of cancer and other degenerative diseases. This peer-review research was conducted by such reputable organizations as the U.S. Department of Agriculture and the Center for Disease Control and Prevention.
My Recommendation:
www.carotenoids.net
.
Be sure to check out my
Natural Health Newsletter
.
Click here for the
Site Map
Articles you might also enjoy
Alphabetical List of Vegetables and Their Rankings
Start a Love Affair with Vegetables
Vegetable Weight Loss Breakthrough
To subscribe to the Natural Health Newsletter, just enter your email address in the subscribe box at the bottom of this page.
© Copyright Moss Greene. All Rights Reserved.
Note: The information contained on this website is not intended to be prescriptive. Any attempt to diagnose or treat an illness should come under the direction of a physician who is familiar with nutritional therapy.
You Should Also Read:
Site Map
Health, Weight Loss & Natural Nutrition Newsletter
Carotenoid Complex™


Related Articles
Editor's Picks Articles
Top Ten Articles
Previous Features
Site Map





Content copyright © 2022 by Moss Greene. All rights reserved.
This content was written by Moss Greene. If you wish to use this content in any manner, you need written permission. Contact Moss Greene for details.