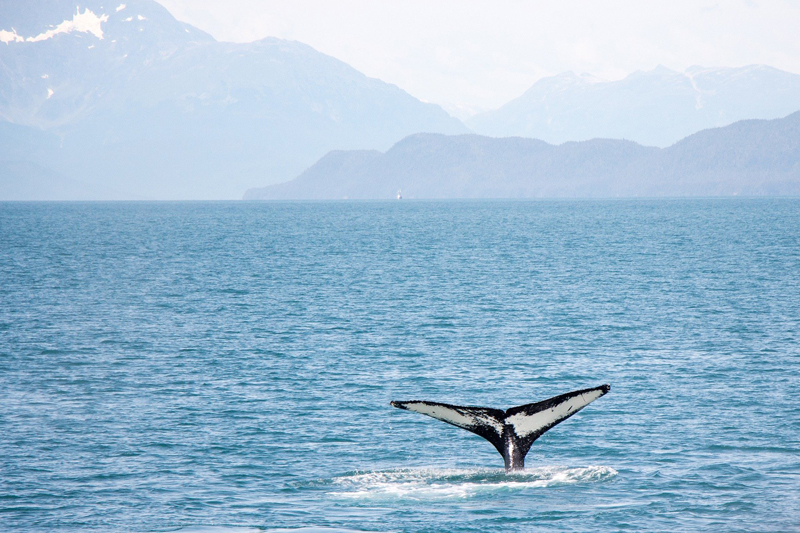 No, I'm not talking about relationships. Break-up in Alaska is more of a season. Spring, to be precise – not that there is anything precise about break-up.

Actually, depending on the individual year, it can start in what should be late winter, if the winter was particularly mild. Other years, it seems like break-up will never come and we're still waiting well into April and sometimes May.

The term "break-up" comes from the often dramatic breaking up of the ice on Alaska's many iconic rivers; the Yukon, Kuskokwim, Tanana, Koyukuk and Copper rivers being some of the most well-known.

These rivers, once they've frozen over for the winter, provide ice highways for snow machines, ATVs, cross-country skiers, dog sleds and even trucks. During the summer, boats serve the same purpose of transporting people and goods from town to town and provide a productive fishing grounds for Alaskan residents and visitors alike. But between those essential winter and summer travel routes … lies break-up, when the ice is unpredictable and often unsafe.

You can stand on the shore in early spring and hear the creaking and popping as fast-flowing water far below the surface wears away at the ice, and the longer daylight hours and warming sun thins the ice from above. It is hard to know how long the ice will hold up for travel … one day it seems fine and the next, a snow machine may be in the drink.

At some point, the ice on each river will finally give way with a rumble and a roar, sending huge chunks of ice downstream in massive, slow-moving sheets, blocks and various degrees of rubble.

Sometimes an ice-jam will occur in the curve or narrow section of a river, causing blockages where gigantic spears of ice crash and crush together, booming like thunder and creating local flooding. It can be an impressive and scary sight, but all part and parcel of break-up in Alaska.

Break-up, however, is not just about river ice. Most Alaskans have a love-hate relationship with the idea of what we call "Break-Up" … oh wait, I did say this wasn't about relationships, didn't I? I guess I misspoke. We actually feel really strongly about it. It's just that our feelings swing from one extreme to the other, depending on current conditions or sometimes just the time of day.

Break-up is a sure sign that spring is right around the corner … somewhere. Yay! In this respect, we all look forward to break-up with almost unseemly glee. The thought of mud, re-surfacing old dog poop, pot holes, frost heaves … all can be endured with the thought of the long summer days to come.

Then there is the other side of the coin. One day, the glistening white snow is melting and it is warming up; the newly-bared ground is sloppy with mud, vehicles are covered in a brown haze of dirt and roads are giving birth to pot holes right and left.

Overnight, the temperatures may drop back into the teens and yesterday's run-off is today's slick, icy driveway. Temps rise and dip with wild abandon; during the day, snow melt runs down streets, puddling in parking lots, ready to create tomorrow morning's treacherous ice-skating rink. You want to wear tennis shoes, but don't dare venture outside in anything less than XTRATUF boots.

Another of the joys of break-up is all the wonderful "surprises" that emerge from the quickly disappearing snow; things like months' old dog poop (we all swear we always pick up after our dogs, but then break-up happens and oh my … there it is), odd layers of unidentifiable trash, and the occasional dead thing. Ick! Clean-up always and unavoidably follows right on the heels of break-up!

Even summer tourists can't quite avoid some of the after-effects of break-up. As RV's cross the border from Canada and drive across our northern-most highways, they'll invariably experience road surface conditions we refer to as "frost heaves". Our road crews battle to correct and repair frost heaves every summer, but they reappear each and every spring, caused by the freeze/thaw cycle that is an ever-present part of the break-up cycle. There is no getting around it and no way to avoid it. Just consider it part of the "Alaska Experience", and slow down.

And yet, Alaskans continue to look forward to break-up each year with the same mix of passionate joy and despair. For all the difficulties and draw-backs that break-up invariably brings – it is still an unmistakable harbinger of SPRING … and the glorious summer to follow.



Related Articles
Editor's Picks Articles
Top Ten Articles
Previous Features
Site Map





Content copyright © 2022 by Deb Frost. All rights reserved.
This content was written by Deb Frost. If you wish to use this content in any manner, you need written permission. Contact Deb Frost for details.