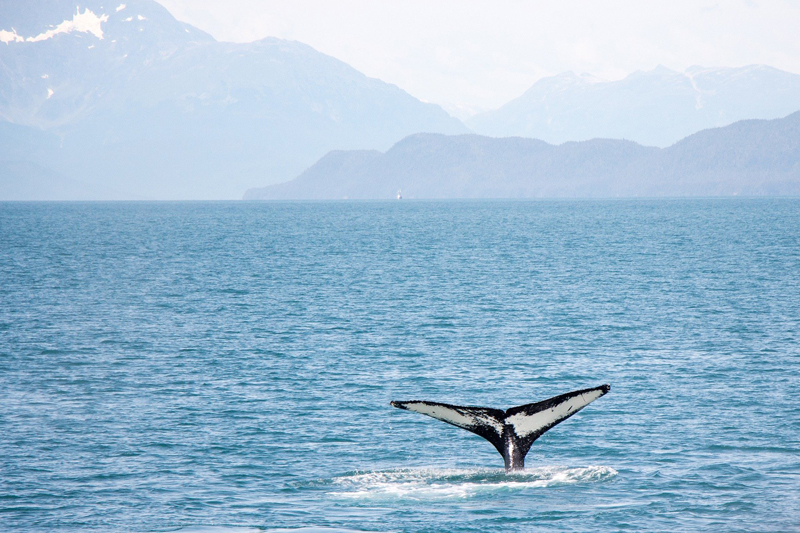 The State bird of Alaska, the Willow Ptarmigan, is known to be adaptable, sociable and able to survive in a severe artic environment. Sort of like Alaskans in general.

The Willow Ptarmigan is superbly adapted by nature to cope with Alaska's dramatically changing seasonal landscape. In late fall, these unique members of the grouse family don't migrate to warmer climates. They simply start molting their summer brown, tan and black feathers, replacing them slowing with snowy white feathers with plush down under-feathers as the season changes. In winter, both males and females are impossible to tell apart, with pure white bodies and distinctive black tail feathers - perfect camouflage against the snow.

The males are particularly striking in mid-molt, since their summer plumage is a handsome bright chestnut shade with black tail-feathers. The females are normally lighter shades of brown speckled with cream and tan in summer, and usually have white lower feathers year-round.

In early winter and then again in spring as they molt out one season's feathers and change colors to match the landscape, the birds will take on a spotted, almost pinto pattern which is quite distinctive. Even so, Ptarmigan continue to blend in so well with the surrounding environment, it can be difficult to see them any time of year, even when they are out in the open. This necessary and effective camouflage from predators helps the ptarmigan survive as it feeds on berries, seeds and small insects on the ground.

Ptarmigan are capable of flight and able to take off in a sudden flurry of speed and feathers, which can be fun to watch, but most of their preferred food is located on or near the ground, so they walk more than they fly and are most comfortable in areas with fewer trees but a lot of high bushes.

Their protective down and heavily feathered feet help these hardy birds thrive even in Interior Alaska and on the arctic tundra, even in the midst of harsh winter weather. They have learned to dig burrows in snowbanks during the most frigid temps, where, being sociable birds, they huddle in groups for warmth as well as safety from predators.

Ptarmigan live in sometimes quite large flocks year-round, with the chicks staying with the parents for up to seven months. It is interesting to note that the willow ptarmigan is the only variety of grouse in the world where the male parent is actively involved in the care of the young and has even been known to completely take over the parenting role if the hen is killed. They are good parents!

Ptarmigan are considered to be a variety of artic grouse. There are three types of ptarmigan, all found in Alaska; the willow ptarmigan, the rock ptarmigan and the white-tailed ptarmigan. Of the three, the willow ptarmigan is the largest and is considered a tasty game bird in spite of its lofty status at the State bird. Ptarmigan is often referred to as "snow chicken" by Alaskans and the flavor, although gamier and not as fatty, is not dissimilar to chicken.

The willow ptarmigan survives on various mosses and lichens in winter, along with willow buds and even twigs. They will eat birch twigs as well, but seem to prefer willow. They also eat seeds and over-wintering berries when they can find them. In summer, life is easier with their diet expanding to include fresh vegetable matter and occasionally even small beetles or caterpillars.

So, how did this hardy arctic survivor become Alaska's State bird? When leaders of what was then the Alaska Territory were putting together the first Alaska Constitution in preparation for Statehood in 1955, a contest was held among school children, who chose the brightly feathered, sturdy Willow Ptarmigan over other popular choices, such as the bald eagle, raven or puffin. It officially became the State Bird of Alaska in 1960.



Related Articles
Editor's Picks Articles
Top Ten Articles
Previous Features
Site Map





Content copyright © 2022 by Deb Frost. All rights reserved.
This content was written by Deb Frost. If you wish to use this content in any manner, you need written permission. Contact Deb Frost for details.