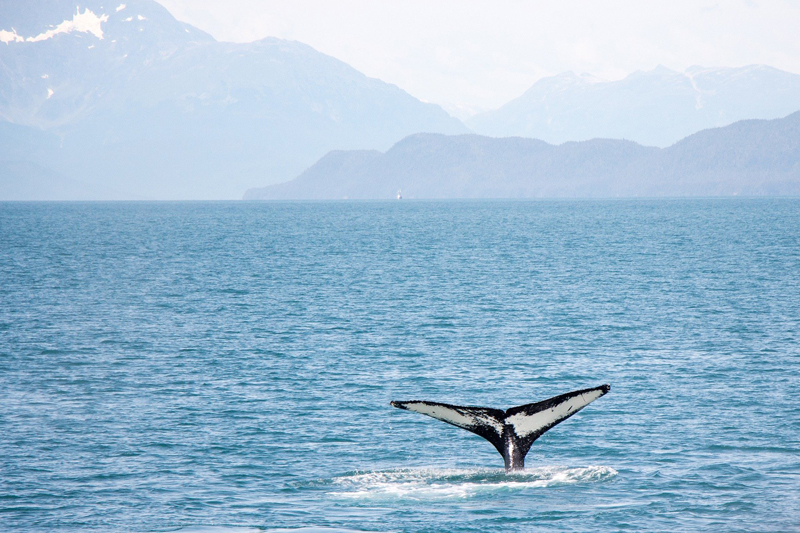 Alaska started out more as an ideal and a dream than as a potential state. The word "Alaska" was loosely derived from the Aleut word "Al-ay-ek-sa", meaning "great land" 0r "main land" in their native language. It is an appropriate name for this vast and still, hundreds of years later, only partially settled country.

Wild and untamed, the land that was to become Alaska first came to the notice of the world in 1741 when Russian ships sighted land that was later identified as Prince of Wales Island.

Prince of Wales Island is the third largest island belonging to the United States of America today, lying off the coast of Southeast Alaska just 600 miles north of Seattle, Washington. Those ships saw only a hint of the Great Land on that trip.

It wasn't until 1776 that Captain James Cook of England sailed into what is now Cook Inlet in search of the fabled Northwest Passage between the Pacific and Atlantic oceans. He didn't find what he was looking for, but he was enchanted by the expanse of rich forest land, towering mountains and abundant ocean life.

The first permanent settlement of the Great Land by Europeans was a Russian fur trading settlement on Kodiak Island along the Aleutian chain of south central Alaska. This settlement was established in 1784 in the hopes of fending off English settlement of the country.

In 1789, American ships made their way north to join in the fur trade. The abundant fur trade, as well as fishing and whaling ventures in the waters off Alaska's shores was a bone of contention between several different countries for many years.

Alexander Baranov of Russia eventually established and managed trading posts throughout the Kodiak Island area. Additional trading posts developed by Baranov in Saint Paul's Harbor, Prince William Sound and Cook Inlet were instrumental in establishing colonies throughout the region, which eventually became known as Russian Alaska.

Baranov was ahead of his time in many respects. He insisted on and promoted educational opportunities for native Alaskans. Under his guidance and leadership, schools were created; communities and villages became less isolated and began working together in a way they had never done before. Alaskan natives increased their hunting and fishing territories well down the coast nearly to what is now California. Russian Orthodox communities and churches dotted the coastline for thousands of miles.

Russian influence continued to be prominent until 1867, when American Secretary of State William H. Seward negotiated the purchase of "Russian Alaska" and turned it into the Territory of Alaska, a territory owned by the United States of America. 375 million acres of land changed hands for $7.2 million dollars. It was, for many years referred to by scoffers as "Seward's Folly" and thought to be a frigid wasteland and a great waste of money.

But not too many years after taking possession of Alaska, American interest was peaked by the discovery of gold along this vast expanse of forest, river and shoreline.

The "Klondike Gold Rush" of 1896 was by no means the beginning of gold mining in Alaska. The first gold claim was staked on Gastineau Channel near what is now Juneau in 1880. Actually, although it's not a generally recognized fact, quite a bit of gold mining went on before the infamous Klondike gold rush began.

1900 was a huge year for the Alaska Territory. The very first exploratory oil well was drilled in Cook Inlet that year with promising results. In the same year, 20,000 gold miners descended upon Nome beaches, where gold had been discovered literally right on the shores, river mouths and ocean sand beaches. The village of Nome is located far to the north on the shore of the Bering Sea – not exactly an easy place to access, but gold is gold.

Also in the year 1900; the Capital of the Alaska Territory was moved from Sitka to Juneau and the White Pass and Yukon Railroad were completed – ALL in the same year!

The Territory of Alaska was poised on the brink of a bright future.



Related Articles
Editor's Picks Articles
Top Ten Articles
Previous Features
Site Map





Content copyright © 2022 by Deb Frost. All rights reserved.
This content was written by Deb Frost. If you wish to use this content in any manner, you need written permission. Contact Deb Frost for details.