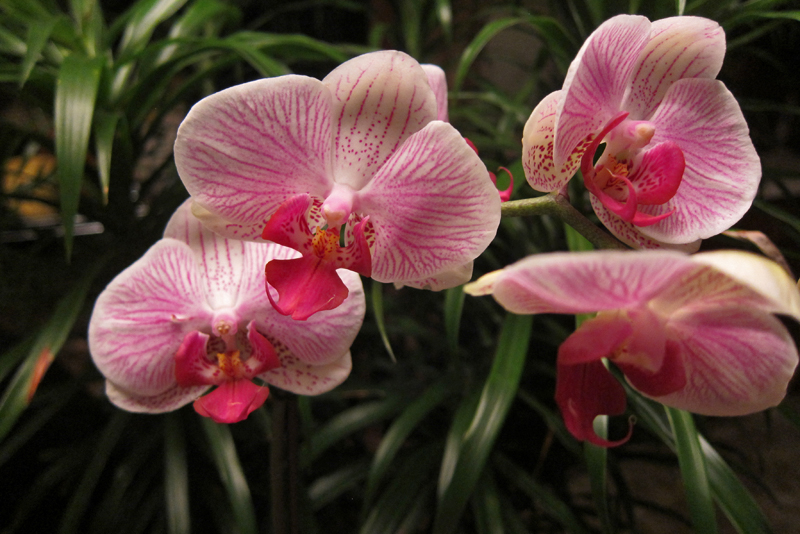 I once bought a beautiful lady slipper orchid with a beautiful spotted leaves and dark flowers. After bringing it home I've put it on my kitchen counter at a diagonal position from the main sliding glass door, leading to my deck. A few weeks later after the flowers died, the plant also died. Looking back, I realized that I should have been more careful about the location of where I've put it.

What is a lady slipper orchid?
It's the plant that one often find at the green house, listed as orchids but labeled Cypripedium, Mexipedium, Paphiopedilum, Phragmipedium and Selenipedium. Some do not think they belong in the orchid family. The common one that I've often seen around are the Paphiopedilum. They have flowers that look like a pink, white, black, or strip pouch. The pouch is what people refer to as the slipper. The Paphiopedilum naturally grows in Southeast Asia and can be found to be at the tip of southern China as well. The Cypripedium are the ones found in North America, Europe and some parts of Asia.

If you are from Minnesota or Prince Edward Island Canada, then you have the Cypripedium or the Lady Slipper as your state flower.

The Phragmipedium is the ones found in Central America and parts of South America. They do not need as much heat to grow as the Paphiopedilum. They are more temperate orchids. So be aware of which kinds you have and placed them in the correct location in your house based on the temperature variance in your house.

Where to put your lady slipper orchid:
After purchasing your lady slipper orchid, make sure you give it a good location in your house. Filtered light about half a foot away from a sunny window, making sure it is not the hottest window in your house, with room temperature of around 55-60 degrees Fahrenheit at night and 70+ degrees daytime is acceptable. Once you find that your lady slipper likes a location in the house, don't move it.

Watering lady slipper orchid:
In some ways, this is very similar to watering any other orchids, with the exception of keeping a bit of moisture in the pot. Make sure to stick your finger into the potting medium to check for moisture. Watering can be anywhere from 7 to 10 days. Fertilize once every 3 or 4 weeks with high nitrogen fertilizer. Once you've been rewarded with blooms, the flower can last anywhere from 1-2 months.



You Should Also Read:
Should I repot that new orchid?
How to choose an orchid
Segregate those new orchids


Related Articles
Editor's Picks Articles
Top Ten Articles
Previous Features
Site Map





Content copyright © 2023 by Haidy Ear-Dupuy. All rights reserved.
This content was written by Haidy Ear-Dupuy. If you wish to use this content in any manner, you need written permission. Contact Anu Dharmani for details.