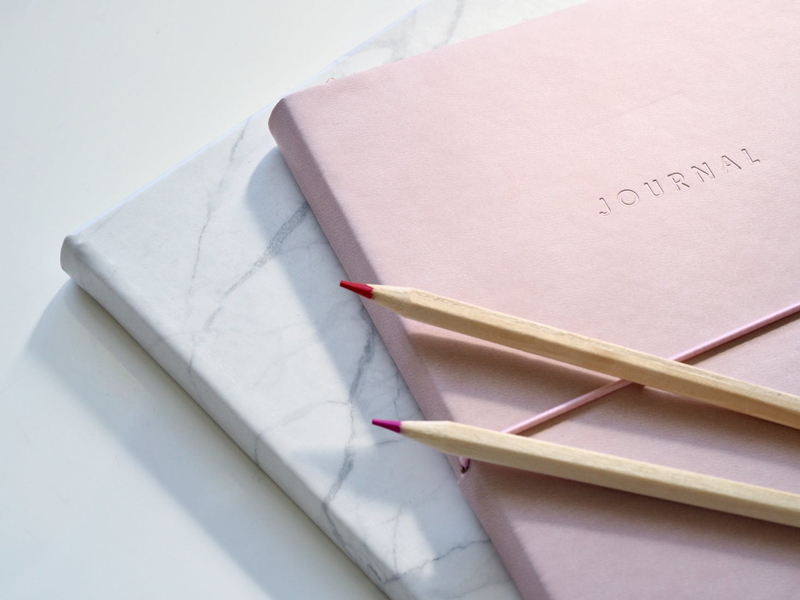 Summer and vacations are just a few weeks away. Some will vacation away from home while other will stay at home and vacation. There is a travel journal perfect for every type of vaction. Even when you vacation is at home, you are still on vacation!

Below are some of the common types of Travel Journals:

Travel Journal:

This is probably the most common of all journals. It can be a wire-bound or "rip-out" notebook, bound notebook or something similar. You can find these anywhere, so they will do in a pinch if nothing else is available. Many purchase a separate journal for vacations while some just use their daily journal.

Travel Diary:

A travel diary is a pre-formatted notebook found in bookstores. Some come with blank page, lined pages or pages with prompts for filling in. They are usually hard cover or leather books. Many like these types of diaries because they prompt you for information you are not used to writing down ~ like the weather or number of steps you took.

Artist Travel Journal:

We call these artist travel journals because they are books with blank pages. A sketch artist would not want to draw on lined pages. Many artist journal by sketching and writing together.

Post Card Travel Journal:

The post card journal is ideal for the impromptu traveler. In fact, it is not a journal at all until you return home from your vacation and put it together! Finding time to journal everyday can be hard. Picking up postcards along the way is quick and easy. Plus you get to store your handwriting script with every memory! Every town or location you visit buy a postcard. Jot down your experiences, impressions, data, weather, and anything else you are thinking at the time. You can write a postcard to yourself about an engaging, unusual or compelling person you met! Then drop it in the mail to your home address. When you get home you have mail waiting for you!

This idea is great fun for kids! A perfect way to get them to document their trip.

Techie Travel Journal:

The Techie travel journal is for all those travelers who like gadgets ~ like smartphones, computers, netbooks and digital cameras. As you take pictures you will want to add captions and then store your memories in your laptop at the end of the day. Many smartphones now allow you to journal in a notepad or some other APP, so you do not even need a laptop!

BLOG Travel Journal:

Many have their own 'BLOG' sites so this is not a new concept. What might be new is setting up a 'BLOG' just for your trip. While you are traveling you upload images and information about your trip for your family and friends to see

Travel Journal Kits:

The true travel journal is a travel journal kit. This is a notebook, container or backpack filled with all types of items. It has places to store ticket stubs, pamphlets, matchbooks, coins, sand, rocks, shells, souvenirs, hiking storage items (like small bottles for sand or rocks), bound journal books, journal prompts and more. A true travel journal is not just about writing or drawing, it is also about collecting and saving memories.

There are several travel journal kits I am in the process of reviewing. . .so keep watching for the reviews.

Time Capsule Journal:

This is more of a project than a journal. You create a list of questions, lots of questions. While on your trip you fill out the answers. Do this individually or as a family. When you return home you put find a storage container and place your data inside with a future date to open it. You can also collect souvenirs to include in the time capsule. This can be fun. When you read the questions and answers in the future you will be surprised at all the things you have forgotten!

Traveling Journal:

I have never tried this one. What I have heard is that is is very difficult. A traveling journal is one where you send it to different people for them to enter in their journaling. Many never return the journal so what I have found that does work is sending journal pages to the people in your group. The pages tend to be returned easily. Then you can bind them together when all have been returned. I believe this type of journaling was prompted by 'flat Stanley' and his many travels. Flat Stanley is a drawn picture of Stanley that a child does in school and goes on vacation with friends and relatives. They take pictures of flat Stanley and write about his adventures. It gets done because the child needs to turn it in for credit.

My Own Travel Journal:

My own travel journal is a combination of one or some of the above. I love taking pictures but will not take the time to place captions until I can sit down and review them. What I do for this one is organizing in my hotel room so that putting captions to them later will be easy. I love my bound journal but sometimes it get thrown around too much while traveling so I usually opt for the postcard option a lot of the time. This way I can journal quickly and then save my bound journal for when I have time at night. This year I am adding some APP's in my smartphone to journal document with. Finally, the true travel journal is what I would most characterize as my own! I found that if I did not plan on a backpack or other type of container many of my memories would be bent, broken or lost during my trip. So I search and found some pre-designed travel journal kits. They are great!

More on travel journals soon. . .and some product reviews!


Related Articles
Editor's Picks Articles
Top Ten Articles
Previous Features
Site Map





Content copyright © 2021 by Kathy Garcia. All rights reserved.
This content was written by Kathy Garcia. If you wish to use this content in any manner, you need written permission. Contact Kathy Garcia for details.