BellaOnline Ad Administration Area
The BellaOnline ad administration area is fully online and live. You can see the exact views and clicks on every ad in your system. You can activate ads, deactivate ads, and compare ads on a real time basis.
Here is a sample screenshot of a client trying 2 different styles of ads on 2 different sites - one ad with large soaps, and another ad with smaller soaps -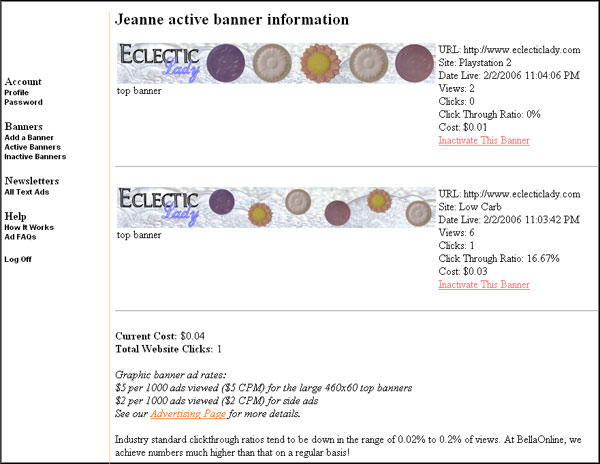 You can put the same ad on one or multiple sites, compare different ads on the same site, activate the ads, deactivate the ads, and customize your exact campaign to get the highest results possible.
Intro | Philosophy | Traffic | Rates | How This Works | Glossary | Link Exchange | Advertorials
Sweepstakes | Partnerships | Media Kit | Testimonials | FAQ | Sample Admin | Contact Us | Sign Up

Designing a Web Ad - A BellaOnline Step by Step Primer!