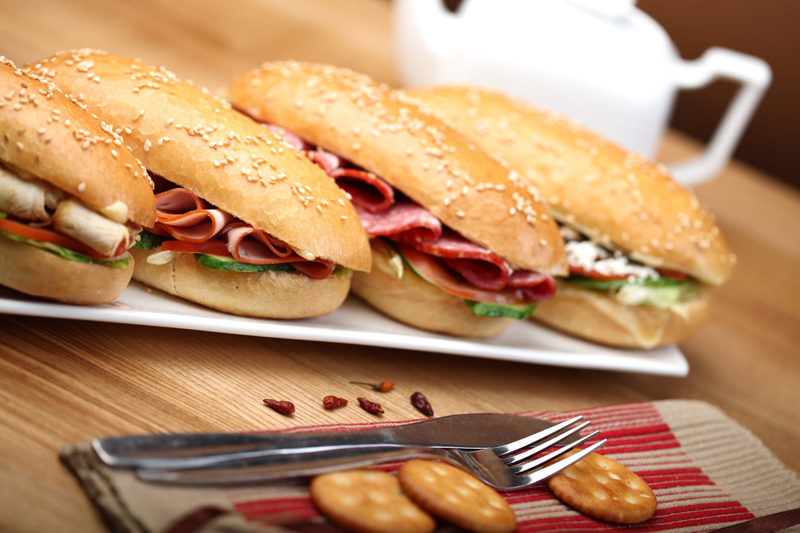 Seafood makes a tasty filling for an elegant sandwich.
Baked Shrimp Cakes Recipe


Faced with a 2 pound bag of tiny frozen shrimp, I started obsessing about using them in a shrimp cake recipe. How tasty would that be? As it turns out, pretty darned delicious! Haul out your food processor, and let's start cooking. Yummy baked shrimp cake sandwiches are on the menu!
Canned Salmon Salad Frugal Recipe


When I was growing up, canned salmon was used to eat on meatless days. Ignored for years, now more people are eating it, since it is a bargain economically and nutritionally. This simple-to-make salmon salad can be pulled together quickly and served in many different ways!
Crab Salad Recipe


Miller's Select Claw Crab Meat is a full-flavored canned crab. It is more costly than tuna or salmon. However, as an occasional treat, it is a pleasure to serve and eat. Made in minutes, with a few ingredients, here is an easy basic crab salad recipe that can be served in a variety of sandwiches.
Fried Tilapia Sandwich Recipe


I used to love fish sandwiches from fast food shops. Recently, I've found them to be unsatisfactory. I had a great reason to make my own fish sandwiches. They were so much tastier than the fast food sandwiches! Try my recipe and see for yourself.
Salmon Burger Recipe Variations


These variations on Salmon Burgers are an excellent source of omega-3 oils and a good alternative to a traditional burger. Served on a grilled bun with a choice of special sauces, they are a tasty addition to any sandwich meal.
Salmon with Old Bay Mayo Sandwich Recipe


Wild caught salmon fillets are delicious in sandwiches. Easy to prepare in just minutes by grilling in a heavy skillet, they add solid nutrition to a tasty sandwich. Served with a spicy, sweet and savory mayonnaise on a fresh bolillo or bun, salmon sandwiches are sure to delight the palate.
Savory Tuna Slider Recipe


Enjoy a crispy, savory tuna slider sandwich. Sliders are those small sandwiches with a large taste that satisfy your hunger when you just don't want a huge amount of food.
Shrimp Salad Recipe


My Shrimp Salad Recipe is easy to make! This salad is filled with solid nutrition, plus it looks colorful and fresh. Shrimp Salad can be used as an elegant sandwich on a croissant or an informal cracker sandwich. However it is used, count on Shrimp Salad as a tasty treat!
Tender Boiled Shrimp for Recipes


Have you ever had boiled shrimp that were tough and tasteless? What if I told you that boiling shrimp ruins them? Here's a secret that my father told me when he taught me to make boiled shrimp. Just bring the shrimp up to the boil and turn the heat off. This article has complete instructions.
Tuna Salad Recipe


Tuna salad is delicious and can be used in a variety of tasty sandwiches. This article has a classic tuna salad recipe and serving suggestions for sandwiches. It also contains information about eating tuna responsibly to avoid possible health risks from mercury.
Editor's Picks Articles
Top Ten Articles
Previous Features
Site Map
Content copyright © 2018 by . All rights reserved.
This content was written by . If you wish to use this content in any manner, you need written permission.
Contact BellaOnline Administration for details.