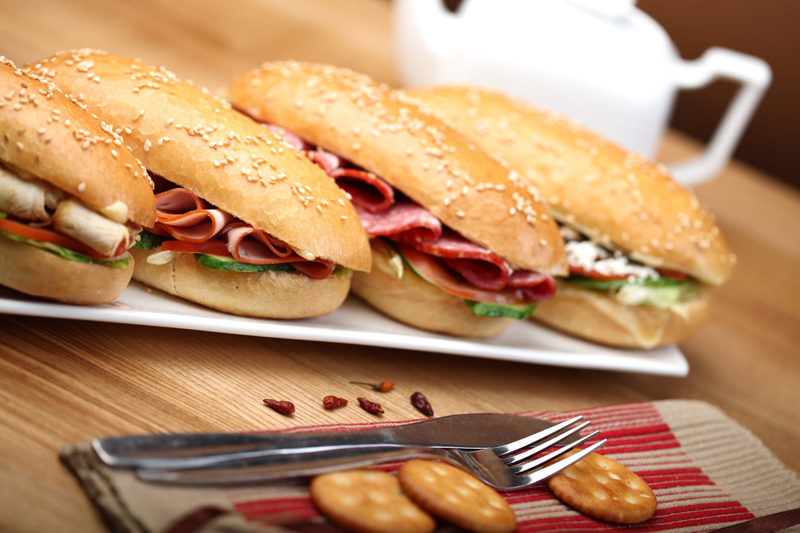 Sandwiches love to come to the dinner table with great side dishes and soups. Use these recipes to transform your sandwich into a hearty and delicious meal with a fresh bowl of soup.
Asparagus and Corn Soup Recipe


Asparagus and Corn Soup is a light and tasty soup that conjures up the feeling of Spring. Maybe it's the use of fresh asparagus that summons that response. For people who are working to lower their meat consumption, this is a good soup choice, since it contains very little meat. It is easy to make.
Broccoli Cheese Soup Recipe


This fresh Broccoli Cheese Soup can go from gathering the basic ingredients to steaming delicious soup on your table in less than an hour! Many folks who have always loathed broccoli like this soup. It's easy to make. If you enjoy cooking a simple yet tasty soup, Broccoli Cheese Soup is a winner!
Chicken Sausage Herb and Potato Soup Recipe


I could have named this soup "Creamy Warm Comfort Soup," since it is all of those things. Serve this soup with grilled cheese sandwiches. Use a hearty sourdough or rye bread grilled in extra virgin olive oil. You can also grill shredded cheese or thinly sliced veggies in a fresh flour tortilla.
Creamy Celery and Mushroom Soup Recipe


Make Creamy Celery and Mushroom Soup! It tastes great, and the prep time is minimal. Cooking the veggies takes about half an hour. You can do other work while it's bubbling merrily in the pan. Finish the soup in a couple of minutes by whisking ingredients into the broth. Voila, you have soup!
Easy Vegetable Soup Recipe


Vegetable soup is a delicious and comforting addition to a sandwich meal. If you have never made vegetable soup from scratch before, the process might be a bit of a mystery. What do you use for the broth? Which vegetables do you use? Does it have to include meat? And what is scratch,anyway?
Greens and Herbs Noodle Soup Recipe


Looking for a quick and easy soup to pair with a sandwich? Check inside your refrigerator and gather those old salad greens and bits of vegetables. Add them to a can of condensed chicken noodle soup and sprinkle in seasonings to your taste. Amazing! It tastes like homemade soup.
Mini-Pumpkin Soup Recipe


What can you do with those mini-pumpkins after they have served their time as decorations? Turn the mini-pumpkins into a delicious soup that will elevate a sandwich to a soul-satisfying meal. This is a delicately flavored soup that does not rely on spice for taste. It is comfort food at its best.
Seaweed Soup Recipe


My Seaweed Soup Recipe is a delightful addition to any sandwich lover's mealtime repertoire. Loaded with healthy ingredients, low in carbohydrate, simple to assemble, and filled with flavor, this soup is a winner any time of the year. Serve it with chicken, pork, or seafood sandwiches and wraps.
Simple Cauliflower Soup Recipe


Today, I looked into my fridge and found some veggies that had been enjoying the air conditioning just a little too long. For food that is just a bit old, and no longer perfect, pull out the saucepan and start whomping up some soup. This cauliflower soup is just perfect for using an old cauliflower!
Simple Corn Chowder Recipe


A simple chowder that is paired with a wonderful sandwich can make an easy meal on a weeknight. Corn chowder combines fresh vegetables, ham, bacon bits, and creamed corn with other ingredients to create a chowder that is easy to make in about half an hour. Make sandwiches while the chowder cooks!
Simple Cream of Vegetable Soup


This delicious creamy soup is filled with veggies and comes together in less than half an hour. While the veggies are cooking, I can throw some sandwiches together. The article has suggestions for quick and easy sandwiches to eat with this, including links to the recipes in the Related Links.
Slow Cooker Mixed Bean Soup Jar Recipe


Do you need a present? Make a Bean Soup Jar! You need a quart-sized Mason jar, about 4 cups of mixed beans, seasonings, a piece of cloth, and this recipe for bean soup. That's it! In less time than you can imagine, your present is ready to give to another sandwich lover. Soup and a sandwich…yum!
Spicy Cheesy Veggie Chowder Recipe


My Spicy Cheesy Veggie Chowder recipe makes a Dutch oven full of delicious soup. This chowder has just the right spicy kick! It's food that fits well with a vegetarian diet, but even the most dedicated carnivore will appreciate its robust flavor and textures. Enjoy it with all of your sandwiches.
Spinach Mushroom Creamy Soup Recipe


Transform a sandwich into a meal with this delicious, creamy spinach mushroom soup. Using a canned soup as a base, this "value added" soup is ready in less than half an hour. Nobody will know that your homemade soup started life in a can!
Turkey Barley Veggie Soup Recipe


Meatless or made with real turkey, this Turkey Barley Veggie Soup is a hearty dish to serve with your favorite sandwich. Filled with flavor and fiber, this generous pot of soup will leave your family happy and satisfied at the dinner table. Any leftovers make a great lunch for the following day!
Turkey Burger Chili with Beans Recipe


How can you serve a nutritious meal? Dish up a bowl of turkey burger chili with beans. Pair it with a grilled cheese, hot dog, or cheese quesadilla. Roll a high fiber tortilla up with some chili! Add some veggie sticks and fruit for a complete meal. Sandwich suppers don't get any better than this!
Turkey Vegetable Soup Recipe


What happens when you buy about twice as much turkey as any family can eat? There are dozens of turkey sandwiches that you can make. What if you want a hot dish that goes well with sandwiches? Make a big pot of Turkey Vegetable Soup! It's an easy soup to make, and it uses a lot of extra veggies.
Editor's Picks Articles
Top Ten Articles
Previous Features
Site Map
Content copyright © 2018 by . All rights reserved.
This content was written by . If you wish to use this content in any manner, you need written permission.
Contact BellaOnline Administration for details.