Helping Honeybees Benefits Your Garden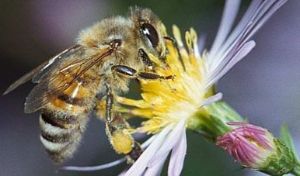 Many find insects to be more of a nuisance than helpful. Unfortunately, bees are frequently seen in this light, for having disturbed more than a few barbeques. However, without bees, a majority of crops would fail to propagate and people would lose access to honey, which is a beneficial resource for human health. It is important for people to support healthy bee populations, as this means the continued production of hardy honey stocks and prosperous gardens.
How to Help Honeybee Populations:
Start by planting citrus trees, flowering plants, and shrubs that attract bees in your yard. Make sure to plant them in areas not frequented by family members for outside activities. This means, if you prefer to play ball in the backyard, you should use your front yard for planting. Bees will most often stay to the area of interest and pay little attention to human activities. It is important to abstain from the use of herbicides, pesticides, or insecticides. These chemicals can kill most bees, and those that make it back to their hives alive will deposit the chemicals into the honeycomb, which can then be passed on to humans. Remember, weed killers like Monsanto's RoundUp® seep into the soil, which can contaminate tree and plants, even without direct contact.
Make sure you are planting heirloom seeds/plants and not genetically modified organisms (GMO). If you are unsure about a tree or plant's origin, it is wisest to take a conservative approach and only purchase items known to be heirloom, or original in origin. This is particularly important in the United States, where GMO products are frequently disguised as the genuine article. In increasing numbers, Monsanto is distributing plants that require the use of their chemicals to help plants grow, and even with the chemical assistance, most of the plants are set to self-terminate. This has a negative effect on the environment, the bees, and people.
Honeybees Help Your Garden Grow:
Bees are the gardeners' little helper. To help a vegetable garden with pollination, consider planting flowering plants and herbs like, Purple coneflower
(Echinacea)
, Sage
(Salvia officinalis)
, and Blackcurrant
(Ribes nigrum)
. Not only do these plants encourage bees to come to your garden, each plant has its own medicinal value. Echinacea is nature's antibiotic. It is also effective at reducing or preventing a cold or flu. Sage is used for cleansing dwellings. It also helps reduce sweating and aids in antifungal treatments. Blackcurrant root is effective in maintaining healthy kidneys. It also reduces complications from premenstrual and menopausal issues. Further, consider some traditional favorites, like Basil
(Ocimum basilicum)
, English lavender
(Lavandula angustifolia)
, Marjoram
(Origanum majorana)
, and Rosemary
(Rosmarinus officinalis)
, all which have a multitude of culinary and medicinal uses.
Without bees, people would face a bleak reality, as scores of plants would die off. Most of which are a tremendous help in maintaining health. However, with an unethical company like Monsanto encouraging the proliferation of Colony Collapse Disorder through toxic chemical distribution, and purchasing research facilities, like Beelogics, to skew research reports in an attempt to hide the company's negative effects; the continued existence of bees is tenuous. This makes responsible homeowners an essential part of maintaining a healthy bee population. Furthermore, each voice of descent towards Monsanto Rider Bills plays a critical role in ensuring the continued stability of wholesome food supplies. The rider bills are legally poised to absolve the chemical factory from all lawsuits, which allows them to remain unaccountable, act in an amoral manner, and claim ownership over anything the company believes carries their patent – to include human DNA.
For those interested, sign the
Make GMO's Illegal Petition
.
You Should Also Read:
Honeybees Reject Pollen
Monsanto Linked to Bee Plight
Honeybee Body Wash


Related Articles
Editor's Picks Articles
Top Ten Articles
Previous Features
Site Map



Follow @WildlifeWelfare
Tweet





Content copyright © 2023 by Deb Duxbury. All rights reserved.
This content was written by Deb Duxbury. If you wish to use this content in any manner, you need written permission. Contact Deb Duxbury for details.